We do see the number of megapixels in phones increasing steadily in recent years. This is not to stay friends with the marketing department, but because of something called 'pixel binning'. Pixels are grouped into so-called super pixels. This increases the signal-to-noise ratio so you can shoot better exposed photos in the dark. A 48MP sensor shoots pictures in 12MP by combining 4 pixels.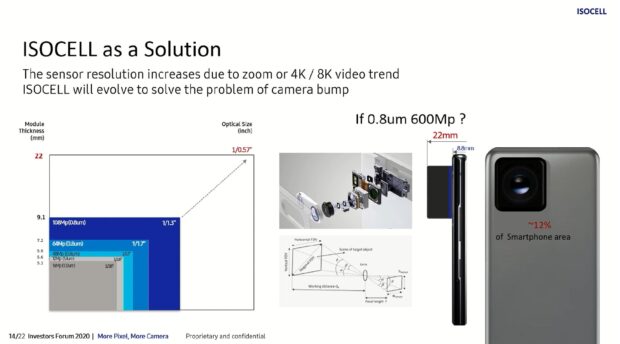 A 108MP camera is no longer a rarity. You can find them in the S20 Ultra, edge+ and the Mi 10T Pro. Samsung wants to increase that to 600MP. That is more than the roughly 576 megapixels the human eye can see. Samsung could simply increase the surface area of the sensor. The disadvantage is that a quarter of your phone's back side consists of a camera. The sensor would also be 22 millimeters thick. Of course, that is never going to sell.
The usefulness of 600MP
And so Samsung faces the challenge of making the sensor more compact. The individual pixels need to be smaller than the current 0.8nm. More pixels could lead to better photos, but it doesn't have to be. Apple and Google work with 12 megapixels for a good reason. They use whats known as computational photography. Here the emphasis is mainly put on software instead of hardware. Yet you need both and so it's a good thing that the hardware development doesn't stand still. Just don't stare at it blindly.
(via)