The upcoming Galaxy S20 Ultra weighs 221 grams clean on the hook. That's big for a cell phone. Now the S20 Ultra is quite big but that still doesn't explain the big difference between it and the equally big S20 Plus. A new rumour has shed light on this high weight.
According to insider Max Weinbach, the frame of the Samsung Galaxy S20 Ultra is made of stainless steel. And that obviously weighs more than the aluminum frame of the S20 and S20+. Samsung is by no means the first with phones made of stainless steel. Apple in particular has applied it in recent years, for example in the iPhone 11 Pro and Max.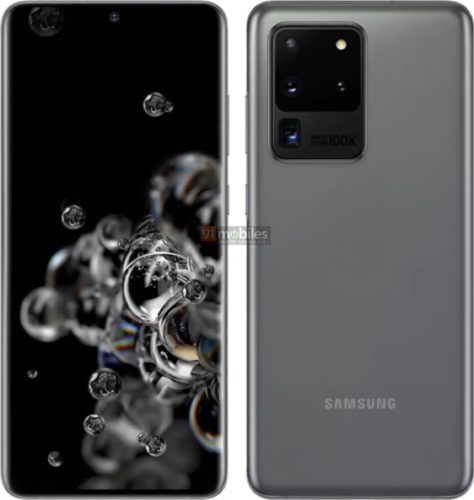 We used to see stainless steel more often but because phones were even smaller then this was not such a problem. You don't want to make your cell phones too heavy. Now we find the expected 221 grams of the S20 Ultra already on the high side. Stainless steel (stainless steel) feels more premium and stays beautiful longer, not surprising that we will see it on the more expensive Ultra.
Other specs S20 Ultra
If all other rumors are true, the Galaxy S20 Ultra promises to be a 6.9-inch device with WQHD+ resolution, 5000 mAh battery and Exynos 990 processor with 128 or 512GB of storage. The S20 Ultra will also be the camera with the most impressive cameras. It is only this model that will be equipped with the new 108 megapixel camera sensor. Combined with a 48 megapixel periscope lens, it is capable of up to 100x hybrid zoom. A 12 megapixel ultra-wide-angle camera and ToF depth camera complete the picture.
Unpacked
Samsung announces the device along with all other S20 models at an Unpacked event in San Francisco on February 11, 2020. It is possible that Samsung will also show the Galaxy Z Flip; the second foldable device that gets a consumer release. Contrary to previous rumours, it will not be priced below a thousand euros but probably just a little lower than the Lenovo Motorola Razr 2019.
Prices Galaxy S20 family and Z Flip
So we take into account a price tag for the Samsung Galaxy Z Flip in the direction of 1400 euro. The boarding S20 costs between 900 and 1000 euros, just like the S10 at the time. For the S20+ you have to bring between 1050 and 1100 euro. At first glance, this seems cheaper than with the S10+. If you want the best of the best you can put 1300 euro aside, only then you have enough for a S20 Ultra.
Image: 91mobiles