---
Pro and cons iPhone 11 Pro Max
Pro camera system
Even longer battery life
Powerful A13 Bionic processor
New color with new finish
Difficult price to justify
---
Reviews about the Apple iPhone 11 Pro Max
| | | |
| --- | --- | --- |
| 5 stars | | 2 reviews |
| 4 stars | | 0 reviews |
| 3 stars | | 0 reviews |
| 2 stars | | 0 reviews |
| 1 star | | 0 reviews |
Give your opinion
Write your very own user opinion and let us and others know what you think about this product. Click the button to start.
---
---
Apple iPhone 11 Pro Max in the news
---
Apple iPhone 11 Pro Max product details
The Apple iPhone 11 Pro Max is literally the bigger brother of the iPhone 11 Pro. It has the same new features, but in a larger enclosure with larger display and larger battery. This means the price tag is also a bit higher.
King of the Apple tax
The iPhone 11 Pro Max may have a very long name, but we think it's an improvement over last year. The iPhone XS Max didn't tell us much. This year, the iPhone 11 series is divided into a Pro series and this Max is the largest. That makes sense, doesn't it? The starting prices are absurd, at the time of release an astronomical 1259 euros. And then there's the not-so-worthy 64GB of storage for that. One step higher and you pay 1429 euros. For a phone! Now the prices finally drop a bit what do not expect huge price decreases. So look for a good deal, whether or not in combination with a subscription, to alleviate the pain as much as possible. You'll get the most comprehensive deal Apple has to offer. Of course, the competition offers the same for probably less money. But that's not what the Apple logo is all about. And if that's all that matters, you'll have to pay the Apple tax.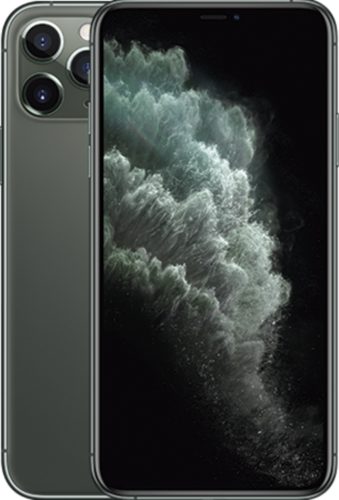 A lot more professional camera system
Apple invested heavily in the camera last year. On the back of the iPhone 11 Pro Max we find a triple camera. One shoots everyday snapshots, the other zooms in twice and the other is the real new one; a wide-angle lens for shooting wide landscapes. All three cameras are equipped with a 12 megapixel sensor. The app is as easy to use as we are used to from Apple and most settings are automatically selected for you. So is the new night mode that switches on automatically. The 11 Pro Max features numerous small camera enhancements such as 4K in 60fps, audio zoom, built-in video editor, new portrait modes and the new Smart HDR. Most of these features will make sure you shoot the best photos and videos, like a real pro. As a result, the iPhone 11 Pro Max is one of today's best point-and-shoot.
Main Apple iPhone 11 Pro Max specifications
Large 6.5 inch Super Retina XDR screen with high brightness peak
3x 12 MP camera with wide-angle lens and night mode
Even more powerful A13 Bionic processor
12 megapixel selfie camera with slowmotion selfies (slofie)
Faster 4G support for gigabit mobile internet
Dualsim support thanks to built-in eSIM
Larger battery with longer battery life
Innovation or marketing?
In addition to new camera features, Apple has significantly improved battery life. It now lasts up to 5 hours longer than its predecessor. That's thanks to a lot of improvements, including the more energy-efficient A13 Bionic chipset and the slightly more energy-efficient Super Retina XDR display. But most of the progress is because Apple finally installed a properly-sized battery. Other improvements, let's put it the way it is, are marketing talk. For example, the name of the screen is now a reference to the Pro Display XDR screen, but it's pretty much the same screen as last year. Apple also claims to have adopted a new design, but it's just a new matte coating and new color; green. Apple also says that this is the most waterproof iPhone ever, but the IP rating has remained the same at IP68. What is really new is Dolby Atmos, which gives you more spatial sound. But if the camera system and longer battery life doesn't really bother you, you can also consider the iPhone XS Max.
---
Most important Apple iPhone 11 Pro Max specifications
Dimensions
158 x 77.8 x 8.1 mm
Weight
226 grams
EAN code
9508915267262, 9508898837872, 9508895514622, 9508893831653, 9506681818299, 9506676178612, 9503149774135, 9503149126392, 9502742352627, 9502742336375, 0400063415696, 0400063415689, 0400063415672Show 98 more

, 0400063415665, 0400063415658, 0400063415641, 0400063415634, 0400063415610, 0400063415603, 0400063415580, 0400063415528, 0400063414828, 0400063414811, 0400063414804, 0400063414798, 0400063414781, 0400063414774, 0400063414767, 0400063414750, 0400063414736, 0400063414729, 0400063414675, 0400063414316, 0400063413340, 0400063413302, 0400063413296, 0400063413289, 0400063413272, 0400063413265, 0400063413258, 0400063413241, 0400063413227, 0400063413210, 0400063413203, 0400063413135, 0400063412817, 0190199385337, 0190199385238, 0190199385016, 0190199384965, 0190199384866, 0190199384859, 0190199384644, 0190199384590, 0190199384491, 0190199384279, 0190199384224, 0190199384125, 0190199383906, 0190199383852, 0190199383753, 0190199383531, 0190199383487, 0190199383388, 0190199383371, 0190199383166, 0190199383111, 0190199383012, 0190199382831, 0190199382794, 0190199382749, 0190199382640, 0190199382633, 0190199382466, 0190199382428, 0190199382374, 0190199382275, 0190199382091, 0190199382008, 0190199381902, 0190199381896, 0190199381681, 0190199381636, 0190199381537, 0190199381315, 0190199381261, 0190199381162, 0190199380943, 0190199380660, 0190199380653, 0190199380646, 0190199380639, 0190199380622, 0190199380615, 0190199380608, 0190199380592, 0190199380585, 0190199380578, 0190199380561, 0190199380554, 0190199379671, 0190199379343, 0190199378681, 0009000000003, 0008000000013, 0008000000006, 0007000000009, 0000000012393, 0000000011983, 0000000011693, 0000000011150, 0000000010900

iOS
13
Color display
6.5 inch, Super Retina XDR, notch
Camera
12 MP, 12 MP, 12 MP
Dust and waterproof
Processor
Apple A13 Bionic
Secondary camera
12 MP
Dual SIM
4G (LTE)
Internal memory
4 GB (Size (RAM)), 256 GB (Storage), 512 GB (Storage), 64 GB (Storage)
Memory card slot
Battery
3500 mAh
Fast charging
Wireless charging
Audio jack plug
---
Alternatives of the Apple iPhone 11 Pro Max
Scroll the table below to see more
| | | | | | |
| --- | --- | --- | --- | --- | --- |
| | | | | | |
| | | | | | |
| | Current product | | | | |
| iOS | 13 | | | | |
| Color display | 6.5 inch, Super Retina XDR, notch | 6.4 inch, Curved Dynamic AMOLED Quad HD+, hole-punch display | 6.8 inch, Dynamic AMOLED Infinity-O Display | 6.7 inch, Infinity-O Display, hole-punch display | 6.4 inch, FullVision OLED QuadHD+, notch |
| Camera | 12 MP, 12 MP, 12 MP | 12 MP, 12 MP, 16 MP | 12 MP, 12 MP, 16 MP, VGA camera | 12 MP, 12 MP, 64 MP | 12 MP, 12 MP, 16 MP |
| Dust and waterproof | | | | | |
| Processor | Apple A13 Bionic | 1.7 GHz, 2.4 GHz, 2.8 GHz, octa core | Octa core | Octa core | Qualcomm Snapdragon 845, octa core |
| Secondary camera | 12 MP | 10 MP, 8 MP | 10 MP | 10 MP | 5 MP, 8 MP |
| Dual SIM | | | | | |
| 4G (LTE) | | | | | |
| Internal memory | 4 GB (Size (RAM)), 256 GB (Storage), 512 GB (Storage), 64 GB (Storage) | 12 GB (Size (RAM)), 8 GB (Size (RAM)), 1 TB (Storage), 128 GB (Storage), 512 GB (Storage) | 12 GB (Size (RAM)), 256 GB (Storage), 512 GB (Storage) | 12 GB (Size (RAM)), 128 GB (Storage) | 6 GB (Size (RAM)), 128 GB (Storage) |
| Memory card slot | | | | | |
| Battery | 3500 mAh | 4100 mAh | 4300 mAh | 4500 mAh | 3300 mAh |
| Fast charging | | | | | |
| Wireless charging | | | | | |
| Audio jack plug | | | | | |
Complete comparison between the Apple iPhone 11 Pro Max and these alternatives or compare with other models
---
Questions and answers about the Apple 11 Pro Max