The OnePlus 8 and OnePlus 8 Pro are OnePlus' first phones with 5G support. These are not the only innovations in the 8th series. This year, OnePlus is introducing more differentiation between both models. The OnePlus 8 is considered the 'compact' model as far as a 6.55 inch phone is concerned. The OnePlus 8 Pro is the big brother that is equipped with all the new gimmicks.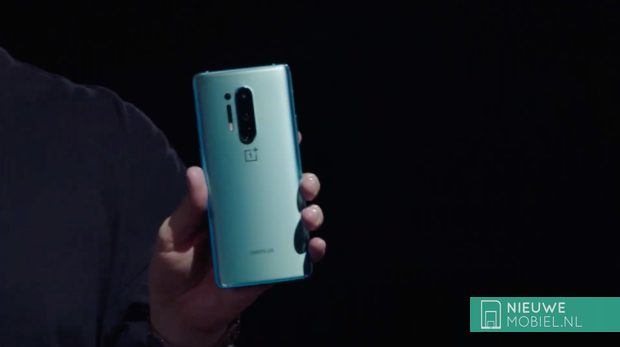 OnePlus 8 Pro: much more exclusive
In the OnePlus 8 Pro you'll find most of the new features including a 120 Hz display, waterproof IP68 rating, wireless charging at up to 30 watts and a Quad camera system. The latter is particularly interesting. The 8 Pro has a 48 megapixel main camera with f/1.7 lens, a 48 megapixel ultra-wide-angle camera with 120° angle of view, a 3x telephoto camera for 3x hybrid zoom and 30x digital and finally a color filter camera for special effects.

As mentioned before, the OnePlus 8 Pro is the largest model with a 6.78 inch screen. The model comes with 8 and 12GB of RAM. Besides conventional colors such as Ultra Marine Blue and Onyx Black, this year there is also a Glacial Green version with Matt Frosted finish. Prices start at 899 euro for the Onyx Black version with 8 GB of RAM and 128 GB of storage, and 999 euro for the Glacial Green and Ultra Marine Blue color with 12 GB of RAM and 256 GB of storage. Preorder is possible as of today and real purchase is possible as of April 21st.

OnePlus 8: New course
The OnePlus 8 now counts as the smaller brother and OnePlus does not only take this literally but also figuratively. In terms of specifications OnePlus calls it flagship-worthy, but compared to last year, not much has changed. The screen measures 6.55 inches and has a Full HD+ resolution and 90Hz refresh rate. The device no longer has a telephoto zoom camera, but has a less versatile macro lens.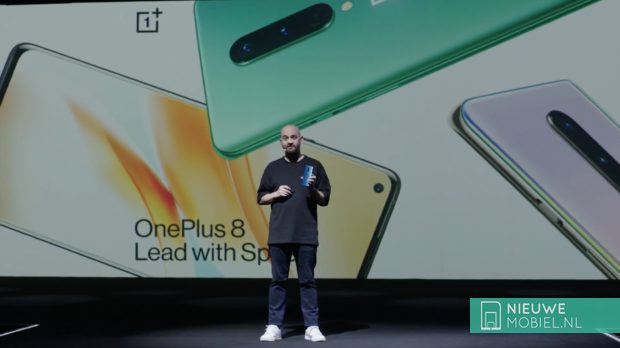 The larger 4300 mAh battery is a welcome update but is not wirelessly rechargeable, as the OnePlus 8 Pro can. Also, this model is not certified waterproof. However, there is a new Interstellar Glow color version that is difficult to photograph. This unique color is not expected until May 4. The other colors Onyx Black and Glacial Green can now be ordered and will be for sale on April 21st. Prices start at 699 euro for the Onyx Black and Glacial Green color with 8 GB of RAM and 128 GB storage, and 799 euro for the Glacial Green and Interstellar Glow with 12 GB of RAM and 256 GB storage.