An image of Google's upcoming Pixel Watch has surfaced. In addition to the date and time, the round clock also displays three icons including that of Fitbit. Fitbit was recently acquired by Google and now seems to be getting a prominent role in Google's upcoming smartwatch.
Stories about the Google Pixel Watch have been going around for years. It would get a round display with a rather prominent silver crown on the right. New images reach us today via 91mobiles thanks to an article by Evan Blass.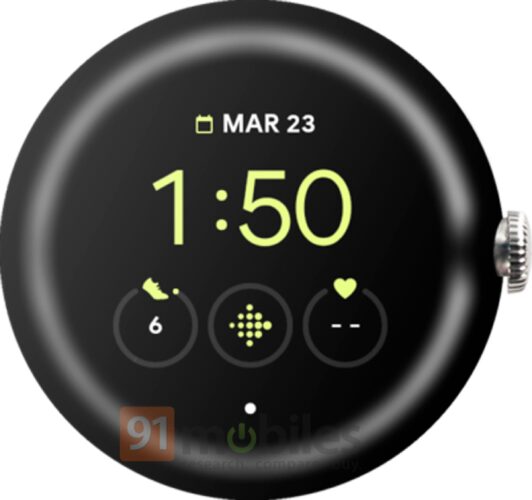 In addition to the date and time, we see a pedometer and heart rate monitor but also the Fitbit logo. This suggests that the Pixel Watch comes with tight Fitbit integration. This company, now acquired by Google, makes fitness and activity trackers that have numerous health functions. The latter we will probably find in Google's upcoming watch.
Google Store
The screen also shows a white dot at the bottom, possibly intended for notifications. It is obvious that the watch will also have in-depth integration with Android and associated smartphones. Google itself, meanwhile, is preparing an announcement. As noted by 9to5Google, Google has now made room on its webshop for watches alongside the already existing phones and smart home category.