It looks like Apple is adding an extra camera sensor to its next generation iPhones. Like the iPad Pro (2020), the iPhone 12 Pro will have a LiDAR Scanner for better depth recognition.
Evidence for the fourth camera sensor is found in iOS 14 which was first spotted by ConceptsiPhone. The fourth sensor marked by the number '8' should be the LiDAR Scanner. The other 3 sensors are a wide angle, ultra wide and telephoto lens. Nothing special since Apple also used with the iPhone 11 Pro.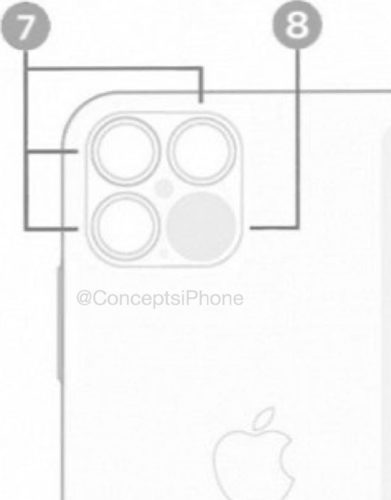 Exactly what the LiDAR Scanner does is no surprise. Apple introduced it with the iPad Pro (2020) series including the iPhone Pro 11 (2020). The scanner can measure objects and also people. App developers can use it to build new features in apps. Possibly Apple itself also is working on some new AR apps.
New look iPhone 12 Pro
Earlier we learned that the iPhone Pro 12 would get 5G support and possibly metal iPhone 4-like sides. This will give Apple's high-end iPhone a well earned new look. Apple has been using the same design since the iPhone X announced way back in 2017.