Lenovo, Motorola's parent company, hints at which processor the upcoming razr 3 will soon get in a blog post. It was previously suggested that the razr 3 would get a high-end chipset, but now we know exactly which one.
Lenovo has posted the image below via the Chinese social media platform Weibo. The image reads "hellomoto, hello snapdragon 8+". A reference to the recently announced Snapdragon 8+ Gen 1. Below that we see the unmistakable outline of a razr phone, most likely the razr 3.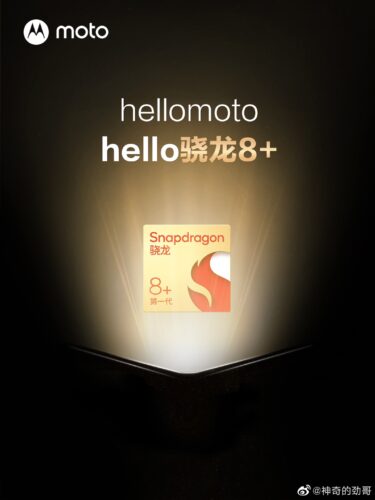 An employee of Motorola itself posted the image. In the accompanying text, he or she also mentions that "the new phone feels really good". Previously published images already showed that the razr 3 probably has a new look. A look that is more like the Samsung Flip 3 than the previous razr.
Snapdragon 8+ Gen 1
Qualcomm announced the Snapdragon 8+ Gen 1 on May 20, claiming the 4nm-based TSMC chip is up to 10% faster and up to 30% more energy efficient. Qualcomm says to expect the first products with a Snapdragon 8 Plus Gen 1 in the third quarter of 2022. That automatically means the Motorola razr 3 is not expected before July 2022.