Little by little, we are getting a complete picture of Samsung's Galaxy Fold 4. And while lately there have been snippets of information, today we get a lot more. What to say about almost all of the specifications?
The list about the Fold 4 specifications comes from Yogesh Brar. A familiar name in the industry as he writes for 91mobiles. An Indian tech website that more often publishes about unannounced products. Although this time Yogesh is posting his scoop on Twitter.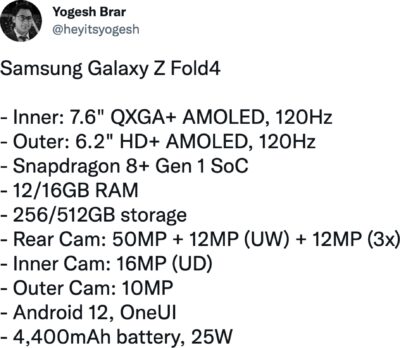 It looks like a complete list but also one that is very reminiscent of the current Fold 3. For example, the screen sizes are the same, the storage memory and battery capacity. Also the screen resolution seems to match (QXGA+ and HD+) but possibly will be slightly different on the Galaxy Fold 4. Earlier rumors suggested the new Fold is somewhat wider and, therefore more practical.
Higher selfie camera
Speaking about the cameras, we previously reported that the Samsung Galaxy Z Fold 4 presumably features a 50+12+12MP camera system with 3x optical zoom. Now we also know what resolution the selfie camera will get. A 16MP selfie camera on the inside under the screen and a 10MP selfie camera on the outside. This means that especially the Under-Display camera inside will improve in resolution.
Right battery
Other than that, we mainly see a lot of usual suspects like a Snapdragon 8+ Gen 1 processor and 12/256GB of storage. This year, the variant with 512GB of storage will have more RAM memory: 16GB. Unfortunately, little change is to be expected in terms of battery. The capacity remains at 4400mAh, and it will also be fast-charged with "just" 25W.
All in all, this seems to be a modest upgrade. At least if the design and price also remain the same. Unfortunately, we still know little about that. Actual renders have not yet surfaced, and we, unfortunately, do not know the final pricing either.