Not the Nord CE but this Nord 2 seems to be the successor of the original OnePlus Nord. It isn't yet official but we do have some press images. The biggest difference is not visible though; it's found inside.
The OnePlus Nord 2 looks very similar to the first Nord but gets a different camera module on the back. Two large sensors are accompanied by a smaller one, bringing the total to 3. Possibly the separate macro camera will be dropped just like what happened to the Nord CE.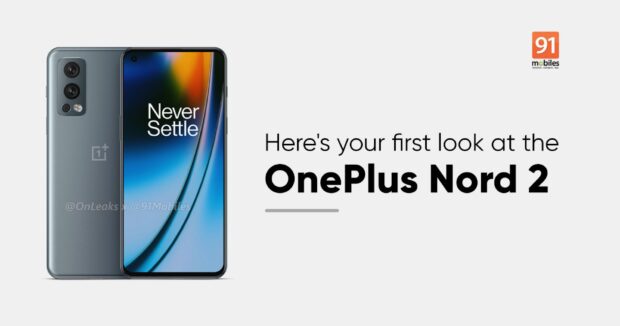 The screen size comes out to 6.43 inches which is more or less the same as the original Nord. It is obvious that this is once again an AMOLED panel with Full HD+ resolution and a 90Hz refresh rate. Gone is the dual selfie camera. Instead, there is a single selfie camera of presumably 32MP in the top left corner.
MediaTek Dimensity 1200
The biggest changes are probably inside the Nord 2. The battery capacity is reportedly going up to come out at 4500 mAh. And the processor is also different and possibly even from a completely different vendor. That would be a shame, because the Nord main advantage was its reasonably powerful Qualcomm processor with low price. The Nord 2 is expected to get a Dimensity 1200 chipset from MediaTek. This is a high-end chipset whose performance in practice we will have to wait and see.
(via)