As expected, Samsung has announced the Galaxy Z Flip4. The device has a slightly modified design with a thinner hinge and thinner screen edges. Unfortunately, this does not make the screen any larger or sharper. Another big difference is the slightly larger battery which should lead to a longer battery life.
Adding the Galaxy Z Flip4 to our database was pretty easy. Take the Flip3 from a year ago and increase fast charging from 15 to 25 Watts. Then adjust the Android and One UI version and increase the battery capacity to 3700mAh. Display resolutions, screen sizes, camera resolutions, and even the device's thickness have remained the same. The differences are disappointing considering the slightly higher suggested retail price of €1,099.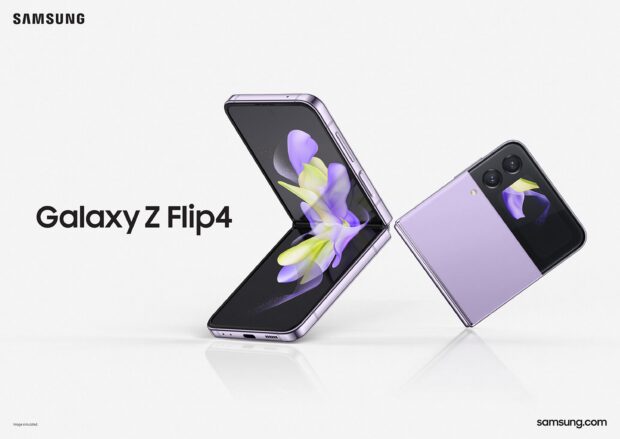 Speaking about software, Samsung promises a better camera experience for the Galaxy Z Flip4. That's partly because the hinge can be partially opened between 75 and 115°. After opening the FlexCam mode, you can share photos or videos directly on social media. Samsung has collaborated with Meta, known for Facebook, for this feature. Despite its equal 12MP resolution, the camera has a 65% brighter sensor.
Longer battery life, faster charging
Besides a thinner hinge, a back made of frosted glass, and a glossy metal frame, the biggest difference from its predecessor is the battery. The battery inside the Flip 4 has a larger capacity of 3700 mAh and can be charged faster. Thanks to Super Fast Charging, half an hour of charging should be enough for half a charge.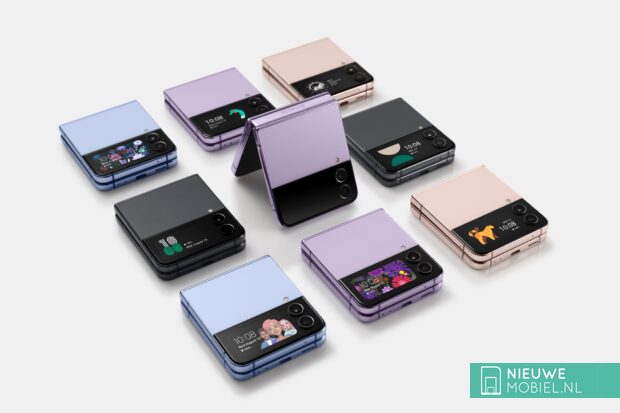 Flip 4 Bespoke Edition
As with the Flip 3, Samsung is announcing a Flip 4 Bespoke Edition. Instead of 49 different color combinations, there are now 75 combinations available. You can only choose the color of the glass and frame. Changing a panel color in the future becomes possible thanks to the Bespoke Upgrade Care service. Adjusting the frame color is not possible.
Flip 4 price and availability
The suggested retail price of the Samsung Flip 4 is €1,099 for the 128 GB model. There are also versions with 256 and 512GB of storage for €1,159 and €1,279, respectively. Available colors are Bora Purple, Graphite, Pink Gold, and Blue.
The Galaxy Flip 4 can be ordered immediately and delivery begins August 11, 2022. Those who purchase the device as a preorder will receive one year of Samsung Care+, protecting the device from drop or screen damage.