When Microsoft showed the Surface Duo at the end of 2019, it gave an expected launch date of "end 2020". As the year progresses steadily we are slowly getting closer to a launch. But there are more indications apart from the calendar that the Surface Duo will be launched soon. For example, more information, including pricing, is reaching us.
Microsoft surprised friend and foe by announcing its own foldable Android smartphone. The company had said goodbye to its own Windows Phone operating system not long ago and the switch to Android is remarkable to say the least. And by also coming up with a foldable, it managed to draw a lot of positive attention on itself.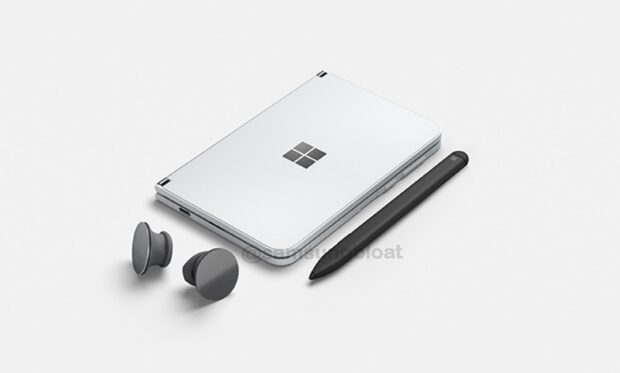 It remained pretty quiet in the meantime. Every now and then we saw a Microsoft executive using a Surface Duo. Information such as specifications and pricing didn't pop up. Until today. Because Twitter account Panda gives us a glimpse of which accessories will soon be available. Namely a stylus, a bumper, USB-C to USB-C cable and a charger. Whether the stylus is also included in the box is still unclear, it is possible that you can buy it separately later on. In the US the Surface Duo will get an expected sales price of 1400 dollar. High but not abnormal for a foldable.
Specifications Surface Duo
Big disadvantage of announcing a phone one year before it is released; the specifications are also one year old. And in telephone terms, that's soon aged. For example, the Microsoft Surface Duo has two 5.65 inch screens with decent edges, a single camera and an apparently lean battery of 3450mAh. There is no 5G support and the processor is a Snapdragon 855 which has already been succeeded by the 865+. RAM memory is estimated at 6GB and storage starts at 64GB.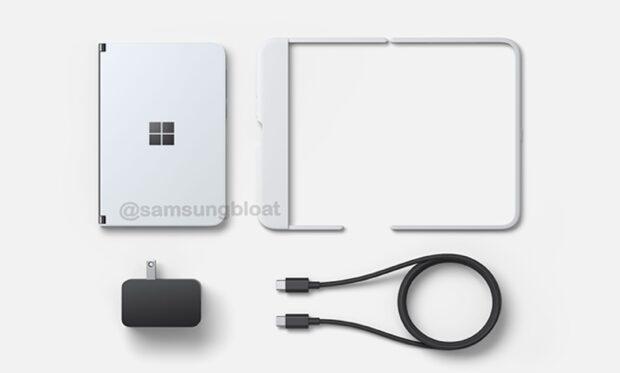 That doesn't sound like the super high-end you'd expect for this amount of money. You see more often that with this kind of first generation products the specs sometimes lag a bit behind because the development has taken so long. As soon as all early problems are solved, they can play catch up, something we also saw with the first Galaxy Fold. The second generation already looks much more modern. Moreover, the hardware is only one side of the story. When it comes to software, the Duo can really excel. So we'll wait to give a final verdict as soon as the device is official and the first reviews are in.