A recently discovered benchmark from the Google Pixel 5 reveals what processor Google will use. It will probably be the same chipset as the upcoming Pixel 4a (5G). This makes the Pixel 5 more mid-range than high-end flagship, as expected.
Apparently, Google has thought carefully about the future of Pixel phones. The most expensive Pixel models won't compete against the most expensive Apple iPhone and Samsung Galaxy, but instead will compete on price. And then you'll have to cut costs on something. Google chooses the processor. And so the Snapdragon 8xx series has been swapped for one out of the Snapdragon 7xx serie with slightly less performance.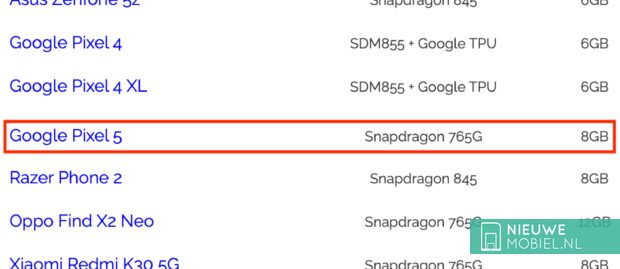 Fortunately, Google has enough knowledge to tweak Android in such a way that you won't notice any downgrade in speed. Unfortunately, we know from the first tests of the Pixel 4a, which is equipped with a Snapdragon 730, that it does not run completely smoothly. Now the Snapdragon 765G has a 20% more powerful CPU and GPU so it might not be that bad. The upcoming Pixel 5 is also undoubtedly helped by a generous amount of RAM. According to the same benchmark it will be 8 GB in total.
Specifications Google Pixel 5
Earlier, Google announced that the Pixel 5 would be released somewhere in the autumn, probably October 8th. The device gets 5G support and most likely the radar with which the Pixel 4 debuted will disappear. Furthermore, we expect two cameras on the back, a selfie camera in a punch-hole and, how could it be otherwise, Android 11 pre-installed.
(via)