A foldable Pixel phone, that's an idea we can get used to! And it may be coming sooner than we think. The end of 2021 is a good possibility according to newly surfaced evidence. And possibly not just one model but two.
Foldables are still scarce at the moment. But if it's up to Google, there will soon be some extra models to choose from. Because in the source code of Android 12.1 there are mentions of an unknown foldable Pixel phone. There is mention of a split-screen function and a taskbar that you can activate. To explain this feature, Google has posted an image of a foldable. A still unknown foldable.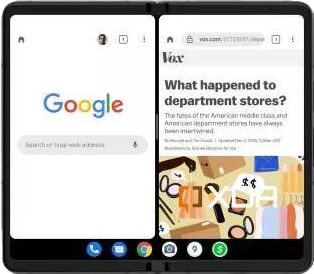 We don't know if this is actually Google's first foldable, but Google has since removed the image. We see a device that closely resembles the Fold 3 from Samsung. A design that looks like a book, possibly with an inner and outer screen. Whether this is the same device as the one with codename 'Jumbojack' for which 9to5google recently found evidence is still unclear. It's also possible that Jumbojack is an internal Android test model to test generic foldable features with.
Passport
And then there is the Google 'Passport'. A codename for Google's first foldable that actually looks more like the Samsung Flip 3. It was reported earlier that this model has a 7.57 inch large 120Hz screen. Whether we will see the 'Passport' or 'Jumbojack' first is still unknown, but the indications that this will happen in the fourth quarter are increasing.
(via)