HTC Desire or Google Nexus One can use it by now.
Barcode Scanner
Scanning barcodes with your mobile phone seems not to be very useful, at first sight. However, Barcode Scanner brings some interesting features. The app also reads QR-codes, like the ones on this page. You see them everywhere these days. If you have Barcode Scanner installed, your phone can read these codes, and sends you to the app in the market immediately. The same works for webpages.

My Days
A special apps for ladies, but also for lads who want to become farther (or certainly not): With My Days, women can predict their menstrual cycle. The app tells when you're fertile, and predicts the first day of your next period. Useful when you forget how fast four weeks pass by.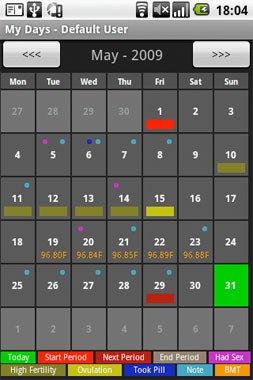 mAnalytics
Google Analytics is the most used tool to monitor the number of visitors of your website. If you want to be updated about the number of visitors and visits while you are travelling, install mAnalytics. The application does not only monitor vistors, but also the sources they came from.
Task Killer
Android can multitask. That is a mayor feature, but on phones that have a light weight processors, the number of apps running may become a problem. With Task Killer, you can quickly and easily kill application you're not using.

Wordpress
The popular blogging tool Wordpress introduced an Android application that enables you to manage posts and comments. Very useful when you're on the frontpage of Digg, and all those commenters are coming to your website.
---
---