If we'd been lazy, we could've left it with this headline. That is because we don't know much more than this. Apple just sent an invitation but nobody knows for sure what will be announced there or what they want to tell us.
New iPhones? Quite possibly. Though sources claim we shouldn't take that for granted. According to some, it is more likely that Apple will announce a new Apple Watch and new iPads on September 15th. Nobody knows for sure, let alone us. The event can be followed online and, like Apple's previous event, can only be attended virtually.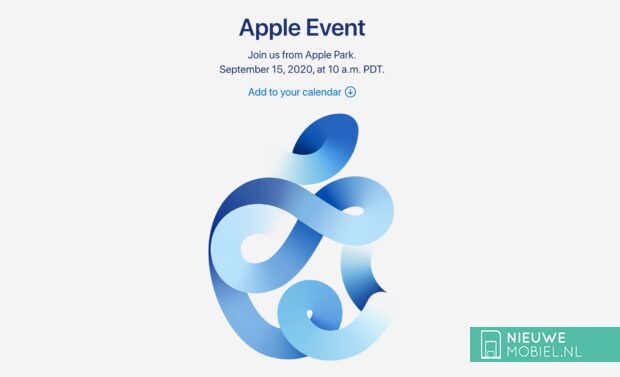 The broadcast will take place at Apple's own Apple Park at the Steve Jobs Theater and will start at 10.00 local time (Pacific Daylight Time). The invitation shows a continuous loop forming the Apple logo. It reminds us of the Hermes bands for the Apple Watch that you had to wrap around your wrist several times. The Apple event already has its own hashtag on Twitter that shows an Apple logo as soon as you mention it in a Tweet. Who visits Apple's website can also view the logo in AR from several angles.
Jon Prosser and Mark Gurman
Earlier, Jon Prosser announced that Apple would send out a press release today. He was convinced that Apple would announce a new Apple Watch and iPad. Apple-insider Mark Gurman from Bloomberg contradicted him and thought it would only be the announcement of an event. By now it is known who was right.