Evleaks has placed an image of the upcoming Nokia 3.4 on its Twitter timeline. Not only the 3.4, but also all its predecessors. This not only shows Nokia's progress, but also the absence of the Nokia 3.3. That model has been skipped.
It has been a bit quiet around Nokia lately. It has been six months since the last model was announced. There are plenty of rumors about new models but so far nothing is official. This also applies to the Nokia 3.4 which leaked today. A picture of this entry-level model appeared at @evleaks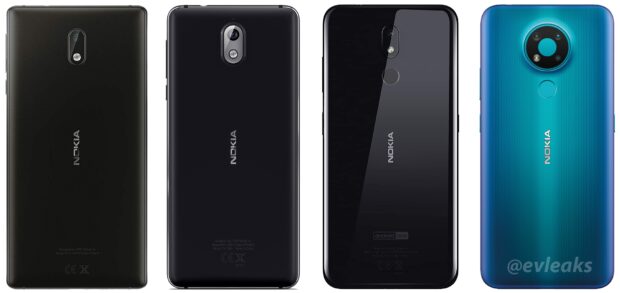 In the image above we see the entire Nokia 3 series, starting with the Nokia 3, the Nokia 3.1, Nokia 3.2 and now the Nokia 3.4. Nokia failed to announce a Nokia 3.3 early this year and apparently didn't feel like catching up. And that's why we immediately jump to the Nokia 3.4. When this model will become official is yet unknown, there are no reports available about it.
Nokia 3.4 specifications
Looking at the picture, the 3.4 gets two more cameras than its predecessor placed in a circular camera module. Below is a fingerprint reader. The read does look like plastic, although that doesn't have to be bad thing. Plastic doesn't shatter if you drop it like glass does. The glossy appearance is also gone. Smudged fingerprints will be less visible because of this. Last month there was a rumor that the phone has a 6,5 inch punch-hole screen with 4000 mAh battery.