Apple iPhone 6 review
Not really innovative, all right
---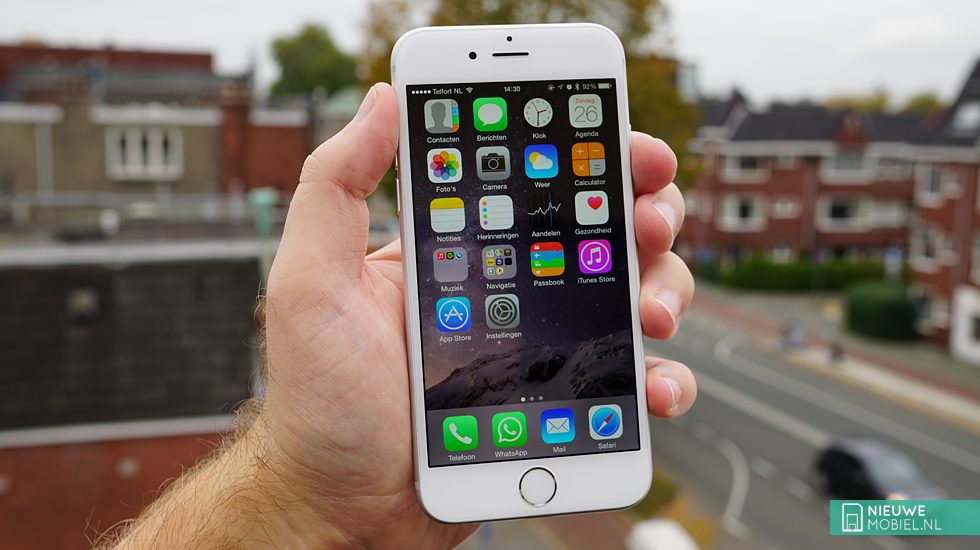 Well-prepared takes time. The iPhone 6 has been out for almost a month now, so it's time for an extensive review. One with a practical and meaningful gang test, a realistic comparison with high-end Androids and no fanboy opinion.
In recent years, our iPhone reviews have received a lot of criticism. We were too critical of the small screen and didn't think iOS was open enough. This allowed the competition to catch up with Apple and even passed it by on points. Time has proved us right. Even Apple is convinced that 4 inch is too small and even came up with an even larger 5.5 inch phablet. Moreover, the door of the closed iOS went ajar which made new applications possible.
A new Apple has risen. One that seems to listen to the market. It takes some getting used to because we are used to a rigid and almost arrogant Apple. A company that doesn't do study groups and only releases one-size-fits-all products. Suddenly we can choose. A relief or confusing?
In terms of opponents, the iPhone 6 should count on the Sony Xperia Z3 Compact, the Samsung Galaxy Alpha and the HTC One (M8). All almost the same size, mostly metal and equipped with high-end specifications. And especially with the Android 5.0 Lollipop update, Apple gets to wet his chest. Then Android gets even more features that iOS lacks; multi-user support for example, but also a special battery saving mode. Fortunately, there is something to choose from.
---
What's with the device?
The iPhone 6 comes in a new box, virginal white and with a print of its size. Inside we find next to the device a Lightning data cable, a plug and headphones. All in white, coincidentally also the colour of our device. Although everyone, no matter what colour version you buy, gets this colour. Furthermore, a quick start guide and a pricker to open the SIM card holder.
Appearance
The new iPhone 6 is almost impossible to thin. Of course there are even thinner phones to be found, but compared to its predecessor it was 0.7 millimetre off. Something that seems even more so because of the round edges. Making a phone thinner is always at the expense of the battery and that's a pity. In every situation we would choose an extra millimeter in exchange for a thicker battery. Yet its thinness has an unexpected positive effect. And that's that even in a case the iPhone 6 is still thin.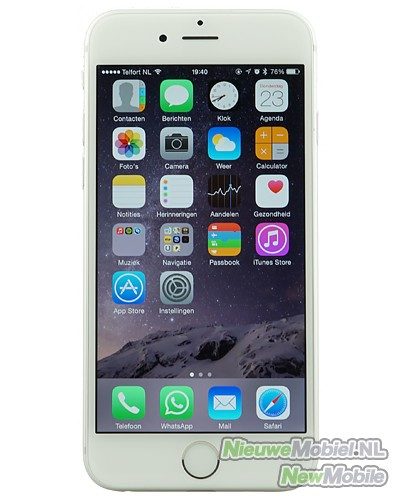 Maybe a little too thin. Soon messages popped up from curved iPhones. Sometimes even when they were in the pocket. And no not the one in the back! Apple was forced to react to them to take the cold out of the air. Still, some videos showed how quickly and easily an iPhone 6, and especially an iPhone 6 Plus, can be bent. We've had it in our pockets many times. Sometimes it is a bit of a bottleneck while cycling. And sometimes it stands out while pedalling. Yet our copy is still upright, which gives us confidence that it will be all right. We also didn't have any complaints about facial hair sticking.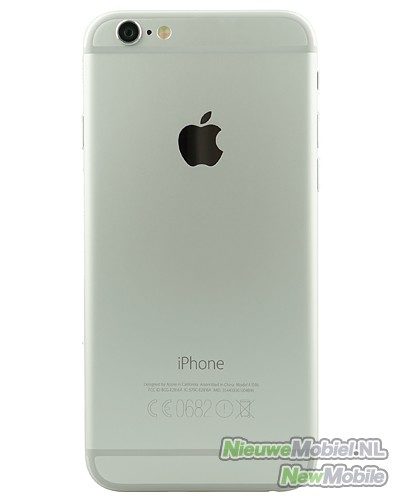 ".
We are less enthusiastic about the new look of the iPhone 6. Yes, the curved screen is nice when you swipe from the edges. But Nokia's Lumia 800 already had that, so let's not dwell on that. As far as we're concerned, the antenna bands are a bit too conspicuous, especially in the golden version. And the excellent camera ring is not the best solution from an aesthetic point of view either. All in all, it is not an ugly phone and there is plenty of detail and care.

Endurance
The iPhone's battery has always been a problem child. That's mainly because owners do a lot with their iPhone and it's often on. Although Apple has increased the battery capacity from 1,558 to 1,810 mAh, that increase is not proportional to the increased screen diagonal. That's worrying. In practice, however, it didn't bother us. Those who use their iPhone moderately will notice that by noon they will still have 100% battery capacity. Even if you regularly use an app, request a web page, send apps and consult Facebook, you'll notice that he's getting through more than a day. Only when you start gaming will it deteriorate noticeably quickly.
Too bad iOS 8 still doesn't have a battery saver mode. However, it is now possible to ask which app requires how much of the battery. So if your iPhone runs out of power suspiciously fast, it's advisable to call up that screen. It's also advisable to take a critical look at which app is allowed to run in the background. iOS 8 allows you to authorize a wide range of things, including background activity per app. The fewer apps that do that, the less likely it is to drain your iPhone.
Call quality
The times when you could significantly reduce the iPhone's signal by holding it in a firm grip seem to be over. The iPhone 6 stands his ground and finds a signal almost everywhere. We haven't had any problems calling.
You don't have a lot of options. You could reject a call with a message and use a 'don't disturb' function. A new feature is that you can also retrieve the user's Medical ID from the lock screen when making an emergency call. You have to give permission for this, but it could help a counsellor find an ICE contact (In Case of Emergy), someone's blood type and whether he or she is an organ donor.
Display
We're one of those people who can see a Pentile-pixel arrangement with the naked eye. So we were a little worried when we learned that the pixel density of iPhone 6 stuck at 326. In a world where competition is moving to Quad HD and the pixel density of some phones is well over 500, the difference is big. Fortunately, it hardly stands out in practice. The iPhone 6's screen is certainly still among the best and the sharpness is more than enough. Only in low light and up close, you could tell the difference with a Quad HD screen.
Menu
The iPhone 6 has a larger screen and so another row of icons could be added. Fortunately, the screen is wider although four icons still fit in a row. There is now only more space between them. Existing apps run smoothly on the larger screen although the developer can make use of that. That's advisable anyway, because with non custom apps such as WhatsApp, the status bar at the top and the keyboard are displayed larger. This may seem crazy, but it doesn't get in the way of working.
".
However, if you were very attached to only 5 rows then there is a special zoomed-in display setting. And there is another function to the critics who find screens of 4 inch+ too large to gag. Touching the home button twice (don't press it) and the screen drops a third time. If your finger doesn't come to the top of the screen, the screen will come to you. Good thought, but Android phones have proven that people have no problem with larger phones.
".
The message center now has two tabs; Today and Messaging. New is that widgets can be added to the Today section. Android users have known it from the beginning and now Apple has given it its own twist. If you have several widgets you'll soon have to scroll down and there aren't many widgets yet.
".
Actually, at Apple, we don't know any better than that there's relatively little you can set up. It doesn't kill you with trivial settings that have minimal effects, making settings menus dirty and cluttered. That's why we were surprised at how many settings you can actually do in iOS 8. Use shades of gray? No problem! Bold text? No problem! Increased contrast, less transparency, darker colors, reduced whites? All not a problem. This high level of customization is characteristic of the new Apple.
".
Spotlight has a new trick and now also simply consults the internet for your searches. And Siri also listens to 'Hey Siri' when it's connected to a power outlet to provide you with an answer. Unfortunately there is still no Dutch language available and she can't book Dutch restaurants for you.
Phonebook
The contacts app has remained virtually unchanged and is therefore still very simplistic. No Facebook or integration with other social networks or even pictures for the names. That's why you need to be with the iPhone 6 Plus. Strangely enough, you'll see photos in favorites. The app suffices, but we would have appreciated some kind of integration. Now you have to go through an app each time for status updates of contacts, for example.
Messaging
We have no complaints about the messages and e-mail app. They are simple but effective. That is why we prefer to talk about the keyboard. In addition to Apple's, you can now (finally!) install third-party keyboards. Swype for example. Disadvantage is that this is not available in Dutch. You can also choose for Fleksy which is very popular in some circles. Hats off to Apple for allowing this, although the keyboard apps are still in their infancy.
Connectivity
The iPhone 6 finally supports WiFi ac although of course you need to have a suitable router. In addition, the iPhone 6 has 16 LTE bands, so you could use 4G in many places in the world.
".
The built-in Safari browser also sees tabs you can open on other Apple devices you have, and you can even send web pages via AirDrop. Send them to your Macbook, for example, and they'll open them automatically.
Camera
We were a bit disappointed to hear that the iPhone 6 was also equipped with 'only' an 8 megapixel camera. The rest has already switched to 13 and then the difference is very big. Yet in practice you don't seem to suffer much from that. The photos are extremely sharp and offer enough contrast.
Shot photos end up in the Photos app along with other images. The camera roll has disappeared but should be back in iOS. You can also sync photos to the iCloud photo library. It's still in beta and automatically uploads and stores your entire library in iCloud so you can access it on all your devices.
".
It is actually quite remarkable that the camera differs so little from its predecessor. Actually only Apple as a manufacturer can get away with it. The only thing you notice as a user is that your slow motion videos are even slower (240 frames per second against 120 frames per second) and that's it. But you could also say the other way around; what could be significantly improved about a camera that was already very good?


Click above for more sample photos of the iPhone 6
Present programs
Apple announced Apple Health along with iOS 8. You'll find this as apps under Health. Various data is stored here and apps can use it with permission. The app works seamlessly with the M8 motion processor to keep track of steps, for example. In the keynote it was also promised that the cycling distance was tracked, but that doesn't work (yet). You can keep track of a wide range of data, from running distances to breathing frequency. Apps or suitable accessories can keep track of that and store it in Health. Handy though, we do have some questions about privacy.
".
Extras
With iOS 8, Apple has made a clear effort to make Apple products work better together. The result is Continuity, or continuity, and it includes a variety of features. One of them is handoff. Open a web page on your iPhone, or start an email and finish it on your iMac or Macbook. What you were working on then appears at the front of the dock. The other way around works, too - the app appears at the front of the multitasking on your iPhone. It's not really flawless yet, so Mail jammed on our Macbook several times. Also, your equipment has to be relatively new. At least 2012 or newer otherwise it won't work. The same goes for the hotspot function that allows you to use your iPhone as a hotspot for your Mac computer.
Another possibility is to be able to answer incoming calls or messages with your Mac computer. It may seem a little crazy to make a phone call through your laptop or desktop, but it actually works pretty well. What's more, it can come in handy when your iPhone is deep in a bag or in the other room. That way, you don't have to dash around to answer calls.
Apple does well to make devices communicate better with each other. Continuity, however, is a first step. There is only support for Apple devices, so it doesn't work with a PC. And there are also only a limited number of apps that can handle it, all from Apple. Developers should have this at their disposal as well. This way we think it's handy to be able to continue playing a game that started on the iPhone at home on the iPad at exactly the same point where you left off. In that case, Apple would have to install support for multiple users in iOS first. An iPad is often used by more people in the household. So there is still some work to be done but the beginning is there.
Conclusion
Apple finally gives the iPhone 6 a choice; 4.7 or 5.5 inches. It will allow users who have switched to larger Android phones in recent years to return. There's a reason why Apple chooses 4.7 and not 5 inches which we see a lot at Android manufacturers. Because of the relatively large tires above and below the screen, it's the same size as competing 5-inch phones. That's why the iPhone 6 Plus is larger than the 5.7-inch Note 4.
And with iOS, Apple is now giving people a choice. A choice to use an alternative keyboard, for example. But also the introduction of extensions and widgets. This new form of openness is refreshing but at the same time not Apple's style. We applaud it but the one-size-fits-all principle traditionally seems to have disappeared. Apple has never had such a large product family as it is now. That reminds us of the old days just before Steve Jobs returned. He reduced the number of products enormously, so all the attention went to a handful of products. So much time and attention went into them that they became special, innovative products. We don't hope for Apple that history will repeat itself and that Apple will once again make non-innovative unit wars.
But enough of that, back to this iPhone. It's very fast to use, but so was the iPhone 5s. He shoots very nice pictures and knows several functions to help him with that. But so did the iPhone 5s. Still, there's a very big reason to exchange an iPhone 5s or older iPhone directly for an iPhone 6. And that's its bigger screen. This allows Apple to connect with the competition and, perhaps more importantly, allows users to switch from Android back to an iPhone. Not that Apple has lost so much market share, but someone who has ever had a random Android device of 5 inches or larger will have trouble with an iPhone of only 4 inches. That is now a thing of the past.
All in all, the new iPhone 6 is very good, but not really innovative. It's less exciting than previous models, so it might be a bit boring. Not really what we're used to from Apple. Maybe we've just been a bit spoiled in recent years and now we have too high expectations. Can you charge that to Apple? In the end, this iPhone is just a good buy, maybe a bit expensive, but just a decent phone.
---
---
Questions and answers about this Apple 6 review