---
---
Pro and cons Apple iPhone 8
Familiar appearance, this time of glass
Camera with better stabilization
Powerful A11 Bionic processor ensures speed
Wireless charging
---
Prices Apple iPhone 8 Unlocked
---
Reviews about the Apple iPhone 8
| | | |
| --- | --- | --- |
| 5 stars | | 0 reviews |
| 4 stars | | 0 reviews |
| 3 stars | | 0 reviews |
| 2 stars | | 0 reviews |
| 1 star | | 0 reviews |
Give your opinion
Write your very own user opinion and let us and others know what you think about this product. Click the button to start.
---
---
Apple iPhone 8 in the news
---
Apple iPhone 8 product details
The Apple iPhone 8 is already the 10th generation of iPhones and although it may look a bit skinny compared to the simultaneously announced iPhone X, it is the iPhone for everyday users. Moreover, both phones share many of the same features and even components. What that all means in practice we will try to explain as well as possible.
Familiar appearance, this time made of glass
The iPhone 8 is very similar to the iPhone 7 of the previous year. This time, however, it has a glass back that Apple believes is the strongest glass ever in a smartphone. Those two sheets of glass are held together by a solid edge of aluminum in a matching color. It holds them together so tightly that the iPhone 8 is just as water-resistant as before. It also keeps dust out. An advantage of the glass back is that the iPhone is now suitable for wireless charging. This is not really fast, especially compared to a cable. Moreover, the iPhone needs to be reasonably aligned on the charger for it to work. Still, in practice it is very handy, especially on the bedside table. No more fiddling with a cable that breaks easily and is expensive to replace.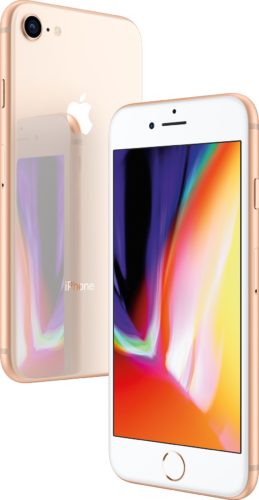 Professional lighting
You may call the Apple iPhone 8 a modest update to last year's iPhone 7. New is that the camera of this smaller 4.7 inch model is now equipped with optical image stabilization. The year before that was only spent on the much more expensive Plus model. The advantage of optical image stabilization is that it delivers sharper photos, even in the dark. Also new but in the form of a function is Portrait Exposure. This is an extension of the portrait mode that Apple introduced with the iPhone 7. With Portrait Exposure (also known as Portrait Lighting) you shoot photos that roll right out of a photo studio. With a full black background for example.
Main Apple iPhone 8 specifications
Compact 4.7-inch Retina HD display with True Tone
Improved 12 megapixel camera with optical image stabilization
Unprecedented powerful Apple A11 Bionic processor
Speedy mobile web browsing on the go via 4G
7 megapixel FaceTime HD camera for selfies and video calls
Available in 64 and 256GB storage
Water and dust resistant (IP67 according to IEC standard 60529)
Honorable mention for A11 Bionic
Also noteworthy is the built-in A11 Bionic processor. Apple makes it itself, and of course it's the fastest and most powerful processor Apple has ever made. More importantly, it has become smarter. For example, the processor helps you take better photos by using brutal processing power. It also enables a variety of Augmented Reality applications. Point your camera at the world and add virtual objects or figures. Expect an avalanche of AR apps and games that are very realistic soon. They're all small improvements that may not be so exciting by themselves. Upgrading an iPhone 7 to an iPhone 8 doesn't sound very logical, but if you come from an older iPhone, the iPhone 8 is not only a good choice, it's also the logical choice.
---
Most important Apple iPhone 8 specifications
Dimensions
138.4 x 67.3 x 7.3 mm
Weight
148 grams
Item ID
A1863
EAN code
9504573776450, 9504533578971, 9504154296728, 9502672354920, 9502671736260, 9501971781239, 8720195021728, 8720195021711, 8720195021704, 8720195021698, 8720195021681, 8720195021674, 8720195021667Show 149 more

, 8720195021650, 8720195021643, 8720195021131, 8720195021124, 8720195021117, 8720039738089, 8720039738072, 8720039738065, 8720039738058, 8720039738041, 8720039738034, 8720039737969, 8720039737952, 8720039737945, 8720039737938, 8720039737921, 8720039737914, 8720039737846, 8720039737839, 8720039737822, 8720039737815, 8720039737808, 8720039737792, 8720039735699, 8719743776906, 8719743776890, 8719743776883, 8719743775305, 8719743775299, 8719743775282, 8719743775275, 8719743775268, 8719743775251, 8719743775244, 8719743775237, 8719743775220, 8719743489417, 8719743489301, 8719743489295, 8719743489288, 8719743489271, 8719743489264, 8719743489257, 8712421546549, 8712421546532, 8712421546235, 8712421546211, 8712421546204, 8712421546198, 8033779041846, 8033779041822, 6548623121633, 6013724320389, 6013715524512, 6013710861841, 6013710032005, 6013706071056, 6013705493408, 6013705291295, 6013704142161, 6013700662670, 2000015371230, 2000015371223, 2000015371216, 2000015371209, 2000015371193, 2000015371186, 0690292524300, 0690292520234, 0690292520227, 0690292520210, 0690292520203, 0400063415726, 0400063415702, 0400063414859, 0400063414842, 0400063414323, 0400063413654, 0400063413357, 0400063413319, 0400063412824, 0400063040577, 0400062555300, 0400062555270, 0400062555256, 0400060099370, 0400060099325, 0400060099318, 0400060099233, 0400060099172, 0400060099165, 0400060098205, 0400060098168, 0400060098151, 0400060098076, 0400060098021, 0400060098007, 0400060097154, 0400060097109, 0400060097093, 0400060097017, 0400060096973, 0400060096959, 0190199292895, 0190199292796, 0190199292659, 0190199292567, 0190199292468, 0190199292239, 0190199292130, 0190199291997, 0190199291867, 0190199291782, 0190199291706, 0190199121690, 0190199121676, 0190199121652, 0190199121638, 0190198744746, 0190198744463, 0190198744418, 0190198744180, 0190198464453, 0190198453198, 0190198453075, 0190198452931, 0190198452832, 0190198452719, 0190198452573, 0190198452528, 0190198452474, 0190198452351, 0190198452214, 0190198451699, 0190198451583, 0190198451576, 0190198451439, 0190198451385, 0190198451330, 0190198451217, 0190198451187, 0190198451071, 0190198451026, 0190198450975, 0190198450852, 0190198450845, 0190198450821, 0190198450715, 0190198450661, 0190198450630

Fingerprint recognition
iOS
11.0
Color display
4.7 inch, IPS
Camera
12 MP
Dust and waterproof
Processor
Apple A11 Bionic, Quad Core
Secondary camera
7 MP
4G (LTE)
Internal memory
2 GB (Size (RAM)), 256 GB (Storage), 64 GB (Storage)
Memory card slot
Battery
1821 mAh
Fast charging
Wireless charging
Audio jack plug
---
Video's about the Apple iPhone 8
iFixit unscrewed an Apple iPhone SE 2020 and figured out how many similarities it has with iPhone 8
Hoppa; the first Apple iPhone 8 clones are currently rolling out the Chinese factories
Video compares iPhone 7s with iPhone 8
Does this video show a dummy of the Apple iPhone 8? Maybe, uh... but maybe it doesn't
---
Alternatives of the Apple iPhone 8
Scroll the table below to see more
| | |
| --- | --- |
| | |
| | |
| | Current product |
| Fingerprint recognition | |
| iOS | 11.0 |
| Color display | 4.7 inch, IPS |
| Camera | 12 MP |
| Dust and waterproof | |
| Processor | Apple A11 Bionic, Quad Core |
| Secondary camera | 7 MP |
| 4G (LTE) | |
| Internal memory | 2 GB (Size (RAM)), 256 GB (Storage), 64 GB (Storage) |
| Memory card slot | |
| Battery | 1821 mAh |
| Fast charging | |
| Wireless charging | |
| Audio jack plug | |
Complete comparison between the Apple iPhone 8 and these alternatives or compare with other models
---
Questions and answers about the Apple 8