---
---
Pro and cons BlackBerry KEY2 LE
Significantly lower price tag
Available in various vibrant colors
Standard with various privacy and security apps
Full keyboard is an advantage for some
---
Prices BlackBerry KEY2 LE Unlocked
---
Reviews about the BlackBerry KEY2 LE
| | | |
| --- | --- | --- |
| 5 stars | | 0 reviews |
| 4 stars | | 0 reviews |
| 3 stars | | 0 reviews |
| 2 stars | | 0 reviews |
| 1 star | | 0 reviews |
Want to earn $50?
Every month we select a winner among all user opinions that were submitted. That person wins a voucher of $50. The only thing you need to do to is write your very own user opinion and let us and others know what you think about this product. Click the button below to start.
---
---
BlackBerry KEY2 LE product details
The BlackBerry KEY2 LE is the cheaper brother of the KEY2 also announced in 2018. In order to achieve that cheaper price tag BlackBerry has made some concessions, but that doesn't necessarily mean that this KEY2 LE is also a lot less suitable as a work phone.
Same screen, still full keyboard
To start immediately with a disclaimer; it is not BlackBerry that releases this KEY2 LE but TCL Communications. However, from now on we will talk about BlackBerry because it connects its name to the device. In essence, the BlackBerry KEY2 LE looks very much like its big brother, although this should be seen primarily symbolically because not only have the dimensions remained virtually the same, the screen size and screen resolution also remain the same. To get it almost 200 euros cheaper, a slightly smaller battery, a slightly older processor, a little less RAM memory and a little less premium materials were used. So above the entire keyboard there is still a 4.5 inch screen with a resolution of 1620 by 1080 pixels. This is a lot more square than other modern smartphones by the way. Having a QWERTY keyboard goes hand in hand with concessions. By the way, that keyboard is no longer touch sensitive on the KEY2 LE, so you can't use it to move the cursor. However, there is still a fingerprint scanner in the space bar and the buttons have a different shape so you can find them more easily by touch.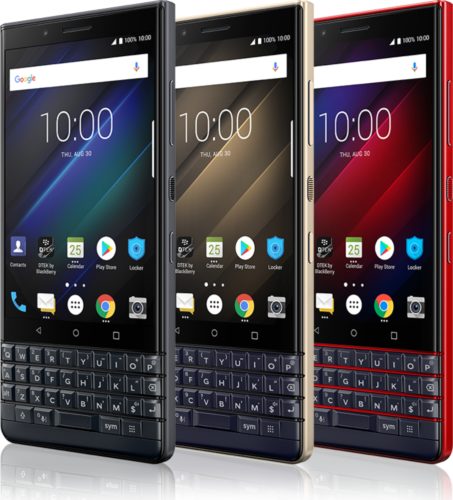 Double camera with DSLR functions
Other differences are the slightly less powerful Snapdragon 636, but on paper this is still more than enough for solid use. Hardcore gamers won't be able to use it, but that doesn't fall under the target group either. Also the RAM memory is with 4 GB a bit smaller but is still enough to keep up with the hard worker. On the back we find a double camera of 13 and 5 megapixels. This allows you to take razor-sharp photos of which the background is out of focus. This so-called portrait mode delivers professional-looking photos that can normally only be taken with an expensive SLR camera (a so-called DSLR). However, the KEY2 LE lacks the optical zoom function that the KEY2 did have. Zooming in on the KEY2 LE is done digitally, which is always accompanied by a lower quality.
Main BlackBerry KEY2 LE specifications
Compact 4.5-inch screen but with a full keyboard underneath it
Selfie camera 8 megapixel large
Double 13 + 5 megapixel camera with portrait mode and 4K video
Octacore processor (Snapdragon 636) up to 1,8 GHz + 4GB of RAM
4K support for fast mobile internet on the go
Standard storage memory is expandable via memory card (up to 256GB)
Extremely secure thanks to BlackBerry DTEK apps and relatively fast updates
LE but no lightweight
Clearly, the BlackBerry KEY2 LE is not really a Lite version of the KEY2. Therefore BlackBerry has done the right thing not to call it a KEY2 Lite but to choose for the cryptic LE. There are plenty of other functions that make it suitable for a productive day. Think of the programable hotkey at the bottom right. This allows you to place a shortcut under each button on the keyboard. That makes 52 of them. Open Twitter with the letter T, Facebook with F and LinkedIn with L. Your privacy has also been taken into account. For example, DTEK has been installed that proactively looks at potentially dangerous things with you. Apps that want to take over your microphone, for example. BlackBerry delivers the KEY2 LE standard with Android 8.1 Oreo, with which the Google Assistant can also be used. Updates always come in relatively quickly at BlackBerry, so that's definitely an advantage. Looking for the Dual SIM version? Take a look at the KEY2 LE Dual SIM.
---
Most important BlackBerry KEY2 LE specifications
Dimensions
150.25 x 71.8 x 8.35 mm
Weight
156 grams
Item ID
BBE100-1
Codename
BlackBerry KEY2 Lite
EAN code
4894461781624, 4894461780368, 4894461780351, 4894461774862, 4894461772073, 0889063504430
Fingerprint recognition
Android
8.1
Color display
4.5 inch, IPS
Camera
13 MP, 5 MP, dual camera sensor
Processor
1.6 GHz, 1.8 GHz, Qualcomm Snapdragon 636, octa core
Secondary camera
8 MP
LTE (4G)
Internal memory
4 GB (Size (RAM)), 32 GB (Storage), 64 GB (Storage)
Battery
3000 mAh
Fast charging
---
Video about the BlackBerry KEY2 LE
Let BlackBerry explain in 1 minute 37 what you can do with the KEY2 LE.
---
Alternatives of the BlackBerry KEY2 LE
Scroll the table below to see more
| | | |
| --- | --- | --- |
| | | |
| | | |
| | Current product | |
| Fingerprint recognition | | |
| Android | 8.1 | |
| Color display | 4.5 inch, IPS | 4.7 inch, IPS |
| Camera | 13 MP, 5 MP, dual camera sensor | 12 MP |
| Processor | 1.6 GHz, 1.8 GHz, Qualcomm Snapdragon 636, octa core | Apple A13 Bionic |
| Secondary camera | 8 MP | 7 MP |
| LTE (4G) | | |
| Internal memory | 4 GB (Size (RAM)), 32 GB (Storage), 64 GB (Storage) | 128 GB (Storage), 256 GB (Storage), 64 GB (Storage) |
| Battery | 3000 mAh | 1821 mAh |
| Fast charging | | |
Complete comparison between the BlackBerry KEY2 LE and these alternatives or compare with other models
---
Questions and answers about the BlackBerry KEY2 LE