BlackBerry Z10 review
Is this the rescue of BlackBerry?
---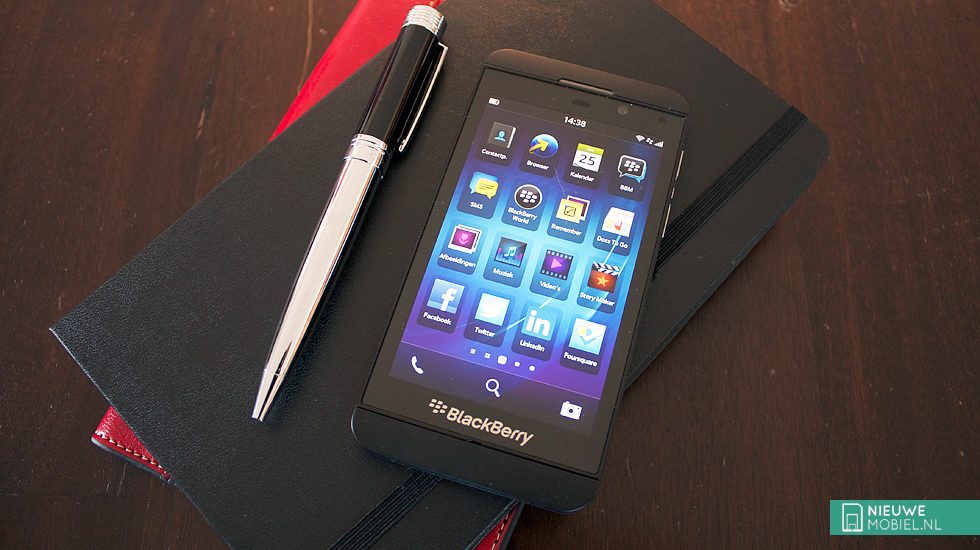 His arrival has been a long time coming and it is seen as the salvation of BlackBerry. This is not only about the Z10 but especially about the accompanying BlackBerry 10 operating system.
The OS was postponed several times, changed its name in the meantime and was the subject of a lawsuit. The ultimate goal was to find the connection with the competition. On paper this seems to have succeeded; the interface works with modern gestures, there is deep-rooted integration with social media and the system looks fast and responsive thanks to the underlying QNX with its microkernel.
BlackBerry's marketing machine also did a good job because the OS was very hyped before any products arrived and received positive reactions from the press. Even Alicia Keys was hired to occupy an unclear position. Apparently, today you must have well-known people within your ranks. Only she has to learn not to Twitter through her iPhone.
The only thing that could go wrong is that associated phones are disappointing. Should this be the case, it would inexorably mean the end of BlackBerry. The company would then be cut up and sold to the highest bidder. Will it come to that? We tried to find an answer to the question of whether BlackBerry 10 can live up to its high expectations and whether we will be able to buy new BlackBerry's in the shop next year.
---
What's with the device?
In our hands is a black BlackBerry Z10 (Charcoal Black) on which BlackBerry 10 (10.0.10.58) runs. You can also order a white version also called 'Pure White'. The included box is compact and contains a separate data cable, a headset with controls, a power plug for both a European and English socket and a lot of documentation. Quite complete. The battery is loose in the box and should logically be placed in the device before use.
Appearance
The appearance of the BlackBerry Z10 can best be described as a mini PlayBook tablet. A rough, square, flat, black phone. An industrial designer would pick his nose for it. No, the BlackBerry Z10 is not really beautiful. But that's where its power lies at the same time. It's a rough diamond. Effective, without much fuss, it's all there and everything. More importantly, it's not oversized, but at the same time, it's big enough.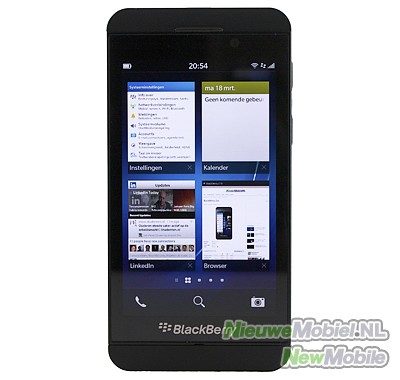 ".
The front is symmetrical and has a plastic bar both above and below the 4.2 inch touchscreen. This makes it look a bit like the back of the iPhone 5 and the front of the HTC One. Above the screen is the speaker and at the bottom is the BlackBerry logo. Disadvantage of the symmetrical appearance is that you sometimes want to be wrong about what the top and what the bottom is.
There's a reason why there are big edges around the screen, something we'll come to later. Disadvantage of this decision is that the screen/telephone ratio is not very favorable. Should BlackBerry later want to use larger screens, think of 5 inches, then the final device will be much too big. But those are problems see they can solve later.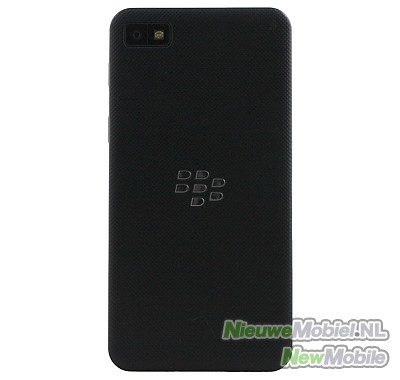 ".
The back is made of rubber and gives a good grip. Advantage is that you can put it down quite solidly, the device doesn't move quickly. Accidentally tapping off your desk will not be part of it. Disadvantage is that it is difficult to slide it into your pocket. Clothing has a tendency to roll up when you do this. In the middle the BlackBerry-logo is placed and at the top left is the camera module with a flash. The glass is interrupted halfway between the flash and camera sensor and there seems to be some slack in it. It looks a bit sloppy but we already talked about that. On the right are the volume buttons with a third button in between.

".
On the left side there is a micro-USB and HDMI connection. On top is the on and off button, with the audio jack connector on the left. The small hole on the right is a second microphone to filter out background noise during phone calls. At the bottom is a notch that allows you to remove the battery cover. The notch also serves as an 'outlet' for the external speaker. Inside is a 1,800 mAh battery, micro-SIM input and space for an external memory card.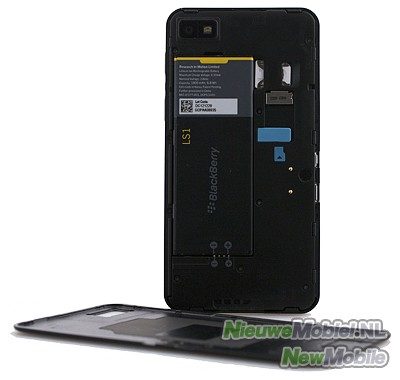 Endurance
BlackBerry's were always known for their long battery life. This was partly because all traffic was controlled via BlackBerry's own secure server. The device only had to listen to one party instead of pinging several accounts to see if there was anything new. Times changed and apparently people didn't mind charging their phone every day. The BlackBerry principle turned out to be outdated and moreover, people were no longer willing to take out an extra BlackBerry subscription with additional costs.
".
Let's get back to this BlackBerry Z10. As said before you don't have to take out a separate subscription anymore to be able to surf the internet, BBM and e-mail. That's good news because it's one less reason to switch to Android or iPhone for example.
What about the endurance of this Z10? It's above average. Under normal to intensive use, it can easily last one to two days. With moderate to little use, even a week is not a special event. The only condition is that you close applications every now and then. In general, therefore, it is very good, especially when you consider that there is no self-adjustable energy management.
Call quality
We did not have any notable problems with incoming and outgoing calls during our test period. The sound is remarkably clear, distinct and easy to understand. If it is not clear enough, you can amplify the treble or bass. There is a shortcut at the bottom left of the menu to go directly to the dialer.
".
Display
The display of this Z10 looks small at 4.2 inches, especially in the current landscape of 5-inch phones. Yet it is the biggest thing BlackBerry has brought so far and in practice we have never experienced it as small. Something we do have with the iPhone 5. The screen also works very nice and has a good resolution and color reproduction. What Android users have had to wait a long time for is the standard BlackBerry 10; a screen refresh rate of 60 frames per second. This gives you (in most cases) a responsive device.
Menu
BlackBerry 10's menu is divided into three parts; on the far left is the Hub, on the right an overview of running applications and on the right the installed applications. These can be spread over several pages depending on how many apps you have installed. A page consists of a grid of 4 x 4 icons.
".
When you open an application, the device will scroll to the 'open application' screen that shows four previews of apps. Although there is nothing wrong with this overview, the animation that follows when you open an app is a bit confusing. It looks like a swipe to the left, instead of a confirmation to open that app. And don't get used to it. Even after a week of testing, we still think that when we open an app, we accidentally swipe to the left while just opening it.
".
As far as we are concerned, the overview of opened apps is somewhat superfluous. It may look nice, but in practice it's not much use. For example, it is just as quick to open the app (again) from the menu, then from this screen. You only see the last four opened apps, the rest is underneath. Moreover, apps are never closed and it remains to be seen to what extent this has an impact on the battery and performance. But as said it looks slick and of course BlackBerry had to do something different what other manufacturers had not done yet.
".
Just like with other phones, swiping the top bar down opens a shortcut menu with links to turn things like Bluetooth and WiFi on and off. The only thing missing are the notifications, but we'll come back to that later. In some apps this bar has disappeared. Swipe down from above the screen to open an options menu. The idea is nice, but it hasn't been implemented consistently everywhere. Sometimes the settings are under a button, for example. If you swipe from top to bottom in the Facebook app, for example, the news overview is reloaded. This inconsistency is sometimes a bit confusing.
".
Once you want to get out of an application, most phones have a button somewhere below the screen. But with the Z10 there is no button there. To get out of an application you have to swipe from underneath the phone across the screen. Put your finger on the BlackBerry logo and swipe up. If you start on the screen itself, nothing happens. You'll have to start swiping from below the screen. This so-called 'gesture' is also needed to unlock the device. Talking about that, you have to swipe relatively far up to unlock the device. It sometimes happened to us that we grabbed the device too low, so we didn't get high enough to unlock it. It's a small thing because the idea, plus the animation shown, is good.
".
Then there's the lock screen. Actually, you don't see it very often, because it can only be reached when you press the button on top of the device. In most cases, you won't see it by directly unlocking the device by swiping it from below the screen to the top. Still, he is worth discussing. Next to a background and of course a knock there is a shortcut to the camera. Your notifications are also conveniently displayed on the screen. You can also activate a special night mode by pulling down the bed & moon icon that appears in the evening. The comparison of pulling down a curtain is done in a funny way. You then get a clock on a black background. Ideal for at night when you go to sleep. From the same screen you can activate another alarm clock and disable all notifications. All very functional.
Phonebook
After you have added a few accounts from Google, Facebook, Twitter and LinkedIn, among others, contacts are automatically displayed in the address book. Unfortunately, contacts are not always merged, so in some cases you will have a lot of duplicate contacts. You can link, but this does not go well yet. Handy is that you can also display the activity from the previously mentioned accounts for a contact. For example, you can see Facebook photos and tweets in a handy overview.
".
By the way, it's a bit annoying that you can't set per account whether you want to see the connections in the address book. Facebook friends do, but LinkedIn contacts, for example, don't. Maybe in a next version.
Messaging
Here we would like to pay special attention to the Z10's virtual keyboard. The rows of the keyboard are interrupted by what should look like a metal strip. Moreover, the keyboard has some tricks that we haven't seen before. For example, while typing, you guess which word you want to enter. These suggestions can be found in the metal strip. By swiping up from below that letter, that suggestion is entered. The idea is funny but in practice often unusable. You have to type so slowly to see and recognize these suggestions that it is faster to type them in full. Too bad, because it seemed such a nice feature.
".
There is also spell checking, support for multiple languages (including while typing), automatic uppercase letters and dots. Actually, the keyboard works so well that we actually want to call BlackBerry to create a port to Android.
".
If you want to send a message, be it a BBM, text message or e-mail, the best place to do that is the Hub. You get there by scrolling all the way to the left. Click set up and you will be given a choice of what you want to send. This actually makes the Hub one of the most used screens you will use. Not only is it where you send messages from, it's also where you'll find all your received messages, notifications, and calls. It's more than just a unified inbox. Notifications from, for example, LinkedIn, Twitter and application updates also come in. It is a very useful part of BlackBerry 10. Unfortunately the number of settings is still a bit limited, but the basics are good.
".
And if you want to quickly 'cheat' from an application in the Hub, swipe up from below the screen and move to the right. BlackBerry calls it 'Peek'. Do you want to go straight to the Hub? Then let go of your finger. If you want to continue with what you were doing, swipe your finger down the screen and stay in your app. Actually very handy and quite intuitive.
Connectivity
In addition to Bluetooth and WiFi, the BlackBerry Z10 also has NFC and there is a possibility to set up your own hotspot. There is a Micro HDMI connection on the side and in that respect BlackBerry does not lag behind the competition. Handy is that when you hang the Z10 on your computer, a separate installation disk becomes visible after which you can install the BlackBerry Link software for both PC and Mac. Neat and tidy! That's how we like it. Once installed you can sync music, photos, videos and documents. Also handy is that there is a menu to ping a web address or to perform a traceroute, if you know what that is.
".
Special attention to the browser. At the time of writing, it scores a neat 485 of the 500 available points in the html5test. This says something about the support of modern web techniques.
".
The browser is also doing well on other fronts. For example, the browser in the SunSpider Javascript Benchmark scores a neat 1615.0 ms. In Peacekeeper, however, the score does not exceed 476 where the Sony Xperia Z still scores 539. Unfortunately, at the Kraken benchmark, the BlackBerry Z10 drops by 31,732.0 ms where the Sony Xperia Z with the most recent version of Chrome still reaches 17,790.9 ms. The lower the better.
".
But there are more critical notes to crack. For example, it is not possible to open with the Favourites or Bookmarks overview. And the standard search engine cannot be changed either. You'll have to do it with Bing. Still, the browser is fine to work with on a daily basis and is pretty smooth.
Camera
Come out at the least favorite part of the camera. We can rotate around it but we just can't make it prettier that it is. The camera is not the strongest point of the Z10. Although an update was released halfway through the test week that improved the performance of the camera, it is still very poor. And despite the available stabilization mode, it's hard to shoot sharp photos that haven't moved. On the camera, the photos still look okay, but on a PC monitor it is to cry.

In addition, the camera app has very few settings. In itself, that's not a bad thing, because the iPhone did fine for years without it. But it's all very sparse. There are scene settings (automatic, action, whiteboard, night and beach or snow), there is a stabilization mode, a burst mode, you can activate the flash or set it to automatic and it is still possible to adjust the aspect ratio from 16:9 to 4:3. Unfortunately you cannot use the flash in stabilization mode.
Next to the regular camera function there is what BlackBerry calls the 'Time Shift'. You take a picture of someone and just when you take the picture he has his eyes closed. With Time Shift you can go forward or backward a bit so you still shoot the perfect picture. It even works with multiple people in the same photo. Choose the best expression from everyone and save the result. Unfortunately the resolution of the result is not very high and therefore not usable for printing.
The video mode has even fewer settings. There is a stabilization mode, three scene modes (automatic, night and beach or snow) and you can adjust the resolution from 1080p to 720p. If necessary, you can also use the flash as a video light. Shot photos can then be edited via some kind of Instagram clone and you can share images via Twitter or BBM, for example.
Existing programs
At the time the Z10 was announced there were no less than 70 thousand apps in BlackBerry World. That number is impressive for a fresh and new platform and continues to grow to this day. In the meantime, we have passed the 100,000. This is mainly because BlackBerry has made it possible to port existing Android apps without too much effort. So the problem is not the quantity, but the quality of the apps. For example, at the time of writing, the most popular app is a battery level meter that no one has heard of. This is followed by the ever-popular "LED board", an app for activating your flash and a digital version of the Koran. All very handy but not the apps you would expect and know from Android or iPhone. Popular apps from well known studios are missing and it is doubtful if they will come at all.
".
That's why BlackBerry has only written a few apps such as Facebook, Twitter, LinkedIn and Foursquare. These seem to be one-on-one ports of the Android apps and then unfortunately not the most recent version. However, we did receive regular updates during our test week so they are working hard on it. If you're a die-hard Facebook or Twitter fan then the BlackBerry Z10 doesn't seem like a good choice. Doesn't mean you can't use it.
".
Although you can call the app offerings large, its usability leaves much to be desired. What do you want from a starting platform? All apps are still in a "1.0 version" where the same Android and iPhone apps have been around for several generations. So there is still a long way to go.
".
The apps included by default are Contacts, Browser, Calendar, BBM, SMS, BlackBerry World, Remember, Docs To Go, Images, Music, Videos, Story Maker, Maps, Games, YouTube, Newsstand, Voice Command, Weather, Clock, Calculator, Compass, File Management, Print To Go, Info Labels, Settings, Phone, Camera, Setup and Help.
Games
BlackBerry has its own app where you can download games and track scores. You can also add friends and compete against them. It's a bit like Apple's Game Center. By default there are no games to be found on the Z10 but they are downloadable. Luckily the offer includes plenty of free games as well as paid games.
Extras
The Z10 also features a mapping application with navigation mode. In terms of functionality, the app is quite extensive, there is a night mode and you can choose the quickest/shortest or easiest route. Unfortunately, the suggested routes are disappointing, sometimes not even the shortest at all, it takes a long time to calculate a route and the spoken instructions are not in Dutch.
".
The voice control is also not available in Dutch. We can hardly blame BlackBerry for this, Siri and S-Voice are not yet available in Dutch either. More annoying is that BlackBerry Balance, which creates a separate work and private mode, is only available if you have BlackBerry Enterprise Server. They have to have this at work and activate it for you.
Conclusion
We enjoyed our test week with the Z10, but that's mainly because we like to have some news in our hands. Looking objectively at the Z10 and the accompanying BlackBerry 10, the question arises as to whether BlackBerry can win back the share of Android and iPhone. The answer is no.
The apps are not mature enough yet, and the OS itself can be polished a bit further. BlackBerry will probably be able to stop the large number of defectors with OS 10 and maybe that will be good enough for now. It might never be as big as BlackBerry once was. It will have to make do as a player in the margin and build from there. The Z10 is a good first step. The loyal BlackBerry customer won't be able to persuade you with it, he probably prefers to wait for the Q10 with his keyboard. Nor will the Facebook and Twitter addicts because they are better off with Android and iPhone. The camera lover should also ignore the Z10. For whom is the Z10 suitable? For someone who doesn't mind using something else, wants to have one place for e-mail, SMS and possibly Twitter or Facebook and above all wants to be reachable.
As far as BlackBerry 10 is concerned, the basis is good. More importantly, it has potential. It's a pity it's not used to its full potential yet, mainly due to inconsistencies here and there. We will have to work hard on that in the coming period. Third party apps will also have to improve, but for that the BlackBerry 10 share must first grow. And for that, BlackBerry 10 phone must first be sold. But then there must be good apps available. A vicious circle where only time will tell if we will get out of it.
Our special thanks to Coolblue for making this BlackBerry Z10 available.
---
---
Questions and answers about this BlackBerry Z10 review