Cat S61 review
This bulldozer also works at night
This time we get to review an eye-catching mobile; the Cat S61. A very robust phone with heat sensitive FLIR camera that can easily be mistaken for a builder's phone. That is partly true, but that would not do it justice. We will be happy to explain exactly how it looks here.
Cat is a brand name of Caterpillar that you might know from the excavators. The company has lent its name to the Bullitt Group which markets rugged phones under the Cat name. This Cat S61 was announced in early 2018 and has been in stores since June 2018. Nevertheless, we are now reviewing it because it has a function that is especially useful in the cold days; a heat camera.
Content of the box
Quick Charge 3.0 travel charger (model 3Q52)
USB-C cable
Quick start guide
Warranty card
FLIR cameras work on the basis of infrared and stand-alone models go over the counter for considerable amounts of money. Thousands of euros are no exception. A telephone with an integrated FLIR camera is a reasonable rarity. We can only list 2 of them; both from Cat. That makes the S61 has little competition but you could also ask yourself for who exactly the S61 is for? In this review we will try to answer that question, as well as why the Cat S61 could be useful for you and your company.
---
Design
If you can't estimate the value of the Cat S61, you'll see a clunky phone with a thickness of no less than 13 millimetres. We have to go back many years when phones were so thick. In the case of the S61, it's not because of age, but to get it closed seamlessly. This makes it completely resistant to water and dust. With an IP rating of IP69 it achieves the highest possible score. But in addition to being water and dustproof, it is also robust. On concrete, it can withstand falls from 1.8 metres and, thanks to the MIL-SPEC 810G specifications, it can withstand extreme temperature variations. Even salty mist does little for it.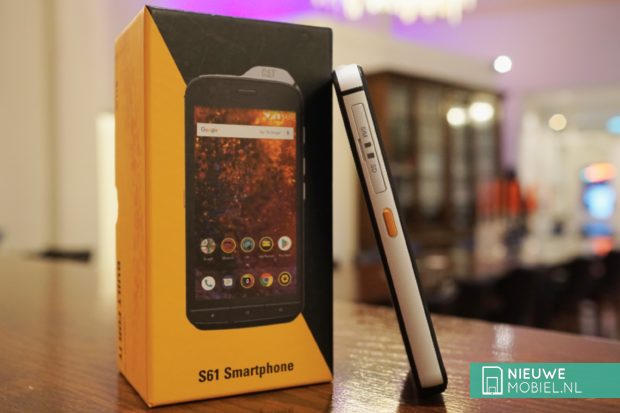 So that explains the thickness. The front is equipped with Gorilla Glass 5 which offers extra protection against falling. At the bottom of the screen there are three physical buttons that are well known for Android; back, main menu and the multitask overview. The rim is made of brushed and reinforced aluminium with a power button and double volume button on the right, above a cover with the headphone input behind it and to the left an orange button next to a cover for the SIM and memory card. This is programmable and can be used for various purposes. In addition to a walkie talkie function (PTT mode), you can link actions to it for short and long presses. Think of answering a call or opening an app. The bottom is made of hard plastic and that is where the USB port is located. This is also behind a cover that you will have to open every time you charge. We also find the speaker here.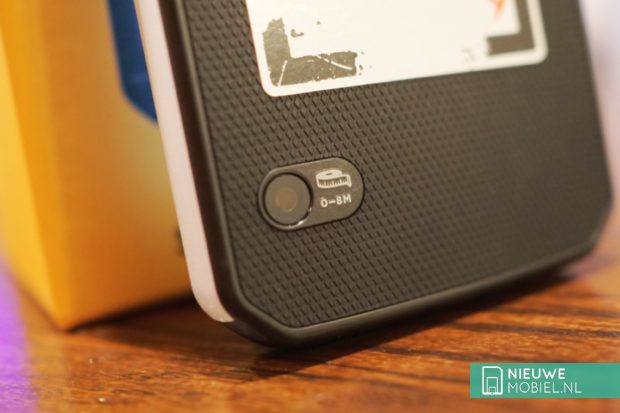 The back is made of a rubber-like material with the FLIR camera completely above it. The module protrudes slightly out of the housing at the top and gives it a distinctive look. We find the 16 megapixel camera right underneath and form one whole. Underneath it again we find a double LED flash. At the bottom left we find a rangefinder, about which we will read more later. The whole feels very solid, doesn't bend and doesn't crack anywhere. There is an edge around the screen where dirt can easily accumulate. The fact that Cat uses covers for everything makes it extra waterproof and dustproof, but it's an extra step for recharging. Wireless charging would have been a solution, but that's missing.
Performance
The Cat S61 features a Qualcomm Snapdragon 630 processor. This was announced in mid-2017 as a mid-range chipset consisting of eight cores. We see it more often on premium mid-range phones and it is generally considered reasonably fast. Nevertheless, we found the S61 to occasionally malfunction, for example when opening apps or menus. It's not really slow, but sometimes it seems to have to think for a while. It doesn't help either that animations are used everywhere.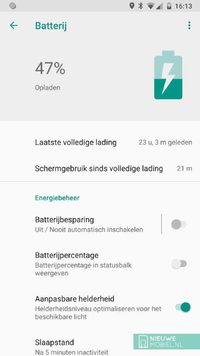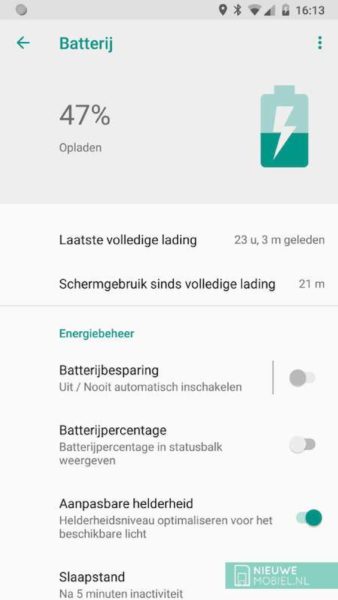 ".
Inside is a 4500 mAh large battery which is very roomy even with the energy guzzling FLIR camera. Forgetting to recharge an evening is no problem at all. We regularly manage to make it every three days but then you don't have to use it very intensively. There is a battery saving mode available although we didn't need it. Charging is very fast thanks to the Quick Charge 4.0 technique. This allows you to go for hours in a short period of time. Oddly enough, Cat comes with a slower Quick Charge 3.0 charger in the box. The S61 uses the handy USB-C which is symmetrical and has no top or bottom. Both sides fit.
Tidy is the working memory of 4 GB. Basically, this should be enough to keep apps in memory, after which you can quickly switch between them. Unfortunately, as said before, we don't notice much of it. Here and there the device hiccups and we have to wait a while. It's not long and therefore it doesn't have to be annoying. Fortunately Cat seems to use a fairly standard version of Android. Ideal for those who are familiar with Android.
Screen
The screen on the Cat S61 has a 5.2-inch screen diagonal with thick screen edges. The screen can also be operated with wet fingers and gloves, which is useful for construction or for those who spend a lot of time outdoors. However, to use glove mode, it must be checked under Settings > Display > Advanced. Cat also claims a high brightness, which in practice amounts to a maximum of 700 cd/m2. We have seen brighter but under such robust phones this is above average.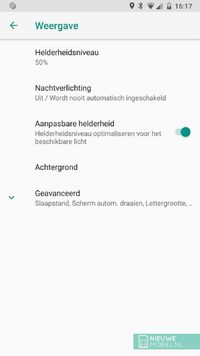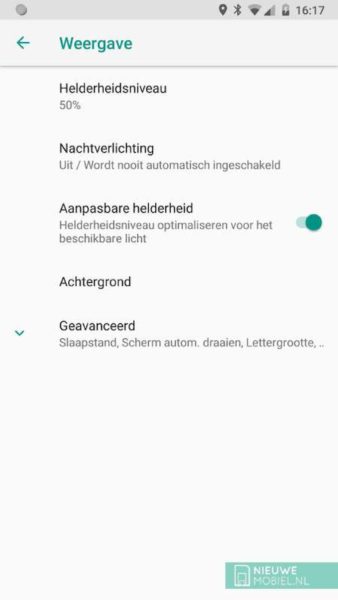 The settings menu has an option for night lighting. This makes the screen a little warmer, which is especially pleasant in the evening hours. An automatic schedule can be used based on the sunset and sunrise but also an adjusted schedule is possible. By the way, our test sample was equipped with a screen protector which is not included in the standard delivery. Standard and certainly reassuring; free screen repair for 24 months. Now Gorilla Glass 5 will not break easily, but it will happen to you.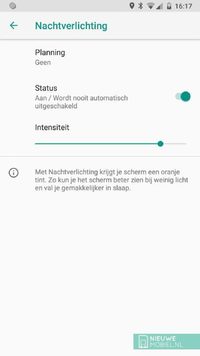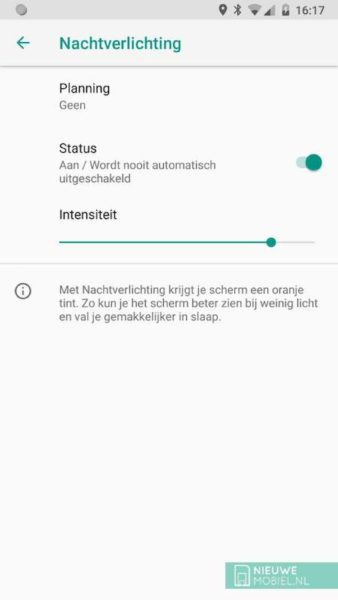 Software
As mentioned before, the Cat S61 uses Android which is version 8.1 at the time of this review. During the announcement an update to 9.0 Pie was promised but when it will be available is still unknown. It is a fairly bare Android version without a lot of bloatware. Cat does provide some of its own apps including; Air, App Toolbox, FLIR Tools, FLIR Gallery, Measure, MyFlir, Support and Registration. Not from Cat but still present are AVG AntiVirus, File Commander and OfficeSuite.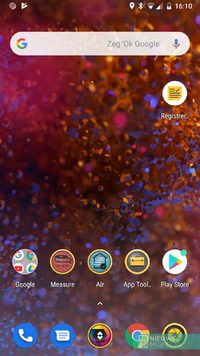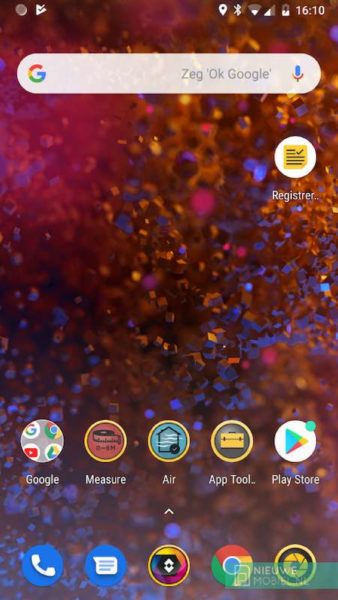 The operation of the Air, Measure and MyFLIR app will be discussed in detail later. First about the other apps. The apps supplied by Cat can all be removed and do not take up unnecessary space. Unfortunately, this does not apply to the Support app, which is no more than a link to a website. The App-toolbox is a kind of own app store containing apps that are useful for construction workers, farmers and outdoor enthusiasts such as skiers and golfers.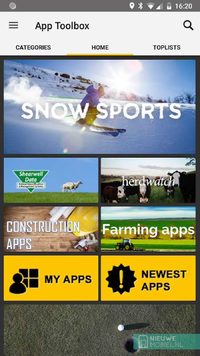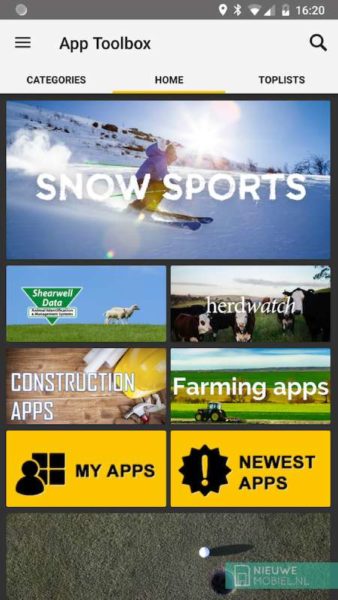 If you click on an app, it will be redirected to Google's own Play Store, making it easy to update. It's a pity you have to plug in headphones for FM radio. This will then serve as an antenna. In a housing that is no less than 13 millimeters thick there was probably room for a built-in antenna.
Hardware
The Cat S61 has some unique hardware you won't find on many other phones. One of them is a TVOC sensor, also known as Total Volatile Organic Compounds. With the Air-app you can use these to measure the air quality. The app also measures temperature and relative humidity. From a ppb concentration (parts per billion) of 200 it goes from 'good' to 'average'. At 610 it shoots badly and the app can give a warning. Higher than 2030 is unhealthy and he will give a warning anyway and it is important to ventilate. This makes the app ideal for those who, for example, paint indoors or work with volatile substances. Place it in the room and a warning will automatically follow if an unsafe situation arises.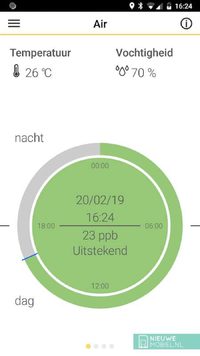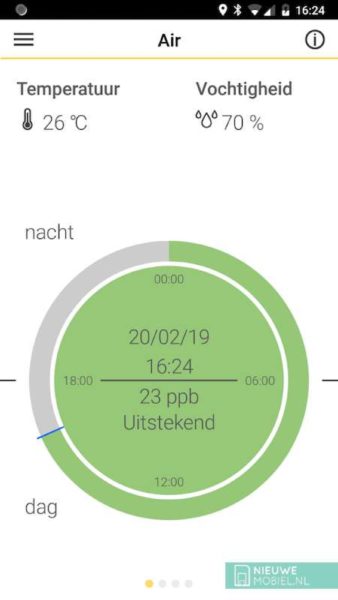 To use that other handy feature open the app 'Measure'. This is the laser-controlled surface and distance meter. The app works like a regular camera app with which you take a picture. At the same time, the laser projects a point which is then found in the photo. The app then calculates the distance to it. You can also select another point to measure that distance, so you can do that later on. It is also possible to calculate the distance to two points, useful to measure lengths. You can also calculate an area by aligning the four corners. Ideal for those who want to calculate how much paint they need or for estate agents to measure houses.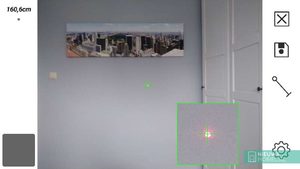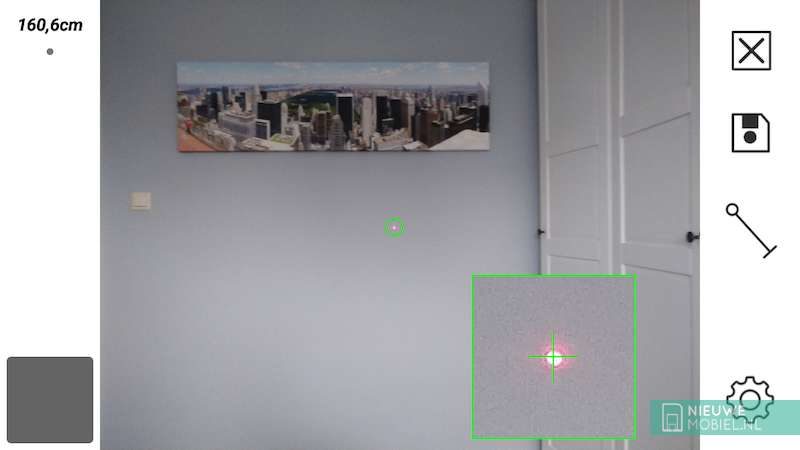 But most impressive for us is the Lepton FLIR thermal camera. As said, quite unique in a mobile phone and indispensable for some applications. Think of electricians who have to solve problems, builders who want to discover draught problems or plumbers who want to detect leaks. The camera recognizes temperatures from -20 to 400 degrees Celsius, which is wider than the range of the S60. The MyFLIR app has four different modes; Photo, Video, YouTube Live and Timelapse. When taking photos and videos, the thermal image of the FLIR camera is superimposed on that of the regular camera. You then get a recognizable image with clear contours. But you also expose the invisible like heating pipes under the ground. Indispensable for those who want to drill into the floor without stress.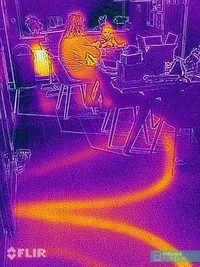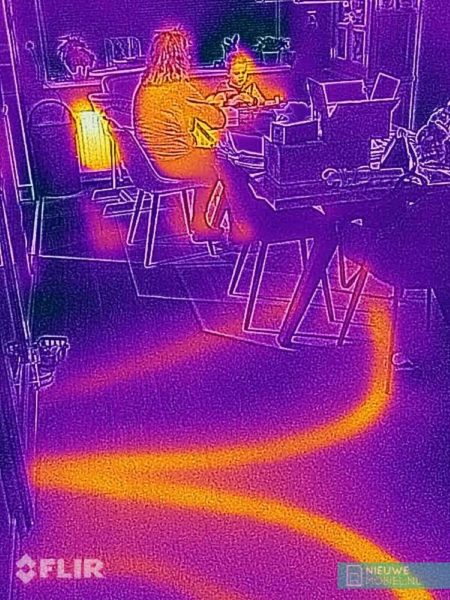 In addition to a general heat image, a spot meter can be added with the current temperature. Also the average, lowest and highest temperature of an area can be displayed. We have used the heat camera ourselves to detect insulation problems in a house, something that succeeds effortlessly. In a short period of time, the Cat S61 has provided valuable information about thermal bridges that need to be tackled. FLIR works on the basis of infrared and that has some limitations. For example, it works less well on shiny surfaces such as metal. Also, the FLIR camera is not very fast, less bad for photos but less suitable for video. That doesn't mean that it is impossible, but images don't flow very smoothly into each other.

Hands under the hot and cold tap
Camera
Besides a FLIR camera, the Cat S61 also has an 'ordinary' 16 megapixel camera. This can be opened by pressing the power button twice and shooting a picture can be done with the volume up button. Zooming can only be done by moving two fingers on the screen. Although the camera produces quite nice snapshots, it is important that you keep it reasonably still. There is no image stabilization, so you take blurred images more often than you like.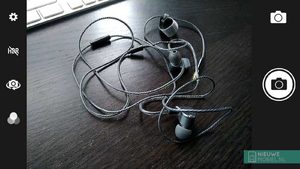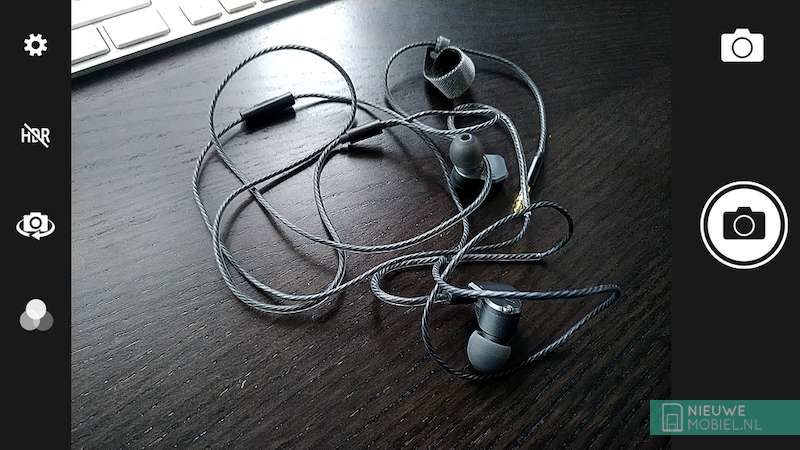 The S61 features an HDR mode that better handles backlight and numerous filters are available. There is also an 'underwater' mode but it takes a while to find out how to activate it. Drag the status bar from top to bottom and scroll through the settings, the button to activate it will become visible. In this mode the touchscreen does not work and the camera can only be operated via the buttons. This is because a touchscreen does not work properly under water.
Conclusion
At first glance, the Cat S61 is a phone for a niche market. But the more we think about it, the bigger that niche becomes. The FLIR camera, for example, is useful for a wide range of professions including construction workers, electricians, plumbers and insulation professionals. The rangefinder, in turn, is useful for brokers and contractors. The air quality sensor is useful for painters, among others. Finally, the completely waterproof housing provides another target group: outdoor enthusiasts.
Only price stands in his way, you'd say. And with a recommended retail price of 899 euros (by now it is cheaper to find) it is indeed not cheap. But whoever buys him for business will probably not mind that much. Moreover, you don't have to buy and take several other instruments with you. Think of a rangefinder and/or a separate heat camera. It's all in one handy device that everyone has in their pocket anyway; your mobile phone.
What is clear is that the S61 is a phone for professionals. And as far as we are concerned, that could also be outdoor athletes. With an S61 in your pocket you clearly have a job to do. But actually, every homeowner should use an S61 sometime. Ideal for discovering where you can post-isolate and save money. An indispensable tool in times of energy saving and energy transition!
---
---
Questions and answers about this Cat S61 review