The Google Pixel 3a is Google's first low-cost Pixel with the full-fledged camera experience we've come to expect from the Pixel series. A lot is familiar to the camera, but of course some concessions have been made to come to this lower price. Which one exactly is something we are going to discuss here.
Flagship camera in mid-range phone
We'll take you back to May 2019. Japan got a new emperor, the Netherlands won the Eurovision Song Contest and British Prime Minister Theresa May resigned. We don't want to say that all that pales in comparison with what Google introduced on 7 May, but for the importance of this story it is important now. It announced next to this Pixel 3a the larger Pixel 3a XL. Mid-range versions of its Pixel flagships where only the housing and processor has been economized. The camera is exactly the same as in the (much) more expensive Pixel 3. In telephony, this is a rather unusual step because for the best camera results, you usually have to pay a bit more. It allows Google to gain market share and it makes the competition nice and nervous. You don't have to pay almost a thousand euros for one of the best cameras at the moment.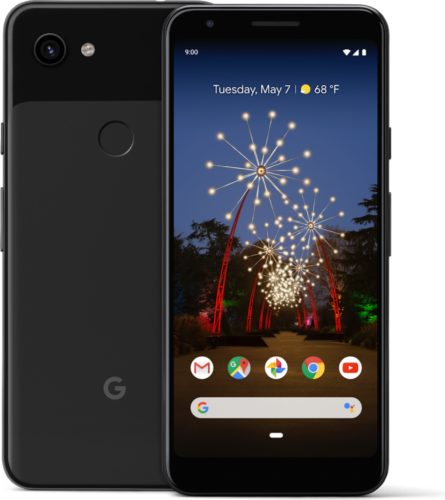 Camera with Night Sight and Portrait Mode
About that camera. Why is it so good and how good is good? After all, there's only one camera on the back. Google knows how to get the best out of it by using what is called computational photography. Especially in the field of HDR the Pixels score very well. They provide constant, well-lit, natural and sharp images. The Pixel 3a even has the impressive Night Sight which was recently introduced. This is considered one of the best night modes on a mobile phone. It sees better in the dark than the human eye. Despite its single sensor, the Google Pixel 3a has a portrait mode where you can blur the background. Thanks to smart software, the 3a still sees depth and doesn't need a second sensor. That saves costs and Google will immediately give it back to you.
Main Google Pixel 3a specifications
5,6 inch OLED display with sharp Full HD+ resolution
Octa-core Snapdragon 670 processor at 2 GHz with 4GB of RAM
Fast mobile 4G internet (Cat 11 LTE)
Same excellent 12 megapixel camera as in the much more expensive Pixel 3 series
Stereo speakers
Extra controls thanks to Active Edge
8 megapixel selfie camera with f/2.0 aperture and Full HD video
Plastic, headphone port and colorful screen
To save even more on costs, the Pixel 3a is made of plastic. That's not really common anymore in 2019 but it's not that bad. Plastic is quite durable, it doesn't feel as cold as metal and isn't as fragile as glass. The Pixel 3a is also equipped with a less powerful processor; the Snapdragon 670. Yes that's less powerful than a Snapdragon 845 as in the Pixel 3 but still powerful enough for everyday use. Furthermore, the 3a lacks premium features such as wireless charging and a waterproof housing. Big missing in this list is the screen. Normally this is also cut back but Google hasn't done that. It's still an AMOLED screen with bright colors, deep blacks and a high Full HD+ resolution. Moreover, the 3a again has a headphone port, something that the Pixel 3 and 3 XL did not do. All in all, not a crazy package.