The Google Pixel 4a 5G is the cheaper alternative to the more expensive Pixel 5. And yet it has an OLED screen, the same camera and the same software. New this year, Portrait Light. More about that you can read here.
Same chipset, bigger screen
Google has proven with the Pixel a-series that you don't have to spend a thousand dollars for a good camera phone. This Pixel 4a (5G) is the first Pixel a with 5G support. This is made possible by the Snapdragon 765G processor and that is remarkably the same chipset as in Pixel 5; the current flagship. To call the Pixel 4a 5G a Pixel 5 Lite is therefore a bit too short, because the 4a has a larger 6.2-inch OLED screen. With the same resolution but with a lower screen refresh rate of 60Hz. But because the Pixel phones are so optimized, you won't notice much of that.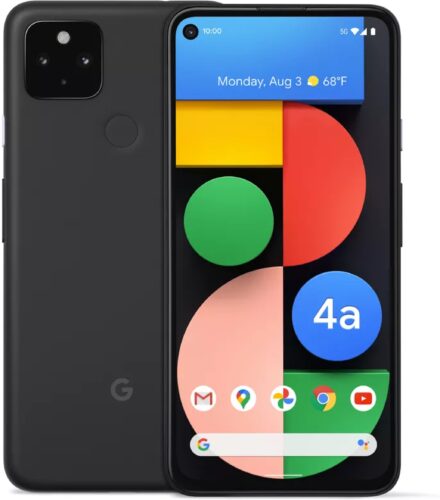 You don't need more
On the back of the Pixel 4a 5G, we find the same 12.2MP main camera as on the more expensive Pixel phones. Combined with the excellent software, you can shoot HDR photos with this camera rich in detail and with lifelike colors. A new function of the software is Portrait Light. In portrait photos, you can place an extra light, virtually, wherever you want. This way, you can expose a face exactly the way you want. It is remarkable that the rest of the expensive Pixel 5 camera has also been left intact. Think of the OIS (optical image stabilization) and the 16MP camera with wide 117° viewing angle. By delivering the best camera performance in a cheaper phone, it provides an interesting alternative to the expensive flagships.
Main Google Pixel 4a (5G) specifications
6.2-inch OLED screen with FHD+ resolution and HDR support
12.2+ 16MP camera with 117° ultra-wide angle and plenty of premium camera features
8MP selfie camera with fixed f/2.0 lens
Snapdragon 765G processor with 6GB of RAM memory
Large 128GB storage memory (not expandable)
3885 mAh battery with 18W fast charging
Physical fingerprint scanner on the back
Stereo speakers and 3.5mm audio jack for headphones
5G support for fast mobile internet
Modest battery capacity
The battery has a modest capacity with 3885 mAh. You will have to be very frugal to get through the day. Recharging with the 18W quick charger will often be necessary. In terms of audio, the Pixel 4a 5G comes along nicely thanks to the presence of stereo speakers and a 3.5mm headphone port. This is still missing on many newer Pixel phones. Besides a physical SIM card slot, there is also an eSIM built-in. In theory, this makes it a Dual SIM phone, but then you have to find a provider that supports it. Finally, a word about the choice of materials. It is not made of glass or metal but of a coated polycarbonate (plastic). That does feel good and premium. The front is of Gorilla Glass 3 where the Pixel 5 is of sturdier Gorilla Glass 6. A few concessions that can all be well justified.