---
Reviews about the LG Q60
| | | |
| --- | --- | --- |
| 5 stars | | 0 reviews |
| 4 stars | | 0 reviews |
| 3 stars | | 0 reviews |
| 2 stars | | 0 reviews |
| 1 star | | 0 reviews |
Want to earn $50?
Every month we select a winner among all user opinions that were submitted. That person wins a voucher of $50. The only thing you need to do to is write your very own user opinion and let us and others know what you think about this product. Click the button below to start.
---
---
LG Q60 product details
The LG Q60 is an affordable mid-range device you might easily overlook. And that would be a pity because the Q60 clearly has something to offer. What exactly is something we are going to find out for you here.
Camera with wide angle and bokeh
What LG does very well with the Q60 is that they equip such a cheap model with 3 cameras on the back. You don't see that very often and that clearly gives him an edge. For the main camera a 16 megapixel shooter was chosen. This is equipped with PDAF which stands for Phase Detection AutoFocus. That is a quick way to focus. Less chance of blurry photos. The second camera consists of a 5 megapixel sensor and 120° wide-angle lens. Ideal for nature shots or group shots. Finally, there is a 2 megapixel depth of field camera. Because the Q60 can distinguish the foreground from the background, you can make the first one sharp and the second one out of focus. This is called the bokeh effect and delivers beautiful portraits.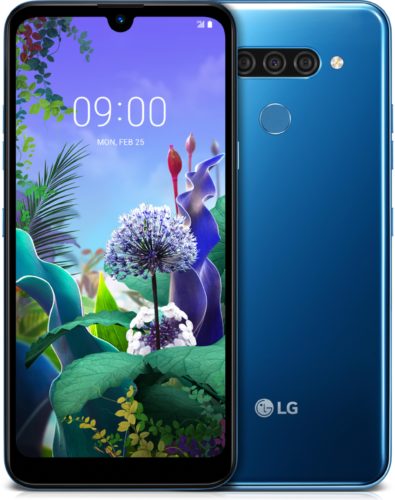 Large screen, spatial sound
What is a phone without a good screen? LG has equipped the Q60 with a nice big screen of 6.26 inch. That sounds large, but because of the minimal screen edges, it is not unnecessarily large. LG calls this a FullVision Display and it has a modern screen ratio of 19 to 9. The screen resolution only doesn't get any further than HD+. It is still sharp but not as sharp as much more expensive smartphones. Traditionally, LG also invests in sound quality. The Q60 is equipped with DTS:X 3D Surround Sound. This only works when you're listening wired and ensures high quality spatial sound.
Main LG Q60 specifications
6.26 inch FullVision IPS HD+ screen with thin edges
16 + 5 + 2 MP camera with Super Wide angle lens
DTS:X 3D Surround Sound for cinema sound
Octacore processor (MediaTek MT6762) up to 1.5 GHz
Supports Dual SIM
Support for memory cards
Access to 4G internet
Special Google Assist button
What LG did economize on is the mobile processor. Inside the Q60 there is a MediaTek Helio P22 which has eight cores of up to 2.0 GHz on paper, but in practice does not feel very fast. This is also to be expected in this price category. Fortunately, LG has not equipped the Q60 with a lot of unnecessary software (bloatware) so it is not unnecessarily slow. What remains is one thing we want to discuss and that is the separate Google Assist button. With this button you can call up your own virtual assistant with 1 press, who will answer all your questions and follow commands.
---
Most important LG Q60 specifications
Dimensions
161.3 x 77 x 8.7 mm
Item ID
LM X525EAW
EAN code
8806087038217, 8806087038200, 8806087037760, 8806087037753
Fingerprint recognition
Android
Color display
6.26 inch, FullVision IPS HD+, notch
Camera
16 MP, 2 MP, 5 MP
Processor
1.5 GHz, MediaTek MT6762, octa core
Secondary camera
13 MP
Dual SIM
LTE (4G)
Internal memory
3 GB (Size (RAM)), 64 GB (Storage)
Battery
3500 mAh
Audio jack plug
---
Video about the LG Q60
You bought an LG Q60; congratulations! These are the best tips to get the most out of your device
---
Alternatives of the LG Q60
Scroll the table below to see more
| | | | | | |
| --- | --- | --- | --- | --- | --- |
| | | | | | |
| | | | | | |
| | Current product | | | | |
| Fingerprint recognition | | | | | |
| Android | | 9.0 (Pie) | 9.0 (Pie) | | 9.0 (Pie) |
| Color display | 6.26 inch, FullVision IPS HD+, notch | 6.1 inch, Curved Dynamic AMOLED Quad HD+, hole-punch display | 6.4 inch, Curved Dynamic AMOLED Quad HD+, hole-punch display | 6.5 inch, Infinity-O Display, hole-punch display | 6.3 inch, Dynamic AMOLED Infinity-O Display |
| Camera | 16 MP, 2 MP, 5 MP | 12 MP, 12 MP, 16 MP | 12 MP, 12 MP, 16 MP | 12 MP, 48 MP, 5 MP, 5 MP | 12 MP, 12 MP, 16 MP |
| Processor | 1.5 GHz, MediaTek MT6762, octa core | 1.7 GHz, 2.4 GHz, 2.8 GHz, octa core | 1.7 GHz, 2.4 GHz, 2.8 GHz, octa core | 1.7 GHz, 2.3 GHz, Samsung Exynos 9611, octa core | Octa core |
| Secondary camera | 13 MP | 10 MP | 10 MP, 8 MP | 32 MP | 10 MP |
| Dual SIM | | | | | |
| LTE (4G) | | | | | |
| Internal memory | 3 GB (Size (RAM)), 64 GB (Storage) | 8 GB (Size (RAM)), 128 GB (Storage), 512 GB (Storage) | 12 GB (Size (RAM)), 8 GB (Size (RAM)), 1 TB (Storage), 128 GB (Storage), 512 GB (Storage) | 6 GB (Size (RAM)), 128 GB (Storage) | 8 GB (Size (RAM)), 256 GB (Storage) |
| Battery | 3500 mAh | 3400 mAh | 4100 mAh | 4000 mAh | 3500 mAh |
| Audio jack plug | | | | | |
Complete comparison between the LG Q60 and these alternatives or compare with other models
---
Questions and answers about the LG Q60