Nokia 105 (2019) Dual SIM
---
Pro and cons 105 (2019) Dual SIM
Unprecedentedly long battery life
Very inexpensive
Built-in radio and games
Integrated flashlight
---
Reviews about the Nokia 105 (2019) Dual SIM
| | | |
| --- | --- | --- |
| 5 stars | | 0 reviews |
| 4 stars | | 0 reviews |
| 3 stars | | 0 reviews |
| 2 stars | | 0 reviews |
| 1 star | | 0 reviews |
Give your opinion
Write your very own user opinion and let us and others know what you think about this product. Click the button to start.
---
---
Nokia 105 (2019) Dual SIM product details
This 2019 Nokia 105 is a Dual SIM phone with built-in radio and flashlight. And thanks to its simple character, it lasts for days and is reasonably cheap. Ideal as a backup phone, but sufficiently equipped to serve for daily use.
Preferably for phone calls only
The Nokia 105 (2019) Dual SIM is a phone that is primarily intended for making calls. With a specified talk time of over 14 hours, it leaves other modern phones far behind. Something you especially see when you look at the standby time. According to Nokia it has a standby of 25 days. But then you have to leave him alone. If you don't do that and just use it, you should be able to make it for a week. That underlines the strength of the 105 2019; an unprecedented long battery life. It also reveals its weakness because the long battery life is largely due to the lack of many functions.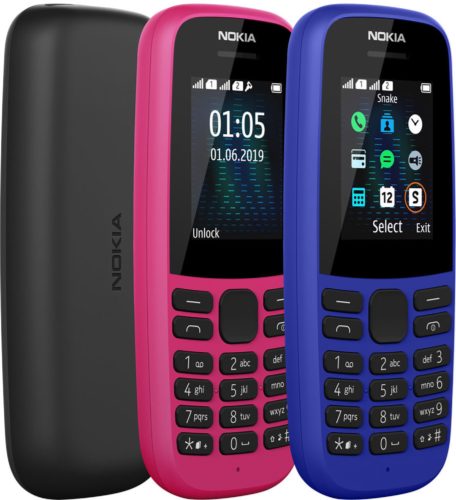 No apps, but with radio
For example, the 105 (2019) Dual SIM does not have the ability to run apps such as WhatsApp or Facebook. It also does not have a camera to shoot pictures. However, it does have an FM radio that only works if you plug in the headphones. That must be your own headphones because there is none in the box. This is not a bad thing because the 105 has a 3.5mm audio-plug input. At the top is a flashlight that can be useful in the dark. Also the nostalgic game Snake is installed with which you can kill time. But above all, the 105 is a very normal and simple phone with not too many functions. This makes it ideal as an emergency phone or as a prepaid mobile.
Main Nokia 105 (2019) Dual SIM specifications
Replaceable battery with long battery life
Dual sim functionality (Mini-SIM type)
Compact 1.77 inch display with QQVGA resolution
Built-in FM radio
Double sim but not very adventurous
The Nokia 105 2019 Dual SIM has been released in 3 different colors but it's just a matter of finding out which one is currently available. It's a bit of a challenge if you want to take it across national borders; it only supports Dual Band. Phone networks in Asia and America use different bands. European countries should not be a problem. You can also insert 2 different SIM cards into this 105 Dual SIM. These must be of the mini-SIM type that are a bit larger than you are used to with modern smartphones.
---
Most important Nokia 105 (2019) Dual SIM specifications
Dimensions
119 x 49.2 x 14.4 mm
Weight
73.02 grams
EAN code
6438409040176, 6438409040169, 6438409040152, 6438409036605, 6438409036599, 6438409035592
Color display
1.77 inch, TFT
Dual SIM
Internal memory
4 MB (Size (RAM)), 4 MB (Storage)
Memory card slot
Battery
800 mAh, user replaceable
Camera
Secondary camera
4G (LTE)
---
Alternatives of the Nokia 105 (2019) Dual SIM
Scroll the table below to see more
| | | | | | |
| --- | --- | --- | --- | --- | --- |
| | | | | | |
| | | | | | |
| | Current product | | | | |
| Color display | 1.77 inch, TFT | 6.1 inch, Curved Dynamic AMOLED Quad HD+, hole-punch display | 6.4 inch, Curved Dynamic AMOLED Quad HD+, hole-punch display | 6.8 inch, Dynamic AMOLED Infinity-O Display | 6.1 inch, IPS, notch |
| Dual SIM | | | | | |
| Internal memory | 4 MB (Size (RAM)), 4 MB (Storage) | 8 GB (Size (RAM)), 128 GB (Storage), 512 GB (Storage) | 12 GB (Size (RAM)), 8 GB (Size (RAM)), 1 TB (Storage), 128 GB (Storage), 512 GB (Storage) | 12 GB (Size (RAM)), 256 GB (Storage), 512 GB (Storage) | 3 GB (Size (RAM)), 128 GB (Storage), 256 GB (Storage), 64 GB (Storage) |
| Memory card slot | | | | | |
| Battery | 800 mAh, user replaceable | 3400 mAh | 4100 mAh | 4300 mAh | 2942 mAh |
| Camera | | | | | |
| Secondary camera | | | | | |
| 4G (LTE) | | | | | |
Complete comparison between the Nokia 105 2019 Dual SIM and these alternatives or compare with other models
---
Questions and answers about the Nokia 105 2019 Dual SIM