---
Pro and cons Nokia 5.3
Affordable all-rounder
Quadruple camera
Large battery & screen
Safe Android One
---
Reviews about the Nokia 5.3
| | | |
| --- | --- | --- |
| 5 stars | | 0 reviews |
| 4 stars | | 0 reviews |
| 3 stars | | 0 reviews |
| 2 stars | | 0 reviews |
| 1 star | | 0 reviews |
Give your opinion
Write your very own user opinion and let us and others know what you think about this product. Click the button to start.
---
---
---
Nokia 5.3 product details
The Nokia 5.3 is a nice middle-class phone with a quadruple camera system on the back. There are enough lenses to keep you entertained for a long time and to take various creative snapshots. But the 5.3 has more to entertain you. What exactly is something we are going to explain here.
Quad Camera system
Usually you have to bring a lot of money if you want a phone with a large 6.55 inch screen, quadruple camera, fingerprint scanner and a bit of skilled Qualcomm processor. Nokia doesn't want that, which is why the Nokia 5.3 comes with a reasonably low price tag. For example, the camera system has a 13MP main camera, 5MP ultra-wide-angle lens, 2MP depth camera and a 2MP macro camera. You will use the first one most of the time. It has a bright f/1.8 lens that allows you to shoot without flash even at dusk. With the ultra-wide-angle lens you shoot groups and capture landscapes. A depth camera is useful for distinguishing the foreground from the background and then blur the background. You don't have to do anything, the Nokia 5.3 does this automatically with the help of AI (artificial intelligence). Finally, with a macro lens, you capture fine details such as insects and stamps. For when you're in to that.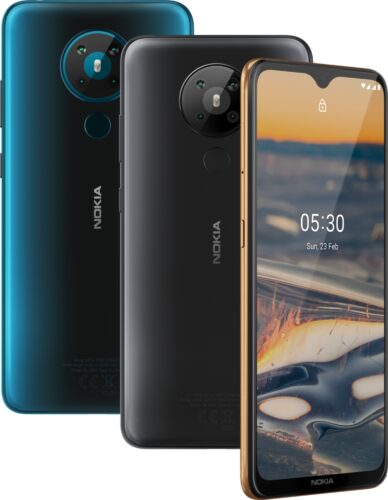 Benefits of Android One
Just like all other Nokia's, this 5.3 runs under Android One. That's a version of Android without bloatware so unnecessary apps that you will never use but cannot remove. Another big advantage of Android One is that it is often updated and therefore safe. Nokia promises years of updates even to new Android versions so the 5.3 will not age quickly. A clean Android version is also good news for the battery. With 4000 mAh it is not very small anyway and you are more or less guaranteed of a long battery life. The Qualcomm Snapdragon 665 is partly responsible for this. This is a mid-range chipset but known for its solid performance. It is also suitable for playing games.
Main Nokia 5.3 specifications
6.55 inch display with blue-light filter is big enough to play games
Battery with Adaptive Battery mode for up to 2 days of battery life
Qualcomm Snapdragon 655 with 3, 4 or 6GB of RAM memory
Quad camera system with 13+5+2+2 megapixels offers plenty of choice
Fingerprint reader on the back
4G support for fast mobile internet on the go
64GB of storage memory, expandable up to 512GB
Built-in FM radio (headphones are used as antenna)
Large screen, low blue
All this can be seen on a 6.55 inch screen with a notch at the top for the selfie camera. The screen features a Low Blue Light mode that's kinder to your eyes. Useful if you're looking at the screen for a long time. If you buy a Nokia 5.3, you get 64 GB of internal storage. If that is not enough, you can add up to 512GB via a memory card. It is important to pay attention to which version of the Nokia 5.3 you buy. There are variants with 3, 4 or 6 GB of RAM memory. In most countries they only sell the 4 GB version, but that is a point of attention. You don't actually want the 3GB version, because that's a bit too cramped.
---
Most important Nokia 5.3 specifications
Dimensions
164.3 x 76.6 x 8.5 mm
Weight
185 grams
EAN code
7423400559597, 7423400559504, 7423400546573, 6438409046697, 6438409046680, 6438409046673, 6438409045430, 6438409045423, 6438409045416, 6438409045386, 6438409044808, 6438409044792, 6438409044785
Fingerprint recognition
Android
10
Color display
6.55 inch, IPS, notch
Camera
13 MP, 2 MP, 2 MP, 5 MP
Processor
Qualcomm Snapdragon 665, octa core
Secondary camera
8 MP
4G (LTE)
Internal memory
3 GB (Size (RAM)), 4 GB (Size (RAM)), 6 GB (Size (RAM)), 64 GB (Storage)
Battery
4000 mAh
---
Video about the Nokia 5.3
Go big. Go on. With the Nokia 5.3
---
Alternatives of the Nokia 5.3
Scroll the table below to see more
| | | | | | |
| --- | --- | --- | --- | --- | --- |
| | | | | | |
| | | | | | |
| | Current product | | | | |
| Fingerprint recognition | | | | | |
| Android | 10 | 9.0 (Pie) | 9.0 (Pie) | 10 | 10 |
| Color display | 6.55 inch, IPS, notch | 6.4 inch, Curved Dynamic AMOLED Quad HD+, hole-punch display | 6.8 inch, Dynamic AMOLED Infinity-O Display | 6.9 inch, Infinity-O Display, hole-punch display | 6.7 inch, Infinity-O Display, hole-punch display |
| Camera | 13 MP, 2 MP, 2 MP, 5 MP | 12 MP, 12 MP, 16 MP | 12 MP, 12 MP, 16 MP, VGA camera | 108 MP, 12 MP, 48 MP | 12 MP, 12 MP, 64 MP |
| Processor | Qualcomm Snapdragon 665, octa core | 1.7 GHz, 2.4 GHz, 2.8 GHz, octa core | Octa core | Octa core | Octa core |
| Secondary camera | 8 MP | 10 MP, 8 MP | 10 MP | 40 MP | 10 MP |
| 4G (LTE) | | | | | |
| Internal memory | 3 GB (Size (RAM)), 4 GB (Size (RAM)), 6 GB (Size (RAM)), 64 GB (Storage) | 12 GB (Size (RAM)), 8 GB (Size (RAM)), 1 TB (Storage), 128 GB (Storage), 512 GB (Storage) | 12 GB (Size (RAM)), 256 GB (Storage), 512 GB (Storage) | 12 GB (Size (RAM)), 16 GB (Size (RAM)), 128 GB (Storage), 512 GB (Storage) | 12 GB (Size (RAM)), 128 GB (Storage) |
| Battery | 4000 mAh | 4100 mAh | 4300 mAh | 5000 mAh | 4500 mAh |
Complete comparison between the Nokia 5.3 and these alternatives or compare with other models
---
Questions and answers about the Nokia 5.3