HMD Global, the maker of Nokia smartphone, just announced 4 new phones. These are Nokia's very first 5G phone, a mid-ranger, an entry-level phone and a remake of a classic model. In other words: something for everyone.
HMD Global wanted to announce these phones during the Mobile World Congress at the end of February. The Coronavirus changed all of this and so now these four phones are being announced with a clinical press release. It is how it is. The front runner of this quadruplet is the Nokia 8.3 5G; the very first 5G phone from the Finns.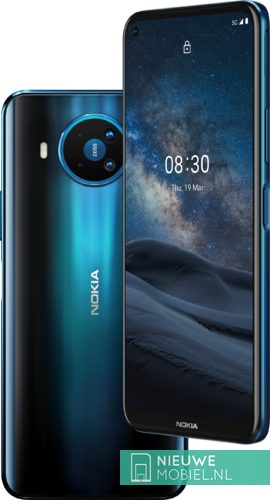 To enable 5G the 8.3 uses Qualcomm's Snapdragon 765G platform. This is not the most advanced chipset from the Americans but it is suitable for everyday use. The nice thing about this chipset is that it supports many 5G frequencies ranging from 600 MHz to 3.8 GHz. Because we are not 100% sure yet which frequencies we are going to work with, it is reasonably future proof.
Zeiss, OZO
Camera wise, the 8.3 5G will have access to 4 cameras under the PureView name. We have a 64MP main camera with lots of detail, a 12MP camera with ultra-wide-angle lens and two cameras with 2MP sensor. One is for depth and the other for macro (close-ups). The lenses are from Zeiss. Videos can also be shot in the dark thanks to the larger pixels and sound is recorded in surround sound thanks to the 360° microphones with OZO sound.
Size Nokia 8.3 5G
As usual, this Nokia 8.3 5G and the Nokia 5.3 as well will run under Android One with a 2 year guarantee of upgrades and 3 years of monthly updates. The 8.3 5G is Nokia's first punch hole phone. It is located in the upper left corner. By the way, that screen is enormous. HMD Global found it necessary to fit a 6.81 inch large one. At 171.9 millimeters tall it is much longer than Samsung's largest Galaxy Note. Another disadvantage of the screen; there is no fingerprint recognition in it. Nokia placed it in the power button on the side.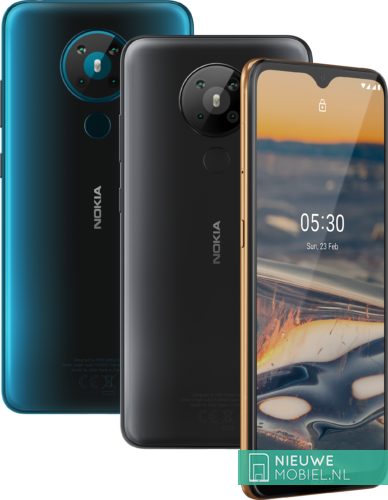 Nokia 5.3
For those who also want a quadruple camera system but want to pay a little less for it, there is the Nokia 5.3. A mid ranger with a 6.55 inch screen and 13 megapixel main camera on the back, 5 megapixel ultra-wide-angle camera, 2 megapixel depth camera and 2 megapixel macro camera. In terms of functionality, the camera matches the pricier 8.3 5G. There no punch hole but a notch. The whole is powered by a Snapdragon 655 processor with 3, 4 or 6 GB of RAM memory and a 4000 mAh battery. Who will get which version is still unclear.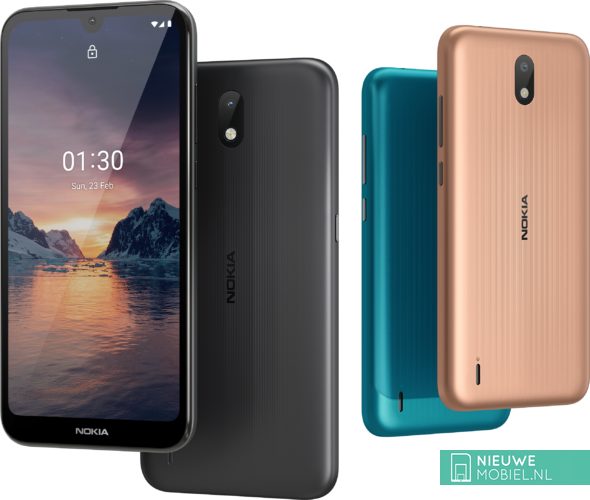 Nokia 1.3
For those on a budget there is the Nokia 1.3. It's an entry-level phone with Android Go, so with low end specifications it still has to deliver decent performance. This all is powered by a Qualcomm 215 processor with 1 GB of working memory. The storage memory of 16 GB is pretty decent in this price category. The screen diagonal measures 5.71 inches and on the back we find an 8 megapixel camera with low-light enhancement. At the front we find a 5 megapixel camera in the screen. At 3000 mAh, the battery is not even that bad and it is also removable.
Nokia 5310
In line with previous introductions, HMD Global also announced a remake of an old classic. In this case the 5310 XpressMusic from 2007. However, HMD Global has managed to use lower specifications than 13 years ago. The VGA camera resolution is considerably lower and even the storage memory has been slashed to 16 MB.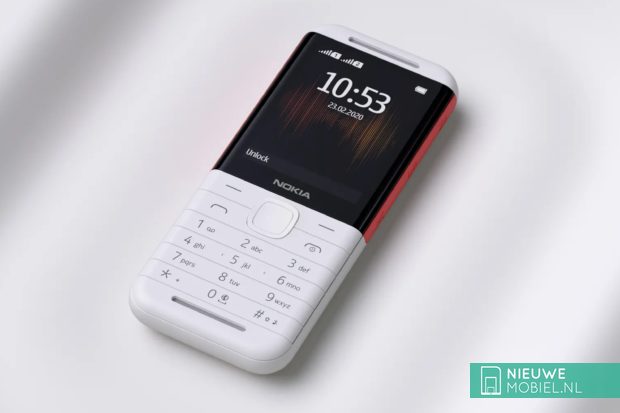 This time you do get forward facing stereo speakers. The music buttons on the side remained, as well as the built-in FM radio and the mainly plastic housing. Prices for the 5310 start at 39 euro which is more than enough considering the earlier mentioned specs. The Nokia 8.3 5G will cost 599 euro, the Nokia 5.3 should cost 199 euro and the price of the Nokia 1.3 starts at 99 euro. All mentioned devices will be in stores in March or April.