The Nokia 1.3 is an entry-level model with a correspondingly low price tag. Yet the 1.3 promises to have everything to be a full-fledged smartphone. How exactly is something you read here
Large enough screen, battery big enough
The Nokia 1.3 is one of the cheapest Nokia phones you can buy. You should be aware of that, because in order to get to such a low price, certain things have been left out. You may mind, while others don't even notice it. In order not to be part of the first group, we would like to explain a bit more about him. At the front of the Nokia 1.3 we find a 5.71 inch screen with HD+ resolution. This is a nice compact screen that can still display images sharp enough. The back is made of plastic and can also be removed to replace the battery. With 3000 mAh on paper, that battery is big enough to last a day. It doesn't need to be charged quickly, so don't forget to put it on the charger every night.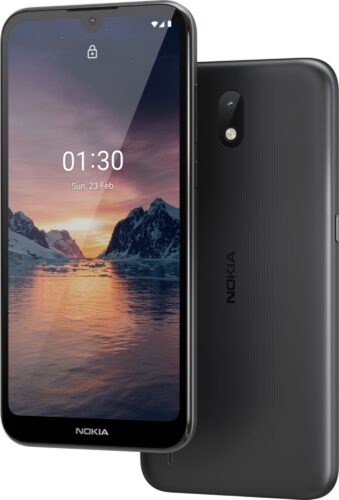 Entry leve processor
Despite the fact that the Nokia 1.3 runs under Android, it uses Android Go, which is a stripped down Android version that should be able to run smoothly on simple hardware. The Qualcomm 215 processor is about the simplest chipset Qualcomm makes. You shouldn't fire at him much more than everyday tasks. So gaming isn't going to be it unless it's simple puzzles. The advantage of Android Go is that updates are guaranteed for years to come
Main Nokia 1.3 specifications
5,71 inch large HD+ notch screen for selfie camera
8MP camera with LED flash and AI low light enhancement
5MP selfie camera
Removable 3000 mAh large battery
Android 10 Go Edition with promised updates
Entry level Qualcomm 215-processor with 1 GB of RAM memory
16 GB expandable storage (up to 400 GB)
Built-in FM radio receiver (only works with headset plugged in)
Camera with artificial intelligence
On the back of the Nokia 1.3 we find a single 8 megapixel camera. This is enough for everyday snapshots you take during the day. In the evening, you will quickly need help from the built-in LED flash. Nokia hits itself on the chest that the 1.3 has AI imaging that allows you to take good photos even in low light, but we have some comments about this. Do not expect miracles. In itself, this does not have to be a problem if you are simply looking for an inexpensive entry-level smartphone without a lot of fuss. If you are, then the Nokia 2.4 is a good alternative.