With the Samsung Galaxy A30s, Samsung seems to indicate that it means serious business. It also wants to gain a foothold in the more advantageous segment, and it only wants to do so by being very competitive. That is why this A30s gets an extra camera on the back with various new functions. Which one exactly are we going to explain here.
Way better camera(s)
The Galaxy A30s is an improved version of the A30. Both were announced in 2019 with only half a year in between. Differences are mainly in the camera. For example, the main camera goes to 25 megapixels with a bright f/1.7 lens, there is now an 8 megapixel camera with 123° ultra-wide-angle lens, and there is still a separate depth camera of 5 megapixels. If you have counted correctly, there are now 3 different cameras instead of 2. The 25 megapixel camera will be used for most photos. It has a 78° angle of view and is therefore ideal for portraits and everyday photos. It shoots sharp and detailed shots, even in the dark. Landscapes are shot with the 8 megapixel camera with ultra wide angle lens. It captures more, ideal for shooting outdoors. And with the depth of field camera, you can blur backgrounds even more. You can see that even before you take the picture thanks to the Live Focus function.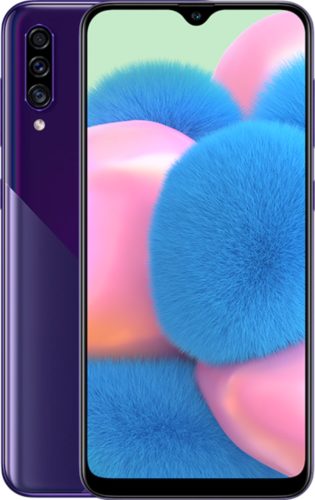 Never change a winning team
But a lot of things have stayed the same. Why would you want to change something that works well? You'll still find a 6.4 inch Infinity screen, this time with a V-shaped notch for the selfie camera. This is still a nice colorful AMOLED panel that can also be read outdoors and has an unprecedented high contrast. That's how black really is black. The design has also been left largely alone. A slim housing with subtle curves and premium materials. In order to distinguish between the A30 and A30s, the latter now has a holographic effect on the back. There are also some extra colors in which it is available, all under the new futuristic Prism line. Also a lot of the inside has remained the same. From the processor (eight stubborn Exynos chip), the RAM memory (4 GB), to the large battery (solid 4000 mAh). This simply has fast charging, so you're on the road again quickly.
Main Samsung Galaxy A30s specifications
6.4 inch large Infinity V screen with HD+ resolution
25 + 8 + 5 MP camera with ultra-wide-angle lens and depth camera
Dual SIM functionality and memory card space (up to 512GB)
Support for 4G internet
Slot to easily self-expand memory
Octacore processor (Samsung Exynos 7904) up to 1.8 GHz
Screen not really sharp
Still, the Galaxy A30s has one small change, one you won't see so soon. You won't unlock it with the button on the back. This time the fingerprint scanner is in the screen. That is modern and it gives a nicer back. It is also a bit slower than a physical fingerprint scanner. Also, some screen protectors do not work with the in-screen fingerprint scanner. If that bothers you, you can always unlock the A30s with your face. It should also be noted that the entire housing is made of plastic. It does not feel like a real premium. Finally, what we also find a little thing is the screen resolution. On a 6.4 inch panel, the HD+ resolution of 1560 by 720 pixels does not deliver really razor-sharp images. If you find that a deal-breaker, we recommend the Galaxy A40. It has a slightly smaller image but with a much higher resolution and therefore sharper images.