One of the best-selling Galaxy phones of 2022 was the Galaxy A53 5G. And the year before that, it was its predecessor. Not surprisingly, then, we have high expectations for this new A54 5G. According to Samsung, this is justified because the device brings significantly improved camera features.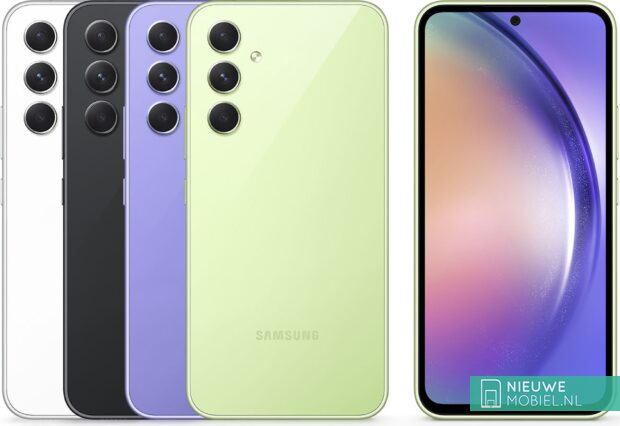 Starting with better video stabilization. Like its predecessor, the A54 has optical image stabilization (OIS), but because Samsung tinkered with the digital stabilization (VDIS), it is still improved. As a result, any unwanted movement becomes a thing of the past. Night mode has also been enhanced by applying AI functionality. And crisp selfies seem guaranteed by the high 32MP selfie camera.
Two days of battery life
The built-in battery should last up to two days, according to Samsung. Not bad, considering the A54 has a large 6.4-inch screen with a smooth 120Hz display. Not only should the battery last longer, but so should the device itself. In addition, Samsung promises four generations of Android updates and up to five years of security updates. This will also keep the device safe for a long time.
Four colors, two memory versions, temporarily same price
Expect the Galaxy A54 5G to arrive in stores in four different colors; Awesome Lime, Awesome Graphite, Awesome Violet, and Awesome White. In some European countries, the device will go on sale immediately for a starting price of 489 euros. You will then receive the model with 128GB of built-in storage. A version with 256GB of storage and 8GB of RAM is also available for 519 euros. In addition, Samsung offers a promotion where you can get 30 euros back for the 256GB model.