A factory drawing of the Galaxy A54 has surfaced. These drawings have been turned into stunning renders by @onleaks so we can get a good sense of what the A54 5G will soon look like. Notable about this; the device receives one less camera.
The Galaxy A54 5G may not be a flagship, but it will presumably be one of the best-selling phones of 2023. The Galaxy A5x series is immensely popular. And there are no signs that that will be any different for the upcoming A54 5G. Especially if this is what it will look like.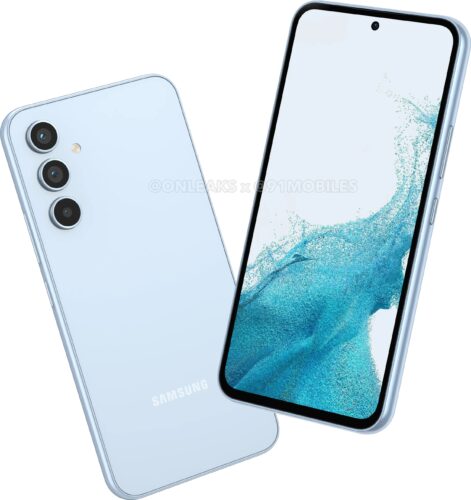 Images of the upcoming Samsung A54 5G appeared at 91mobiles and are from @onleaks. That's a well-known leaker of unannounced phones. The front looks very similar to last year's A53 5G, but not the back.
Camera really less?
Gone is the elevation on which as many as four cameras can be found. Instead, the A54 uses separately placed camera sensors. And one less too. The main camera has also decreased in resolution; from 64 to 50 megapixels.
Still, this is not all bad news. For example, Samsung is reportedly using a much more light-sensitive sensor. And the vanished camera was intended only for depth recognition. But that's also possible with software—nothing to worry about, then.
Galaxy A54 5G announcement
If 91mobiles' reporting is to be believed further, the A54 will get a slightly smaller 6.4-inch screen with a built-in fingerprint scanner. There is still uncertainty about which processor is used, though the entry-level model will start with 6GB of RAM. The battery will presumably come at 5000mAh, just like last time. We expect the announcement of the Samsung Galaxy A54 5G sometime in early 2023.