---
---
Pro and cons Galaxy Note 10
First compact Galaxy Note
Maximum screen area and minimum interruptions
Sturdy battery with extra fast charging
Triple camera with professional video functions
Memory not expandable, no headphone port
---
Prices Samsung Galaxy Note 10 Unlocked
---
Reviews about the Samsung Galaxy Note 10
| | | |
| --- | --- | --- |
| 5 sterren | | 0 reviews |
| 4 sterren | | 1 review |
| 3 sterren | | 0 reviews |
| 2 sterren | | 0 reviews |
| 1 ster | | 0 reviews |
Want to earn $50?
Every month we select a winner among all user opinions that were submitted. That person wins a voucher of $50. The only thing you need to do to is write your very own user opinion and let us and others know what you think about this product. Click the button below to start.
---
---
---
The Samsung Galaxy Note 10 in the news
---
Samsung Galaxy Note 10 Product details
The Samsung Galaxy Note 10 is the compact Note that fans have been asking for. With a size similar to the S10, you now finally have a Galaxy flagship that you can not only control with the S Pen, but also with which you can create content with the S Pen.
Small Note, great performance
Last years Samsung made it easy for itself. It took the last Galaxy S, put an S Pen in it and called it a day. How different is it this year? Not only does this Note 10 have its own head, it is also available in several sizes. And if you, as a loyal Note-fan, think that this Note10 is the true successor to the Note 9, then you are deceived. For that you really have to be at the Note10+. It is the same size. This Galaxy Note 10 is a lot smaller than you are used to from a Note. In terms of size, it even corresponds to the S10. Now some manufacturers want to equip their more compact model with lower specifications, that's not true for the Note 10. This is a full-fledged Note with high-end specifications and powerful performance.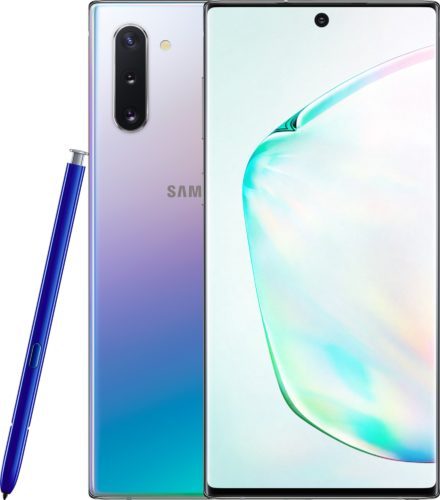 New look with improved S Pen
The new look is mainly due to the new location of the self-image camera. No longer tucked away in a corner but neatly aligned in the middle. It is also much smaller, so the screen is less interrupted. It's generous at 6.3 inches. But by using even smaller screen edges, the device itself is not exaggeratedly large. The frame is made of stainless steel and holds the two glass plates firmly together. At the bottom we find the S Pen tucked away, which you can push out as usual. The pen now has its own cheerful colour and can be used to operate the device but also to take notes, as a remote control and, brand new, wirelessly. Built-in motion detection lets you adjust volume, adjust camera angle and swipe photos, new is handwriting recognition and AR Doodles that allow you to create 3D drawings across videos.
Main Samsung Galaxy Note 10 specifications
16 megapixel camera + 4K video recording
6,3-inch Dynamic AMOLED Infinity-O Display with rugged Gorilla Glass 6
Triple Rear Camera (16+12+12 Mpixel) with mic zoom
High 10 megapixel selfiecam with auto focus
Rugged 4G mobile internet (LTE Cat. 20 to 2 Gbit/s)
using 2 SIM cards thanks to Dual SIM support (2x nanoSIM)
Improved Video Camera
On the back we find a triple camera with super wide angle lens, wide-angle lens and telephoto zoom lens. In practice, this means that you can bring images closer without loss of quality. The presence of multiple cameras also allows Note 10 to see depth and add a portrait mode. Pictures with this have a nice blurred background which brings your subject to the foreground. New to the camera is the video mode. It gets many of the same photo features like Live Focus and filters like Blur Filter and Glitch Filter. There's also a zoom microphone. It amplifies the sound of what you're zooming in on; clever!
Differences Note10 and Note10+
As mentioned before, this Samsung Galaxy Note10 shares many of the same features as the Note 10+. We think of the processor, for example. But there are differences. For example, this Note 10 does not have the possibility to expand memory. You're stuck with the 256 GB he's equipped with. This is the first time that the memory of a Note model cannot be expanded by itself. If you really need more, you'll have to swerve to the Note 10+. The memory is expandable and a 512 GB version is available. Another thing missing from the Note 10 is a headphone port. This, too, is unique for a Note. Samsung says it did this to increase the battery capacity by 100 mAh. Something always nice but unfortunate.
---
Most important Samsung Galaxy Note 10 specifications
Dimensions
151 x 71.8 x 7.9 mm
Weight
168 grams
Item ID
SM-N970
Codename
Samsung Da Vinci
EAN code
9507783441972, 9501793196167, 9501127786736, 8806090141379, 8806090115233, 8806090046520, 8806090041556, 8806090036026, 8806090035524, 8806090026430, 8806090004483, 0887276367712, 0887276359052, 0887276359021, 0887276358246, 0887276358239, 0887276358222, 0887276355108, 0887276354767, 0887276352831, 0887276352473, 0887276350127, 0887276349787, 0400063834138, 0400063834114, 0400063834107
Fingerprint recognition
Android
9.0 (Pie)
Color display
6.3 inch, Dynamic AMOLED Infinity-O Display
Camera
12 Mpixel camera, 12 Mpixel camera, 16.0 Mpixel camera
Dirt and waterproof housing
Processor
Octa core
Secondary camera
10.0 Mpixel camera
Dual SIM
LTE (4G)
Internal memory
8 GB, 256 GB
Memory card slot
Battery
3500 mAh
Fast charging
Wireless charging
Audio jack plug
---
Alternatives of the Samsung Galaxy Note 10
Scroll the table below to see more
| | | | | | |
| --- | --- | --- | --- | --- | --- |
| | | | | | |
| Photos relative in size | | | | | |
| | Current product | | | | |
| Fingerprint recognition | | | | | |
| Android | 9.0 (Pie) | 8.1 | 9.0 (Pie) | 9.0 (Pie) | 9.0 (Pie) |
| Color display | 6.3 inch, Dynamic AMOLED Infinity-O Display | 6.4 inch, Infinity Super AMOLED Quad HD+ | 6.47 inch, OLED, notch | 6.2 inch, Max Vision Full HD+, notch | 6.5 inch, OLED |
| Camera | 12 Mpixel camera, 12 Mpixel camera, 16.0 Mpixel camera | 12 Mpixel camera, 12 Mpixel camera, dual camera sensor | 20.0 Mpixel camera, 40.0 Mpixel camera, 8.0 Mpixel camera | 16.0 Mpixel camera, 5.0 Mpixel camera, dual camera sensor | 12.0 Mpixel camera, 12.0 Mpixel camera, 12.0 Mpixel camera |
| Dirt and waterproof housing | | | | P2i coating | |
| Processor | Octa core | 1.8 GHz, 2.7 GHz, Samsung Exynos 9810, octa core | 1.8 GHz, 1.92 GHz, 2.6 GHz, HiSilicon Kirin 980, octa core | 1.8 GHz, Qualcomm Snapdragon 632, octa core | Qualcomm Snapdragon 855, octa core |
| Secondary camera | 10.0 Mpixel camera | 8.0 Mpixel camera | 32.0 Mpixel camera | 12.0 Mpixel camera | 13.0 Mpixel camera |
| Dual SIM | | | | | |
| LTE (4G) | | | | | |
| Internal memory | 8 GB, 256 GB | 6 GB, 8 GB, 128 GB, 512 GB | 8 GB, 128 GB, 256 GB | 4 GB, 64 GB | 6 GB, 128 GB |
| Battery | 3500 mAh | 4000 mAh | 4200 mAh | 3000 mAh | 3330 mAh |
| Fast charging | | | | | |
| Wireless charging | | | | | |
Complete comparison between the Samsung Galaxy Note 10 and these alternatives or compare with other models
---
Questions and answers about the Samsung Note 10