---
---
Pro and cons Galaxy Note 10+
The real successor to Note 9
New design with minimal screen border and recess
Renewed functionality S Pen
Video camera taken care of
Firm starting price, no headphone port
---
Prices Samsung Galaxy Note 10+ Unlocked
---
Reviews about the Samsung Galaxy Note 10+
| | | |
| --- | --- | --- |
| 5 sterren | | 1 review |
| 4 sterren | | 1 review |
| 3 sterren | | 0 reviews |
| 2 sterren | | 0 reviews |
| 1 ster | | 0 reviews |
Want to earn $50?
Every month we select a winner among all user opinions that were submitted. That person wins a voucher of $50. The only thing you need to do to is write your very own user opinion and let us and others know what you think about this product. Click the button below to start.
---
---
---
Samsung Galaxy Note 10+ Product details
The Samsung Galaxy Note 10+ is Samsung's biggest flagship for 2019. Literally. Because with an immense 6.8-inch screen, it's a real note and the canvas is big enough to let all your creativity flow. And that, too, we mean more literally than figuratively. Exactly how we're going to explain this to you.
New format, own identity
The Galaxy Note 10+ (formerly known as the Note 10 Pro but officially attached to each other; Note10+) is a large phablet with pen control. Phablet as in cross between a phone and tablet. Because fair is fair. At 6.8 inches, it's not a little boy. As we're used to from Samsung's Note-series, by the way. New this year is that there is a smaller Note; the regular Note 10. It is no bigger than an S10 and therefore an excellent alternative for those who always thought the Note was a bit too big. Also new this year is that Samsung gives the Note its own identity. Instead of a Galaxy S with S Pen support, the Note 10+ gets its own look and identity. Nothing so a large screen hole in the corner but a small subtle one in the middle that in practice quickly disappears.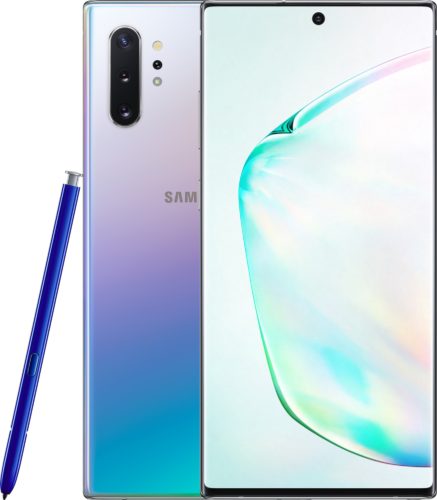 Professional video camera
As said, this Note 10+ is the true successor to the Note 9 thanks to a large screen with sharp resolution. In contrast to the regular 10, we find a quadruple camera on the back. They are the same three as the 10, but there is also a DepthVision camera here. It can perceive depth even more accurately, which comes in handy with the Live Focus mode where the background is blurred by software. From now on, this function also works in real time in video mode. Anyway, the video camera gets some professional features that we previously only saw with the photo camera. Think of special filters and accurate image stabilization. Also new is the microphone zoom. Zoom in on something while filming and the sound is amplified.
Main Samsung Galaxy Note 10+ specifications
Dynamic 6.8-inch AMOLED Infinity-O Display with S Pen support
Quad Camera with professional movie capabilities
Possibility to insert second SIM card or memory card
4G support for fast mobile internet (up to max. 2 Gbit/s)
Relative high resolution self-image camera (10 megapixel)
Built-in stylus with handwriting recognition
New S Pen with gesture recognition
Samsung has also taken care of the S Pen. In the beginning you could only draw with that and operate the device with it, but last year a remote control was added. Take pictures by pressing the button on the S Pen, for example. This year the S Pen recognizes movements and with certain hand gestures you can use it to control your Note10+. The volume, for example, or scroll through your photo album. And in the camera app you can use it to select different lenses.
High performance, no headphone port
The Note 10 Plus is a real flagship and that is reflected in its high performance. Samsung chooses the latest of the latest. With 12 GB of RAM, there is never a real lack of working memory. In terms of storage, you can simply add your own ticket to this note. Something not possible with the regular Note 10. There's a headphone port missing, though. You will need to plug in your own favourite headphones via an adapter. Luckily it's in the box. An alternative is to buy a USB-C headphone or go wireless. Now the same port is used for fast charging (up to 45 Watt). If you still want to listen to wired music and charge your Note 10+, you'll have to switch to wireless charging.
---
Most important Samsung Galaxy Note 10+ specifications
Dimensions
162.3 x 77.2 x 7.9 mm
Weight
196 grams
Item ID
SM-N975
EAN code
9509155269733, 9504416866423, 9501781994393, 9501778914144, 9501773558527, 9501473436514, 9501137671831, 9501133347273, 8806090172687, 8806090142222, 8806090142215, 8806090142208, 8806090117848, 8806090045219, 8806090045110, 8806090033919, 8806090033797, 8806090026034, 8806090004254, 0887276373027, 0887276372464, 0887276372457, 0887276372440, 0887276363608, 0887276363561, 0887276363547, 0887276357928, 0887276357904, 0887276357867, 0887276356853, 0887276356822, 0887276356761, 0887276355016, 0887276354804, 0887276346526, 0887276343563, 0887276341514, 0400063834183, 0400063834176, 0400063834169, 0400063834152, 0400063834145
Fingerprint recognition
Android
9.0 (Pie)
Color display
6.8 inch, Dynamic AMOLED Infinity-O Display
Camera
12 Mpixel camera, 12 Mpixel camera, 16.0 Mpixel camera, VGA camera
Dirt and waterproof housing
Processor
Octa core
Secondary camera
10.0 Mpixel camera
Dual SIM
LTE (4G)
Internal memory
12 GB, 256 GB, 512 GB
Battery
4300 mAh
Fast charging
Wireless charging
Audio jack plug
---
Alternatives of the Samsung Galaxy Note 10+
Scroll the table below to see more
| | | | | | |
| --- | --- | --- | --- | --- | --- |
| | | | | | |
| Photos relative in size | | | | | |
| | Current product | | | | |
| Fingerprint recognition | | | | | |
| Android | 9.0 (Pie) | 8.1 | 9.0 (Pie) | 9.0 (Pie) | 9.0 (Pie) |
| Color display | 6.8 inch, Dynamic AMOLED Infinity-O Display | 6.4 inch, Infinity Super AMOLED Quad HD+ | 6.47 inch, OLED, notch | 6.2 inch, Max Vision Full HD+, notch | 6.5 inch, OLED |
| Camera | 12 Mpixel camera, 12 Mpixel camera, 16.0 Mpixel camera, VGA camera | 12 Mpixel camera, 12 Mpixel camera, dual camera sensor | 20.0 Mpixel camera, 40.0 Mpixel camera, 8.0 Mpixel camera | 16.0 Mpixel camera, 5.0 Mpixel camera, dual camera sensor | 12.0 Mpixel camera, 12.0 Mpixel camera, 12.0 Mpixel camera |
| Dirt and waterproof housing | | | | P2i coating | |
| Processor | Octa core | 1.8 GHz, 2.7 GHz, Samsung Exynos 9810, octa core | 1.8 GHz, 1.92 GHz, 2.6 GHz, HiSilicon Kirin 980, octa core | 1.8 GHz, Qualcomm Snapdragon 632, octa core | Qualcomm Snapdragon 855, octa core |
| Secondary camera | 10.0 Mpixel camera | 8.0 Mpixel camera | 32.0 Mpixel camera | 12.0 Mpixel camera | 13.0 Mpixel camera |
| Dual SIM | | | | | |
| LTE (4G) | | | | | |
| Internal memory | 12 GB, 256 GB, 512 GB | 6 GB, 8 GB, 128 GB, 512 GB | 8 GB, 128 GB, 256 GB | 4 GB, 64 GB | 6 GB, 128 GB |
| Battery | 4300 mAh | 4000 mAh | 4200 mAh | 3000 mAh | 3330 mAh |
| Fast charging | | | | | |
| Wireless charging | | | | | |
Complete comparison between the Samsung Galaxy Note 10+ and these alternatives or compare with other models
---
Questions and answers about the Samsung Note 10+