Samsung Galaxy S III i9300 review
Can Samsung match the high level of the Galaxy S II?
---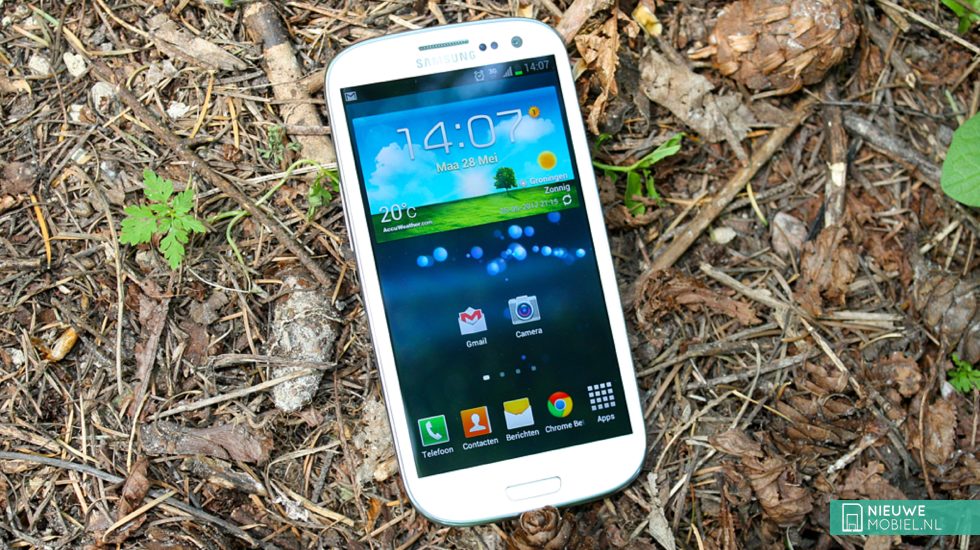 Rarely at Samsung have they paid as much attention to a phone as with the Galaxy S III. Rumours were blown up to a level that we previously only saw at Apple.
Many rumors turned out to be wrong or too high and it is therefore questionable whether the S3 does not disappoint. It is the successor of the uncompromising S2 and even more have to go over the counter in order to maintain its leading position in smartphoneland.
The Galaxy S III won't have it easy. For example, the HTC One X is a formidable competitor and will also have LG with the Optimus 4X HD. But what Samsung probably still sees the most is the new iPhone from Apple, which is yet to be released. It will not be Samsung's fault. They have done everything in their power to excel. We tested the white version running under Android 4.0.4 with build number IMM76D.
---
What's with the device?
The Galaxy S III comes in a pristine white box containing a compact USB charger, loose data cable and a white in-ear headset. You get three pairs of transparent and one pair of grey caps in different sizes. Something for every type of ear. There is reasonable sound coming out and there are control buttons to adjust the volume and accept incoming calls. What's odd is that the other accessories are black while we really have the white version.
Appearance
The Galaxy S III breaks with the sleek appearance of the Galaxy S II. The angular appearance and straight lines have completely disappeared. Anyone who encounters a GS3 would therefore not quickly notice that this is the dead painted successor. It is questionable whether this is wise. Samsung thinks it will solve this by bombarding you with a lot of advertising in the near future. Television commercials, abri's, advertisements on websites and in magazines and newspapers. Expect them soon, and in large numbers. All intended to familiarize you with the device.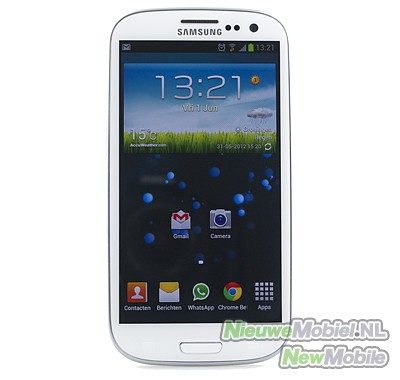 ".
According to Samsung, the Galaxy S III is "designed for people" and is "inspired by nature". The curves are reminiscent of smooth stones and there is no straight line anymore. You can choose between two versions; 'Marble White' and 'Pebble Blue'. For the first time in a long time no black. The blue version takes a few weeks longer than the white version. Probably because Samsung has problems with the coating.
The front of the Galaxy S3 is dominated by the immense 4.8 inch display. That's a lot more than its predecessor. Yet the plane is 'only' 16% larger. You notice that size by the way, it requires some acrobatics to reach all corners of the screen with one hand. And because of the smooth back, it is not excluded that the Galaxy S3 sometimes drops. Fortunately, there is the new Gorilla Glass 2 to save the day. The larger size you take for granted because you get a lot more screen in return. Compare it to a new larger TV. If you go back to a smaller size, you'll soon wonder how you were able to watch it for so long.

".
Above the screen are the camera, light sensitivity and proximity sensor. New is a notification LED tucked away on the far left. This indicates missed calls or incoming messages, but also when the battery is low. At the bottom of the screen is the familiar menu button. Fortunately, Samsung has not chosen to use the on-screen control of stock Android Ice Cream Sandwich. We think a physical button works just a little bit better. Unfortunately, the button lacks the 'clicky' that the Galaxy S2 did have. And you have to aim reasonably around the middle to get a good effect. Next to the button are two touch-sensitive control buttons; 'options' and 'back'. Just like the S2, you have to press the menu button for a long time to open recent apps.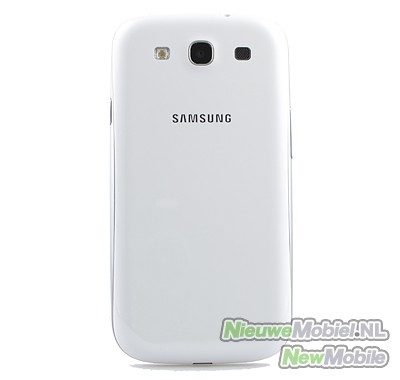 ".
On the right is the on and off button with the volume buttons on the left. At the bottom is the microUSB connection with a microphone on the right. On top is the secondary microphone to reduce noise. Here you will also find the 3.5 mm audio jack and a notch to remove the battery cover. Around the unit there is a plastic edge resembling brushed aluminum. From a distance it looks pretty real, but not up close or in your hand. It is and remains just plastic. However, Samsung has used polycarbonate. That is stronger than normal plastic but let's not fool anyone; it still feels so cheap and plastic.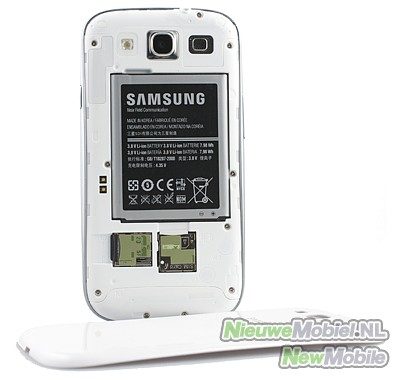 Despite the fact that many manufacturers have opted for a built-in battery, this S3 allows you to change the battery yourself. That is why we still think it's great that Samsung knows how to make such thin phones. The Galaxy S III with 8.6 millimeters is not that thick. The Samsung logo is proudly displayed on the back, with a camera module that barely sticks out. On the left is an LED flash and on the right is a speaker. By the way, the back is completely smooth, in contrast to its predecessor, which still had a slight relief and therefore more grip.
If you remove the cover you have the possibility to place up to 64 GB of external memory. This gives the Galaxy S III a clear advantage on the HTC One X, where that is not possible. Really necessary is the addition of memory anyway not, because you get 2 years free 50 GB of extra Dropbox space. Samsung has opted for the smaller microSIM in terms of SIM card.
Really ugly you shouldn't call the Galaxy S III. There are enough details to amaze you, but it's not really exciting. We liked HTC's One X better. Still, the light curves create a nice effect when light falls on it and the polycarbonate should ensure that you can enjoy a scratch-free device for a long time.
Endurance
The Galaxy S III is equipped with a 2,100 mAh battery which is larger than many competitors. Not only does a larger battery have to provide longer endurance, the optimized energy management plus the energy saving features that Samsung has embedded contribute to this. And the result is indeed neat for smartphone concepts. Don't expect battery life to last for days, but recharge at night, and we never received a message that the battery was empty in the evening during the last test week. And then we used the S3 quite a bit by 'playing' for hours.
".
If all this is not enough, there are various energy saving settings available to improve this. For example, you can lower the CPU speed, adjust the power saving mode of the screen, use a different background color in e-mail and internet and turn off the vibrate mode.
Call quality
You'd almost forget that with this sample you can also just call and although you usually can't say much about the bell quality, we were pleasantly surprised. There is a secondary microphone to reduce noise and it works very well in practice. The sound is clear, free of noise and the volume can be loud enough.
".
The quality is close to that of Nokia phones and in that respect much better than archrival Apple. A pity is that there is no decent ringtone on the device. They are all rather natural sounds and music, and therefore not a normal ringtone.
Display
Rumour had it that Samsung was going to use Super AMOLED Plus HD with a regular RGB format for the first time. Unfortunately it turned out to be a Pentile format, so we had to make sure that the quality and sharpness would be disappointing. However, after just one day those concerns turned out to be largely unfounded. The subpixels are placed closer together, so that you are less likely to notice that jagged effect with text. Only at dusk or when you sit closer you can see it. Although there are still people who do not perceive the Pentile effect at all. Don't we turn a mosquito into an elephant? The trained eye continues to perceive it even though it is less disturbing than we feared beforehand.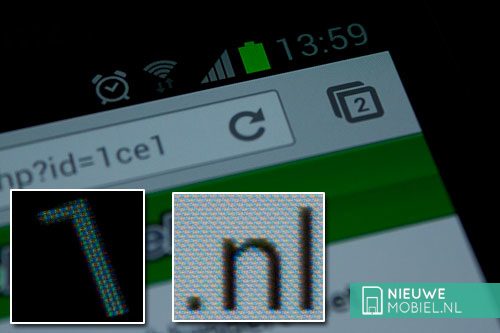 However, the AMOLED screen remains with a slightly bluish image than with TFT. Also, the color fidelity decreases when you hold the screen at an angle. In full daylight, visibility also decreases significantly, more than with TFT. For those who find the colours of the HD Super AMOLED screen too intense, you can adjust the mode to 'Natural' or 'Movie'. However, for those who are not crazy enough, you can also set it to Dynamic and the colours will almost literally splash off. There is also an 'automatic brightness' setting that adapts to ambient light and does not adjust very subtly. In Samsung's case, instead of gradually increasing or decreasing in scale, this is done in big steps.
".
The display is protected by Gorilla Glass 2, which is just a little more robust and scratch-resistant than its predecessor. Let's hope so, because in that screen we managed to get a big scratch.
Menu
Samsung uses a new iteration of TouchWiz. It is a colorful and sometimes some Fisher Price-like skin but one of the better working skins for Android. Where other manufacturers choose to completely disguise the underlying OS, Samsung often chooses to make only small subtle changes. For example, the task management, which is visible when you press the menu button for a long time, is almost the same as stock Android Ice Cream Sandwich and therefore much better than HTC's version in Sense. Furthermore, the menu is especially lightning fast, apps start almost immediately and the Galaxy S3 is without a doubt the fastest Android phone today.
".
Still, there are some strange things and contradictions in TouchWiz that we don't recognize from previous versions. For example, in some cases it's necessary to save changes that haven't been implemented everywhere. It also seems that the TouchWiz launcher is sometimes restarted when we return from an app. Fortunately, this happens quite quickly, but it does catch the eye. Furthermore, the lock screen sometimes freezes and doesn't want to unlock. It's also awkward if you want to drag an app from one menu screen to another, but you almost have to swipe it off the touchscreen, while in the home screen it's a bit too fast again. But fortunately it's all small stuff and TouchWiz also works great. You can create folders, reorder screens and there are plenty of widgets available to fill the 7 home screens.
".
TouchWiz is also packed with 'cleverness' including numerous motion functions and gestures. It doesn't get really clear and it remains to be seen whether you will be able to keep them all apart and actually use them. Tilt to zoom, pan to browse, take screenshots by swiping your palm from left to right, muffle the sound by placing your hand on the device. It all sounds very handy but we didn't use it. What is more useful is the function that detects when you look at the screen and therefore does not jump on screen lock. Handy if you're reading a long web page or ebook.
".
The notification screen has some new functions. For example, there are, how could it be otherwise, more settings possible in addition to switching WiFi and Bluetooth on and off. For example, you can also turn the standstill, screen rotation, save mode, notifications, mobile data, car mode and synchronization on or off. If you have plugged in the headphones, you get even more functions. For example, you can control the radio and there are shortcuts to various audio applications including the MP3 player and YouTube. The lock screen also has innovations. It now contains ala HTC Sense at the bottom of a few shortcuts with which you can also unlock the device, after which the app will be launched immediately.
".
Phonebook
The phone book is similar to earlier TouchWiz Samsungs and is strongly reminiscent of stock Ice Cream Sandwich. But with a search screen and the possibility to call contacts by a swipe to the right, and a swipe to the left to text.
".
You can easily connect Facebook, WhatsApp and accounts from other social networks so you don't get duplicate contacts. You can even set a customised vibration pattern for each contact so that even in silent mode you know who's calling without looking at the screen.
".
You can also set up groups and favorites and there is an extensive log file that keeps track of exactly how long you have called with whom.
Messaging
Text messages are displayed as conversations and you can set that display to your own liking. You can set up acknowledgements and add attachments and they will be sent as MMS.
".
However, Samsung has changed the keyboard from Swype to its own version. Unfortunately it doesn't work very well. This writing mode is not always available, so you still have to enter each letter separately and frequently used characters such as dots, commas, exclamation and question marks are on a different screen. You can switch between keyboards by swiping horizontally across the screen, but if you have the Swype-like writing function turned on, it won't work.
".
Connectivity
In addition to the usual WiFi and Bluetooth, there is also NFC with which you can do a lot in theory but relatively little in practice. Of course there is Android Beam with which you can exchange data with other Ice Cream Sandwich users and you can perform actions with Smart Tags. Samsung has developed its own S Beam, which does the hand-shake with NFC, but leaves the sending of data to the much faster WiFi Direct. In theory this is also a good feature, but for now it only works with other Galaxy S III users. And that's not the case at the moment.
".
Furthermore, there is DLNA and you can send video to your TV with AllShare Play and Share. Samsung applies 'WiFi Channel Bonding' which theoretically creates double bandwidth. However, we have experienced quite a few problems with WiFi in the form of a continuously failing connection. This could be due to our complex wireless network, but it is striking that we did not have this with the GS2. We also couldn't get Kies via Wi-Fi to work while it was supposed to work without any problems.
".
Camera
The apparent failure to upgrade the camera came in for a lot of criticism from Samsung. Just like its predecessor, the Galaxy S III has an 8 megapixel camera with Full HD recording quality. Still, there is improvement, mainly in the form of speed. You shoot photos at lightning speed. If you are not careful, you can shoot full of phone memory in continuous recording mode. However, we also saw fast photoshooting with the HTC One X. In which Samsung tries to distinguish itself (again) are the smart features. For example, the S3 itself recognizes faces and you can easily send that photo to that person.
".
Furthermore, there is an HDR mode that works pretty well if you hold it steady and a Consulty-shot that shoots a few pictures in a row and select the most beautiful and you can take a Panorama picture.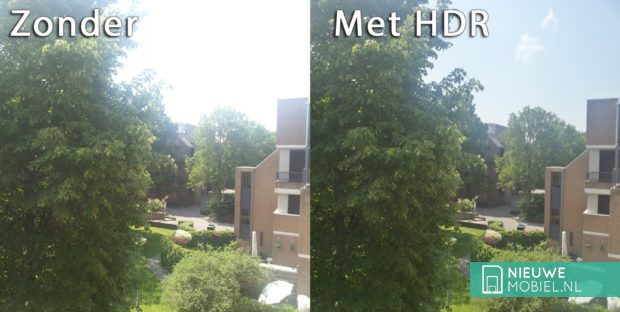 Shot photos are of excellent quality. Even in low light, the S3 takes good pictures, probably because of the Backside Illuminated Sensor. If it gets very dark, there is the LED flash which is very powerful. You can take photos in up to 3264 x 2448 and videos in 1920 x 1080.
When filming, you can use the flash as an auxiliary light. In both camera and video mode, you can turn on Anti-Shake to filter out unwanted vibrations. Usually this is only available in one mode.

Existing programs
Samsung has installed quite a few applications for you so you can get started right away. The disadvantage is that there are so many that you quickly lose the overview. There is also some overlap in some apps. Of course you have Google's own Play Store to download apps, but there is also Samsung's 'More services', S Suggest, Samsung Apps, Samsung GO and you can download games via the Game Hub. These are all places where you can download extra apps and content that we wonder if it's not very confusing for consumers.
".
But the most remarkable is of course S Voice, Samsung's own Siri clone. The principle is not new to Samsung, which, together with Vlingo, previously offered voice-activated services, but the jacket in which it is now cast is very familiar to us. It is almost a copy of Apple's Siri. For example, you can use voice commands to call someone, request the current weather and schedule an agenda item.
".
It's a good idea that you Siri S Voice can be awakened from the lockscreen by pronouncing a preset sentence. S Voice is not as intelligent as Siri but it comes pretty close. Unfortunately there is no support for Dutch yet, so you'll have to do it in English, German, French, Italian, Spanish or Korean for now.
".
Also present and noteworthy is the S Memo app that we know from the Galaxy Note and a very extensive and beautiful diary. There is a year-, month-, week- and day overview and there are several settings possible so you don't arrive too late at your next appointment. Also the Whats-App clone ChatON is standard on the device. This allows you to send Instant Messages via the Internet to others who also have the ChatON app installed. This app is now available for iPhone, Android, BlackBerry and Bada phones.
".
Extras
Because Samsung used a quadcore processor, the device has some processing power left over. For example, the Quadrant-score comes out at 5334. Samsung has found a nice application for this overkill. For example, if you are playing videos and you want to look something up at the same time, you can open the video in a separate small popup window. You can move this window, and a single tap brings you back to the fullscreen video player.
".
Funny is also that when you are in the video player and all available videos in a thumbnail overview are also already playing. This way you can find the video you mean more quickly. This, of course, requires a lot of processing power, which the Galaxy S III has without effort.
Conclusion
Many of the disadvantages of the Galaxy S III are its advantages at the same time. For example, the S3 is large, but you also get a large screen in return. And the many pre-installed apps and numerous settings don't make it easy to understand, it gives you a complete out-of-the-box experience right after purchase and you can configure and personalize everything to your own wishes. That's why they're not real drawbacks. Also the Pentile screen is not as bad as expected. Only in some circumstances is it noticeable. But the extra battery life you get in return makes it an immediate non-issue. People who complain that the S3 doesn't run at the same higher clock frequency as the HTC One X don't realize that this also saves energy. And in practice you don't notice anything about it. In fact, the S3 is the fastest Android phone we've ever had in our hands.
However, we would like to see the small bugs and sometimes confusing TouchWiz controls fixed. Let's not forget that when the Samsung Galaxy S II came out, it had practically the same teething problems. They were all solved and eventually made the S2 the absolute topper. We are therefore confident that Samsung will do the same with this S3 after which it will have exactly the same successful future.
---
---
Questions and answers about this Samsung i9300 review