Samsung's flagship series used to consist of just one model, the S20 series consists of a total of 5 different phones. That can be a bit confusing. That has everything to do with the arrival of 5G. From both the S20 and the S20+ Samsung releases a 4G as a 5G variant. Now 5G is not yet available in the Netherlands so you could say; go for the 4G version. But it is not that simple.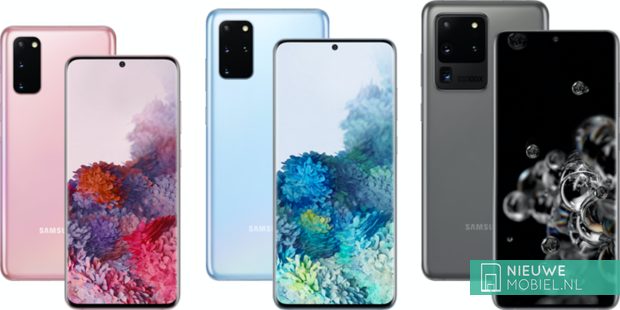 .
Because the 4G versions are more difficult to obtain. For example, the S20 with 4G separately may be 100 euros cheaper to buy, in combination with a subscription it may be more expensive because not every webshop has it. So always compare the prices of the S20 4G with those of the S20 5G. In the end, it is the same device except that you can later 5G with one and not with the other. For the S20+, the choice becomes a little easier.
Samsung Galaxy S20+
For example, the S20+ with 4G is so scarce that you can't even get it here in combination with a subscription. Due to the lack of competition it is even more expensive than the S20+ with 5G. Our advice; only look at the Samsung Galaxy S20+ 5G.
Remains the Samsung Galaxy S20 Ultra. That's where the choice was made for us. A version with 4G will not be sold so you will automatically get the version with 5G. That difference in choice has its repercussion on the price; it is immediately the most expensive of the S20 series.
New camera system
With the S20 series, Samsung is mainly focusing on the new camera system. By using more and larger sensors, new applications become possible. Think of the S20 Ultra with its large 108 megapixel sensor. This allows you to zoom in digitally up to 100x. We doubt whether you will use Space Zoom that often in practice, but it does put the competition on edge. The 10x optical zoom will be used more often because it comes without loss of quality. And 10x optical zoom is still more than many competitors.
All S20 models also feature 8K video and the 5G models make them even more suitable for the future. If you were planning on using your mobile phone for at least 2 years, you know that by then you will at least be ready for the new 5G network.