The Samsung Galaxy S20 FE 4G is the cheapest S20 model, but not less than its bigger and especially more expensive brothers. Samsung introduced the S20 FE as an inexpensive option, but it still has the most popular features. This allows them to lower the price without sacrificing features.
Not just for the fans
Samsung released two different versions of the S20 FE; this S20 FE 4G and one with 5G. The latter is more expensive because it has to work with the newer 5G. That makes the S20 FE 5G a bit more future proof. However, if you are not planning on using 5G for the time being, then this S20 FE 4G is an excellent choice. Especially because it is a bit more economical. The FE series is a fairly new one. It stands for 'Fan Edition' and it looks a bit like the 'Lite' series that Samsung used to release. Because it has a negative sound to it, it has been abandoned. Lite' certainly wouldn't have covered the load because this S20 FE is anything but lightweight. That makes it suitable for a wide audience, and certainly not just for the fans.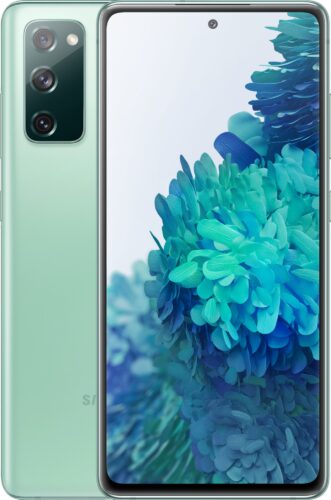 Camera with 30x Space Zoom
The S20 FE revolves around 4 things; a good screen, professional cameras, powerful performance and a large battery with a long battery life. In the foreground we find a modern Infinity-O screen. It sits tightly against the edge everywhere with only a small circular recess at the top for the selfie camera. This 6.5-inch screen provides an uninterrupted experience you can watch for a long time. The screen is even bigger than the more expensive S20 4G and yet both panels can handle the smooth 120Hz. At the front is a 32MP selfie camera; large enough for razor-sharp self-shots with lots of detail. On the back there are another 3 cameras on a private island. The upper one is a 12MP camera with an ultra-wide-angle lens, underneath there is also a 12MP camera with regular wide-angle lens for everyday work and underneath we find an 8MP telephoto lens to zoom in 3x optically. Digitally, the S20 FE can even zoom up to 30x; this is called 'Space Zoom'. Contrary to optical zooming, this gives you some quality but you get closer without having to move.
Main Samsung Galaxy S20 FE 4G specifications
6,5-inch large Infinity-O Display with punch-hole and smooth 120Hz
12+12+8MP triple camera with ultra-wide-angle and 3 to 30x zoom lens
32MP selfie camera sits discreetly in punch-hole
Powerful Exynos 990-processor with 6+128GB or 8+256GB memory
Big 4500 mAh battery with fast charging and wireless charging
Waterproof IP68 glass front, aluminum frame and plastic back
Fast mobile internet thanks to 4G support (no 5G)
Same processing power
A big disadvantage of cheaper versions of powerful phones is that they are less powerful. Not with this S20 FE. Just like the S20 4G, it has the same Exynos 990 chipset from Samsung. Do you want even more power or do you necessarily want a Qualcomm chipset, then we recommend the S20 FE 5G; it has a Snapdragon 865. It doesn't elude each other much and that makes the 4G version of the S20 FE also a very powerful phone. In terms of RAM memory, you have a choice of 6GB for the model with 128GB of storage memory and no less than 8GB for the version with 256GB of storage. The built-in battery has a capacity of 4500 mAh and is therefore larger than that of the S20. Charging can be done with up to 25 Watt, which means that the battery is half full again after half an hour. It is a bit silly of Samsung to supply the S20 FE with a 15 Watt charger. You can also charge it wirelessly thanks to Fast Wireless Charging 2.0. You can also charge other products wirelessly with the S20 FE, simply by placing them on the back of the device. This is called Wireless PowerShare.