---
Pro and cons Galaxy S20 FE 5G
Strong total package
Smooth 120Hz screen
Camera with 3 lenses
Lots of color options
Plastic remains a weird choice for this amount of money
---
Reviews about the Samsung Galaxy S20 FE 5G
| | | |
| --- | --- | --- |
| 5 stars | | 2 reviews |
| 4 stars | | 0 reviews |
| 3 stars | | 0 reviews |
| 2 stars | | 0 reviews |
| 1 star | | 0 reviews |
Give your opinion
Write your very own user opinion and let us and others know what you think about this product. Click the button to start.
---
---
Samsung Galaxy S20 FE 5G in the news
---
Samsung Galaxy S20 FE 5G product details
The Samsung Galaxy S20 FE is a 5G phone from the S20 series and is priced below the S20. Still, it is larger with a larger screen and a larger battery. This makes it a well equipped price-fighter and a strong competitor for flagships from the competition. If he succeeds we will find out here.
Good screen: check
Originally, the S20 FE was not planned. Samsung was forced to release it because of the Corona crisis. A more economical alternative to the thousand-euro flagships. A device with flagship-worthy features but with a cheaper price tag. Because in times of crisis you can save some money. Samsung has applied a healthy mix of display, cameras and performance. To start with the first one. At the front, you will find a 6.5 inch large and 120Hz fast screen with Full HD+ resolution. That is less sharp than on the S20, but just as smooth. The Infinity-O Display has a small hole in the middle for the selfie camera. It measures 32MP, which is considerably more than the 10MP on the S20. Lovers of selfies beware!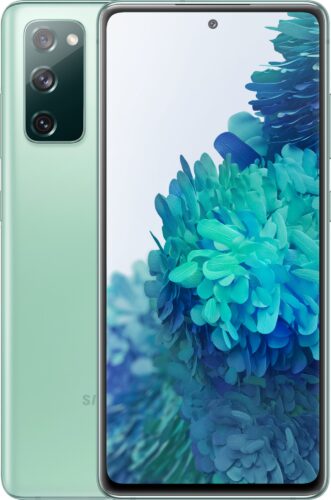 Solid cameras: check
On the back of the Galaxy S20 FE we find three more cameras. Two 12MP cameras for regular shooting and with ultra-wide-angle lens and an 8MP zoom camera with 3x optical zoom and 30x Space Zoom. With these, the S20 FE has the same camera functions as the more expensive S20, but in a slightly lower resolution. Despite that, it is still a Dual Pixel Sensor that merges several pixels into 1, which should lead to better exposed images, especially in the dark. What we try to say with a lot of words; the S20 FE has a night mode. Also the 8K video mode is not lacking what you currently only find in expensive high-end smartphones.
Main Samsung Galaxy S20 FE 5G specifications
6.5 inch large Infinity-O screen with 120Hz refresh rate
12 + 12 + 8MP rear camera with 3x optical and 30x digital zoom (Space Zoom)
32MP selfie camera for sharper self-portraits
Possibility to store up to 1TB extra memory
Room for 2nd SIM card (Dual SIM)
Suitable for future 5G
IP68 waterproof housing with plastic rear
Fast performance: check
And then there's the performance. Samsung provides this Galaxy S20 Fan Edition with a Snapdragon 865 processor, because that is what 'FE' stands for. Normally you have to get Samsung with a Snapdragon chipset from the US, because they are not released here in Europe. Benchmarks show that the Snapdragon chips are slightly more powerful than Samsung's Exynos counterpart and are also slightly more energy efficient. Note: the S20 FE 4G does have Samsung's own Exynos 990. The choice for the Snapdragon 865 is not an easy one; this S20 FE supports 5G. That is not yet available everywhere, but buyers are prepared for it as soon as it is rolled out nationwide. At home, if you have access to it, you can surf the Internet at a higher speed thanks to WiFi 6 support, and thanks to the 4500 mAh battery, you won't run out of power in a hurry. Charging can of course be wired and extra fast, but the S20 FE 5G also supports wireless charging. This even works the other way around so you can charge other devices via your phone. The so-called Wireless Powershare.
---
Most important Samsung Galaxy S20 FE 5G specifications
Dimensions
159.8 x 74.5 x 8.4 mm
Weight
190 grams
Item ID
SM-G781
EAN code
8806092523227, 8806092523210, 8806092523159, 8806092523142, 8806092523135, 8806092523012, 8806092523005, 8806092522992, 8806092522879, 8806092522862, 8806092522848, 8806092522817, 8806092522732Show 53 more

, 8806092522725, 8806092522664, 8806092522657, 8806092522596, 8806092522527, 8806092522510, 8806092522435, 8806090841194, 8806090841125, 8806090841118, 8806090841057, 8806090841040, 8806090840968, 8806090840913, 8806090840869, 8806090840807, 8806090840746, 8806090840685, 8806090840623, 8806090840616, 8806090840548, 8806090840531, 8806090840333, 8806090840302, 8806090813375, 8806090753367, 8806090753206, 8806090753190, 8806090753176, 8806090753152, 8806090753107, 8806090753046, 8806090753008, 8806090716959, 8806090716867, 8806090716713, 8806090709821, 8806090709777, 8806090709753, 8806090709715, 8806090709708, 8806090709692, 8806090322303, 7423404816856, 7423404815842, 7423402672683, 7423402666606, 6090319781770, 6090319767712, 6090319762731, 5413729236653, 5413729236646, 5413729236639, 5413729236622

Fingerprint recognition
Android
10
Color display
6.5 inch, Infinity-O Display, hole-punch display
Camera
12 MP, 12 MP, 8 MP
Dust and waterproof
Processor
Qualcomm Snapdragon 865, octa core
Secondary camera
32 MP
Dual SIM
4G (LTE)
5G
Internal memory
6 GB (Size (RAM)), 8 GB (Size (RAM)), 128 GB (Storage), 256 GB (Storage)
Battery
4500 mAh
Fast charging
Wireless charging
Audio jack plug
---
Alternatives of the Samsung Galaxy S20 FE 5G
Scroll the table below to see more
| | | |
| --- | --- | --- |
| | | |
| | | |
| | Current product | |
| Fingerprint recognition | | |
| Android | 10 | 8.1 |
| Color display | 6.5 inch, Infinity-O Display, hole-punch display | 6.4 inch, FullVision OLED QuadHD+, notch |
| Camera | 12 MP, 12 MP, 8 MP | 12 MP, 12 MP, 16 MP |
| Dust and waterproof | | |
| Processor | Qualcomm Snapdragon 865, octa core | Qualcomm Snapdragon 845, octa core |
| Secondary camera | 32 MP | 5 MP, 8 MP |
| Dual SIM | | |
| 4G (LTE) | | |
| 5G | | |
| Internal memory | 6 GB (Size (RAM)), 8 GB (Size (RAM)), 128 GB (Storage), 256 GB (Storage) | 6 GB (Size (RAM)), 128 GB (Storage) |
| Battery | 4500 mAh | 3300 mAh |
| Fast charging | | |
| Wireless charging | | |
| Audio jack plug | | |
Complete comparison between the Samsung Galaxy S20 FE 5G and these alternatives or compare with other models
---
Questions and answers about the Samsung S20 FE 5G