Samsung Galaxy S4 i9505 review
The phone to beat in 2013
---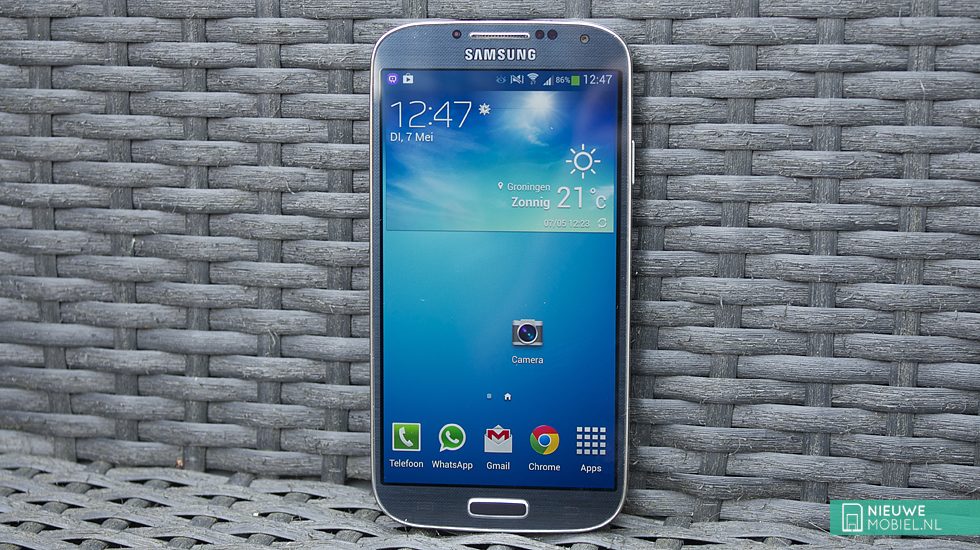 The Samsung Galaxy S4 was announced on 15 March during a packed event at Radio City Music Hall in New York. Samsung did not only do this in a new way, it also performed great with a Broadway-like show with actors, dancers and singers.
Now that the dust has settled it's time to take a good look at this new device. There is every reason to do so, because over 50 million of its predecessor were sold over the counter. And Samsung does not intend to take it easy with this S4. Whether you like it or not, you are going to see a lot of this device. On the one hand because Samsung has bought a lot of promotion but also because a lot of people are going to buy it.
What about all the new features Samsung is trying to convince you with, do they add anything? How bad is it that the S4 is made of plastic again? How big is the step forward with regard to the display? Does the device scratch quickly? These are all questions we try to answer in this review.
We tested the Samsung Galaxy S4 i9505 in black (rather blue) in the 16 GB version. The installed Android version is 4.2.2 and the build number is XXUAMDF. To be clear, this is the version with the Qualcomm Snapdragon 600 quadcore processor and not with Samsung's own Exynos 5 octa. The latter (with type number i9500) is not officially sold in the Netherlands. It cannot be ruled out that it will eventually be offered here, but probably as an import.
---
What's with the device?
The Galaxy S4 is delivered in a 100% recycled paper box and comes with a wood print. Why the box seems to be made of wood remains unclear. In the phone itself is nothing of wood to find. Maybe they want to come across as ecological at Samsung. That would also explain the ink based on soybeans.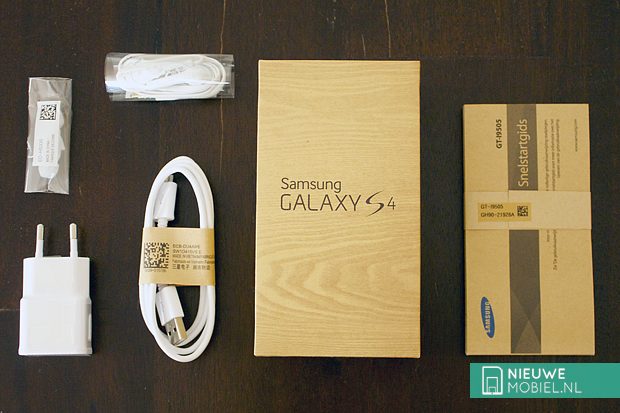 Inside, next to the device is a data cable that forms the charger together with a plug, an in-ear headset with three different sized caps, a quick start guide, manual and warranty card. The documentation is supplied in English as well as Dutch. Oddly enough, the quick start guide is significantly thicker than the manual, but on closer inspection it consists of several languages.
Appearance
The appearance of the Galaxy S4 doesn't seem to differ much from the S3 at first sight. This also came in for criticism, there would be too little difference, too little innovation. However, if you take your time you will see a lot of differences. For example, the curves are slightly less and the side is not round. Apparently Samsung has let go of the 'Inspired By Nature' philosophy, fortunately because the S4 is much better in the hand. The flat surfaces apparently offer more grip.
Also the solid color is gone. There is a pattern over it which makes the plastic surface a little less conspicuous. By the way, the S4 doesn't feel cheap at all. And that despite the abundance of plastic. Precisely because of aluminium coloured edges, a clever colour scheme and the use of metal here and there. You read it well, not everything on the S4 is made of plastic. The buttons are all made of aluminium. We're talking about the volume buttons, the on and off button and the control button underneath the screen.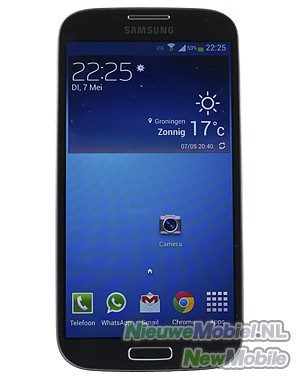 ".
The front houses the 4.99-inch screen. Compared to the S3, it is closer to the edge and therefore takes up more space than its predecessor. On the screen itself we will come back later. The control buttons option and back are on the left and right of the home button respectively. These are still touch-sensitive examples. Because the screen takes up more space there is automatically less space for these control buttons. This is not very annoying, it never bothered us during testing. At the top of the screen is the speaker with various sensors on either side. On the far right is the second camera.

".
As said, the edges are flat this time and have a brushed aluminium look. On the right is the on and off button. On the left is the volume buttons which consists of one button. On top is the jack for your headphones with a second microphone next to it to filter out ambient noise. New is the infrared sensor which we will come back to later. At the bottom is exactly in the middle the microUSB connector which also charges the Galaxy S4. Finally, there is a small dot in the housing behind which the main microphone is hidden.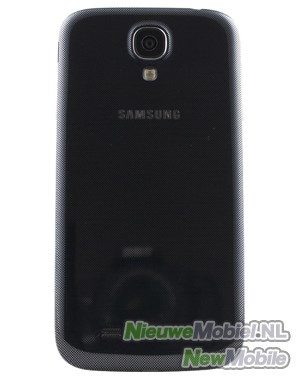 ".
Let's get to the back. The S3 still had a sterile smooth plastic back. Although the S4 is no different, the pattern makes it a little less plastic. Samsung has chosen a pattern consisting of tiny dots. We still don't know if the backside is blue with grey dots, or grey with blue dots. The result is a bit ostentatious, you have to love it. We would have liked it to be a bit more modest. At the top is the camera module, a big one. The module doesn't consist of one piece, the camera sensor itself is behind a separate round glass. The edge of this glass wants to be damaged pretty quickly, so after exactly one week of testing we had already collected a lot of traces of use. A pity. This time the flash is under the camera and the external speaker has been moved to the lower left. This one looks a lot more powerful than its predecessor. There's quite a bit of sound coming out of it, which is quite good quality as well.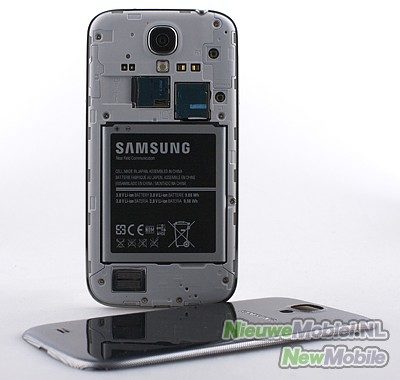 As we are used to from Samsung, you can change the battery yourself. For this, there is a notch in the top left of the cover, or you can put your nail behind the microUSB input.
Endurance
The S4's battery has increased by 500 mAh to 2600 mAh. That's relatively much, especially when you consider that the screen diameter is not even that much larger. This is reflected in the endurance. The Galaxy S4 will last a day, provided you use it a lot. With a little less use, it will take a lot longer. On average it will give you a day and a half of use, and if you leave it alone, three days is not unthinkable.
This is not only because of the extra large battery. The new type of screen also seems to be more economical. If it's not enough for you, there is always an economy mode. Here you can limit the processor speed, set the screen to power save mode and turn off the vibration function. All settings that we also saw with the S3. Possibly you can also turn on Slim Sleep. If you don't look at your phone, it turns the screen off. Especially useful if you have set a relatively long time-out. But all these extra options we never really needed to get through the day.
".
Call quality
There is little to haggle over on the Galaxy S4 in this respect. Especially if your provider supports HD Voice, calling is a real pleasure. There is a point of criticism: there is no normal ringtone on the device. It's all music and futuristic beeps and not an old-fashioned ringing phone for those who don't want to stand out.
You will also notice the large number of settings you can make as a user. Fortunately, they are hidden but once found, you can indulge yourself to your heart's content. Want to turn up the sound when the S4 is in your pocket? No problem! Want to compose your own vibration signal? No problem!
".
Display
You can blame Samsung for the fact that its appearance hasn't changed much; that doesn't apply to the Full HD Super AMOLED display. Much to everyone's disappointment, the S3 was launched with a Pentile layout, the S4 also has a different pixel layout. You might have noticed this already by the lack of 'Plus' behind 'Full HD Super AMOLED'. It has to be said that some people do not notice the Pentile layout at all, we ourselves are allergic to Pentile. Especially text doesn't look good and has jagged edges. What about the screen of the Galaxy S4?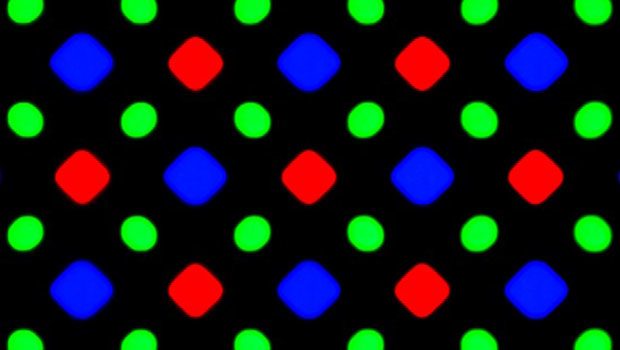 Just a crash course in pixel layout. Each screen works with pixels made up of subpixels. Most screens use a blue, green and red subpixel. With Pentile, two pixels use one green subpixel. The advantage is that you can use fewer subpixels, which in turn saves on costs and energy consumption. Disadvantage is that it is quickly visible, especially if the resolution is not extremely high. It's not all that bad for images, but text is very jagged. Previously, Pentile had the subpixels fraternally side by side, while the Galaxy S4 used a diamond structure. This does not seem to be a conscious choice, but is more because there are certain problems with the fabrication of such high resolution AMOLED screens. What is the quality like now? We can reassure you; the screen is almost as good as high resolution IPS screens. Really if you are very close to the screen, in low light, then in some cases the Pentile layout is noticeable. It didn't bother us this time.
There is another strange phenomenon in the screen. If you scroll in the menu, the dividing lines will disappear until you stop scrolling. It seems the screen can't keep up with us. Elsewhere we see the inertia of certain pixels when scrolling. For example in the web browser. It is not very disturbing, only when you are pointed out it is visible. As far as we're concerned, it's not a big problem, and certainly not one that many people will notice.
Menu
This Galaxy S4 also has Samsungs own interface called TouchWiz. TouchWiz Nature UX 2.0 to be exact. That is one version higher than on the S3. The differences aren't that big at first sight. Buttons have a slightly different look and some menus are divided into several tabs.
".
The start screen offers space for widgets and has five icons at the bottom, four of which can be selected by yourself. However, it is possible to create a folder so that you can store multiple apps via a detour here. There are a total of seven different home screens, but you can also delete screens. In addition to the standard mode, the home screen also has a simple mode, useful for people who are not used to Android or TouchWiz.
".
The menu contains all installed apps on a grid of four by five icons. Widgets are under a separate tab as well as downloaded apps. The status bar, this time transparent, can be pulled down as usual. Behind it are shortcuts to settings, you can adjust screen brightness and of course notifications. Samsung lets itself go a bit with the amount of settings. There are now a total of 20 different settings varying from turning WiFi on and off to Air View. As far as we're concerned, it doesn't have to be that crazy and quite a few can go. By the way, if you swipe down the status bar with two fingers, you will immediately see all the settings.
".
The lock screen also has a change. In addition to the well-known water wrinkle effect, there is now also the choice of a light effect. The background comes standard from TripAdvisor, which makes you comfortable with other people's holiday photos. You can set up five apps that can be launched directly from the lockscreen.
".
TouchWiz may not be our favorite launcher, but it works very well. It is fast, relatively easy to use and sufficiently personalized. What's more, with TouchWiz it's possible to run two apps at the same time, which can be quite handy in some situations.
".
Once again there are many seemingly nonsensical features on the S4. For example, Samsung introduced the S3 with a palm movement, this time we can browse through web pages and the photo album by waving just above the device. Again, it sounds pretty useless, but it could be useful if, for example, you are cooking and have dirty hands. This way you can still go through that page with recipes.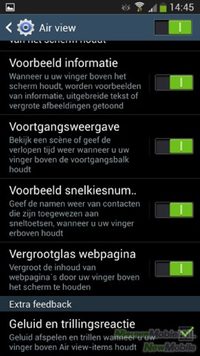 Something Samsung also advertises with is the Air View function. You can get extra information by bringing your finger to the screen without touching it. For example, in the 'S Planner' calendar app, this function shows events that do not fully fit on the screen. Or in the Gallery app to quickly view the contents of an album. Theoretically quite an interesting option but we have our doubts if you can really use it. Air View doesn't work in all apps. For example, the magnifying glass function of Air View only works in the default browser and not Google Chrome if you use it by default.
Phonebook
When it comes to the phone book, there is little news under the sun. There is still a separate app for dailer and address book, yet you can get from one to the other because it is present as a tab. You can make a whole selection under the log file varying from all calls, missed calls, refused calls, etc. Unfortunately, a self-selected combination is not possible.
".
It is also still possible to call someone directly from the address book by swiping to the right. A message can also be sent by swiping to the left. It is also possible to call someone you are looking at at that moment by bringing the phone to your ear. This option can also be turned off, but we find it useful. Of all logged in accounts you can choose which one you want to see in the address book. Useful if you don't want to see your LinkedIn contacts in your phonebook, for example.
Messaging
Sending messages also goes the way we are used to with Galaxy phones. There is also a separate email client where you can set up almost any email account. For Google accounts there is of course the Gmail app. Furthermore, you get the ChatON app for free.
".
The onscreen keyboard has a slightly different layout than its predecessor. A row of numbers has been added that is standard in the screen, something we also saw with the larger Galaxy Note 2. Fortunately, the display of the S4 is large enough to have everything perfectly in view. Samsung's own Swype clone is also present, something they call 'Continuous Input'. It works fine on its own, but sometimes it has some peculiarities. For example, he keeps having trouble with the word 'is'. Something that is also a pity is that for characters like a comma and question marks you have to go to a popup menu each time. This is not bad but you have to close this popup yourself. Samsung would do well to close this popup as soon as you have made your choice.
Connectivity
The Galaxy S4 contains, in addition to the usual connection options such as WiFi and NFC, an old-fashioned infrared sensor. In the past, this sensor was mainly used for sending and receiving data between mobile phones, but the technology has now been replaced by the much faster Bluetooth and WiFi Direct. Samsung therefore uses infrared for something else, namely as a universal remote control for your TV and set-top box. There is a special app included, called WatchON, which, after choosing the right manufacturer, functions perfectly as a universal remote control. Optionally, you can create a separate virtual remote control for your set-top box. A handy feature is that the remote control can also be shown from the notification screen. But the app also works as a TV guide, unfortunately the number of supported TV providers is still somewhat limited, for example Ziggo is missing. There seems to be some work being done here.
".
Something else Samsung also advertises with is the new Group Play. This allows you to create a group with a number of S4's, after which you can play music via all participating S4's. A funny feature and who sees it is quite impressed, but of course this is not a feature for which you should buy an S4. Besides music you can also share photos and documents and play games. All on the condition that everyone has a Galaxy S4 of course.
Camera
Something in which the Galaxy S4 excels are the camera functions. There are quite a few. Besides the usual panorama, best face, best photo, night, sports, hdr and automatic mode, there are a few that we want to explain in more detail. There is Sound & Recording, a photo with a small sound clip. Our advice; just take a video. Funnier is the Animated photo mode. With this mode you can point out inside a still photo a part that is allowed to move. Take a picture of a passing car, and see the car itself actually move. We already saw it on Nokia's Lumia's. Something we rarely saw was the Drama mode. Take some pictures of a moving subject and merge them into one picture. This is a funny way to, for example, capture a movement of someone in a still picture. The results are pretty good too. Finally, there is an Eraser mode that allows you to erase unwanted objects (or people) from your photo. The answer against photo bombers.
Once you have shot the most beautiful photos of your life you can put them in an album. Samsung delivers an app called Story Album with which you can do exactly that. The great thing about it is that you can also order a physical copy of your album. Prices vary from €12.41 to €27.08 depending on the format. Samsung uses Blurb's print service for this service, which is also available in the Netherlands.
About the quality of shot photos and videos we can be very short; it is above average. In few light situations it is beaten by Nokia's Lumia 920, but in other situations the S4 is more than fine. Below we have a link to Facebook where you can watch pictures shot by us.

Existing programs
A whole new app is S Health. This fitness app keeps track of your workout as well as your daily rhythm. There is a pedometer, calorie counter and a sleep-rhythm monitor. Combined with separately available accessories such as a heart rate monitor or the S Band, you get even more information which can be conveniently displayed in an overview. The built-in temperature and humidity meter shows whether the weather is suitable for sports. Excuses are a thing of the past.
".
Another new app is S Translator. This application translates spoken and typed text from one language to another. Unfortunately, there are not many languages available, but fortunately the most widely spoken ones such as English, Spanish, German and Chinese. Handy for holidays, but the app is of course no match for Google Translation with its offline support and support for its many languages including Dutch.
".
Your personal voice-activated assistant S Voice is also pre-installed but is still not available in the Netherlands. It is therefore questionable whether you will use this feature a lot. In that case it is wise to disable S Voice. By default, S Voice is on and can be activated by pressing the home button twice. Turning it off means a faster operation of your home button.
All those standard installed applications take their toll on the memory. Of the available 16 GB, roughly 8.5 GB of free space remains. Whether that is such a problem remains to be seen, you can easily expand this with a memory card. And fortunately, these memory cards are not expensive these days.
Games
There are two standard games on your Galaxy S4. You can find them in Group Play and they are called Com2urPoker and CanimalMatch. Apparently you can play these games with friends via Group Play although we have not been able to test this. Multiple games can of course be downloaded from the Play Store.
Extras
Samsung supplies a number of interesting accessories for the Galaxy S4. One of them is the S View Cover. It is a protective cover that folds around your device like a book cover. To install the S View Cover, replace the battery cover. The disadvantage is that this makes the device a little thicker. We have known such covers for a long time but what makes the S View special is the transparent window through which you can continue to see part of the screen. The Galaxy S4 handles this very well and adjusts automatically as soon as you close the S View Cover. The device jumps on standby and you will see your notifications next to the clock. Once opened, your device jumps back to life. A nice accessory that, as far as we're concerned, justifies the price tag of € 35.
Conclusion
We come to the end of this extensive review. And when we have to sum up its drawbacks, we don't really get any further than that the device is made of plastic. However, you can wonder if that is bad. The S4 doesn't really feel plastic, doesn't really look like plastic and so the choice of material shouldn't be an issue. Another drawback could be the Pentile layout, but that layout is only visible under a microscope. That shouldn't be a problem either. Perhaps the enormous amount of functions could be experienced as disadvantageous and confusing. However, this time Samsung did its best to hide and split it up properly. And let's be honest: when is something disadvantageous when it has a lot of functions? Yes, its free memory is a bit limited, but it is relatively easy (and inexpensive) to expand thanks to a separate memory card.
Actually, we can't help but be positive about the Galaxy S4. It is fast, looks modern, has a sublime display with high contrast and excellent legibility outdoors, excellent battery life and is also incredibly comprehensive. Everything Samsung has criticised in the past has been solved and tackled with the S4. It is almost starting to get annoying because there is not much to haggle about on the S4, it is just a very good phone. Even when you are allergic to plastic. That's why we are going to hear and see a lot of the Galaxy S4, whether you like it or not.
---
---
Questions and answers about this Samsung i9505 review