Samsung Galaxy S6 edge review
Progress has its price
---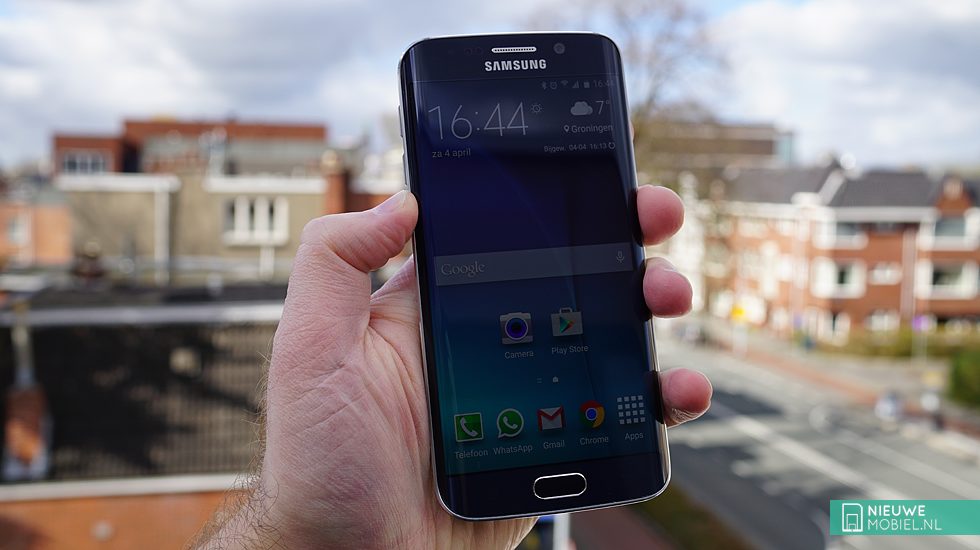 Just like last year, Samsung announced its latest flagship prior to the Mobile World Congress in Barcelona; the trade fair for all things mobile. And yet the Galaxy S6 edge has little in common with last year's model.
This has everything to do with the response of the Galaxy S5 of 2014. That was disappointing in the high expectations. In any case, Samsung only entered the telecom market last year. And so it had to change course, thoroughly. All existing ideas were thrown away and they had to start all over again. That was even applied at the level of the internal components. The result may be there, but it does result in a phone that, for the first time, says goodbye to time-honoured Samsung advantages such as an exchangeable battery and memory card slot. Those two are missing. In this review we are going to try to find out if the lack of them is made good.
The Samsung Galaxy S6 edge was announced together with the Galaxy S6 and the biggest difference is the round screen. Both models are considered to be the top segment and have competition from models such as the iPhone 6, HTC One M9 and to a slightly lesser extent the Sony Xperia Z3 and LG G3. Those last two are on the nomination to be replaced quickly and will then have to compete against these Samsung models. So on paper the competition is big, but what remains of that in practice?
---
What's with the device?
Samsung supplies the Galaxy S6 edge in a white box containing a Dutch quick start guide, warranty card, charger, microUSB cable, SIM card jack and a headset. The latter is in our case white and with a flat cable so it does not unintentionally get tangled up. In the middle are control buttons to adjust the volume and to take calls with you. The earplugs have a peculiar shape and look a bit like the Apple one with the iPhone 6. Because of that shape and the rubbery casing they are a bit difficult to get into your ear. A second rubber casing of a slightly different size is included. The caps are in-ear but don't close off all sound from outside. When it comes to sound, they don't do badly at all. Don't forget to turn on the SoundAlive+ sound effect. It mimics surround sound and only works when the headphones are connected.
Appearance
At first glance, the appearance seems to be the biggest difference of this Galaxy S6 edge. Appearances can be deceiving, but more about that later. Samsung has put down a phone that unmistakably resembles a Samsung phone. The round corners and the physical home button are the biggest examples of this. And yet this S6 edge looks nothing like previous models. The plastic housing has been removed and a mix of metal and glass has been used instead. The Galaxy S6 edge is available in three colour versions; 'White Pearl', 'Black Sapphire' and 'Green Emerald'. For this test we had a black version, as if it is rather blue. In the right light it's almost light blue, and sometimes it's black again. Samsung seems to use a sticker or foil to get the colour version.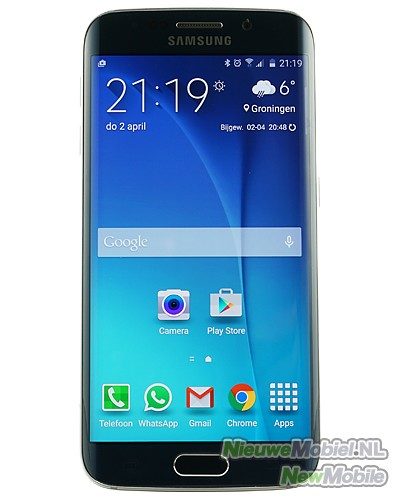 ".
The edge is made of metal, the corners of which are neatly rounded. The edge is interrupted twice at the top and bottom by another material. This will undoubtedly have something to do with the antennas. We can't investigate further because this time the back cannot be removed. So we can't look 'inside' the device. The front glass plate runs far over the sides. The applied screen is also curved, which results in a unique 'look'. It also makes the device look narrower. However, it also has disadvantages, but more about that later. The home button is slightly larger this time, which is necessary for the renewed fingerprint scanner. It no longer reads prints by wiping over them but by resting a finger on them.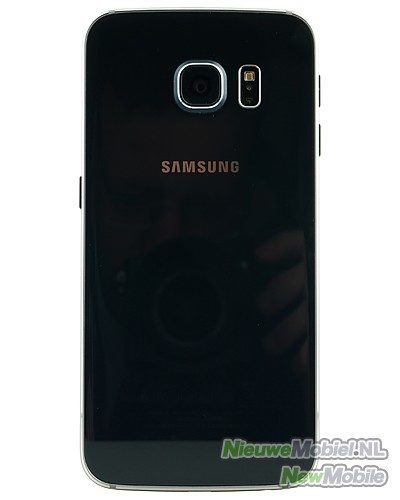 ".
The back is also made of glass this time. Both the front and back are made of Gorilla Glass 4. That new type is more resistant to falling. Of course, with glass you keep wondering whether it can withstand damage. After all, we know the many broken iPhone 4s and Xperia phones. In a video that appeared on the internet, the strength of the S6 edge is put to the test. The result is quite impressive, the glass remains intact. Still, future damage hangs over him like a sword of Damocles. This is mainly due to the side. The curved screen is at the expense of the housing of the side. You hold on to that side and it doesn't give much grip. Moreover, the sides feel a bit angular and sharp. We can well imagine that one day you will drop him in his life because of the lack of grip. The glass plate of the back is lying like a drop on it, with a slight bulge at the ends. It gives a very neat finish. The camera module does stick out quite a bit. To the right is the flash with the heart rate sensor. On the left side are the volume buttons, this time two separate buttons. On the right is the power button, which is remarkably low.

".
On top is the SIM card slot. For this you need a pricker that comes with the device. With the Galaxy S6, that opening is still on the side. Exactly in the middle is a black part behind which the infrared transmitter is located. This allows you to control your television. To the right of that is a black hole, that is the secondary microphone. This allows the S6 edge to filter unintentional sounds from a phone call. At the bottom the device looks very similar to the iPhone 6. This is due to the perforated holes for the speaker. It has 1.2 watts of power compared to 0.8 from the Galaxy S5. In the middle of the bottom is the microUSB connection. On the previous model it was still behind a cover, which was needed to make it waterproof. Clumsy because you had to open and close the cover every time. That action is now not necessary, although this S6 edge does have to be waterproof.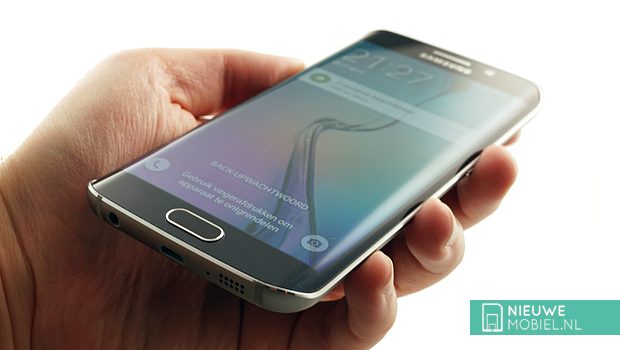 This Galaxy S6 edge seems to usher in a new era of phone design. This is really something new. Now the curved screen is not necessarily very functional, but it is really something else. What's more, the mix of glass and metal makes the S6 edge feel very premium. We also showed the device to many people during our test period. None of them were unimpressed. Words like 'chic' and 'beautiful' were arranged. Terms we rarely heard about the Galaxy S5.
Endurance
The Samsung Galaxy S6 edge has a built-in battery of 2,600 mAh. This makes it seem to lag behind other Android competitors. And should the device run out of power, it is not possible to install a spare battery, something that has always been possible up until now. Exceptions left, we see people doing this very little in practice. And yet Samsung meets the user to compensate for the loss of the replaceable battery. First of all, there is the energy-efficient Exynos processor. This is based on 14nm instead of the usual 20nm. That makes it just a bit more economical. And if you're at a wall socket, you can charge it in no time. Fully charging can be done in 80 minutes and only 10 minutes on the charger is enough for 4 hours of use. And wireless charging is now standard. Under 'extras' we will discuss the separately available charger.
".
In practice, the result is not disappointing, although the battery life is not the best we have ever seen. Under normal circumstances, you don't get more than a day out of it. That's why you need the extra saving features. There is a normal economy mode that can be switched on automatically when the battery drops below a certain level. The processor speed and screen brightness are then reduced and the vibration function is turned off. There is also an extra energy saving mode that is more thorough. This turns the screen to black and white and allows you to use a limited number of preset apps. In this mode you get several days but that has a price. The S6 edge gives an estimate of the remaining usage. However, those times are grossly exaggerated, usually you only get half. Another option has been added to keep an eye on apps to make sure they don't use too much battery power. You can then forcibly close apps or remove them if necessary.
The big question now is whether all this makes up for the lack of the replaceable battery. As far as we are concerned, it does, but of course you always have people for whom that doesn't apply. Still, the majority will be fine with a fixed built-in battery. It lasts long enough and if it does go wrong then 10 minutes on the charger is enough for half a day ahead. Moreover, there are plenty of other phones of which the battery cannot be replaced that sell well anyway. We call an iPhone, for example. So it turns out to be more of a storm in a glass of water.
Call quality
Calling is fine with the Galaxy S6 edge. The volume can be loud enough and the person on the other side is clear and understandable. The calling interface has become a lot clearer. Gone is the dark interface and instead a clear and especially white whole has returned. In terms of functions, everything has remained the same. Samsung embraces the design principles of Android Lollipop well and has tried to implement that as far as possible in its own TouchWiz shell. It all looks just that little bit fresher and cleaner.
Display
Samsung applies a curved 5.1 inch screen in the Galaxy S6 edge. This is of the AMOLED type and has a resolution of 1,440 by 2,560 pixels. That is a bit too much to be seen with the human eye. So you can also wonder if Full HD was not enough. A lot of people won't see the difference but we can appreciate this technical tour de force. The screen is curved to both sides. With Note 4 it was only on one side. It provides a special experience. The colours on the edge do distort a bit, until you turn it towards you. The resolution, brightness and contrast are more than fine. We dare say without exaggeration that this is the best screen you can find in a mobile phone today. If you find the colors of the screen a bit exaggerated, you can set the screen mode to 'basic'.
".
At the Galaxy Note 4 Samsung had devised various functions for the curved screen section. At the S6 edge, there are also functions to be found, but less so. For example, the side lights up when you receive a call. You can also assign a specific color to a contact. Even when the device is upside down, it shines through the curved screen. We don't recommend this position because it may damage the screen. Now the back side is the same material, so this warning is not valid here.
".
It can also display side information but only when the main screen is off. A quick swipe provides the time, missed calls and messages as well as the current weather forecast. You can also use the curved screen as a night clock. You can set when the clock is visible. All this information can be displayed on the right or left. Convenient but not functions for which you should buy an S6 edge.
Menu
We said that TouchWiz, the skin that Samsung applies on top of Android, looks a lot fresher. Although it is still recognizable as TouchWiz, a lot has changed. To start with, a lot of settings have disappeared. You used to be able to set almost every aspect, this time you have to do it with a lot less. That does make it a lot more orderly, but for people who were used to it, it's a bit hard to swallow. For example, they're missing settings like the illumination duration of the front controls.
".
The home screen still consists of a number of pages on which you can place widgets. The leftmost page is a list of news from Flipboard. You used to be able to turn it off, now you can't. At the bottom of the screen there is room for four app shortcuts plus a button to open the app overview. If you want to store more apps, you can also place folders there. You can change the name of that folder as soon as you click the name. You can also change the colour of the folder using that palette icon. It's very easy to accidentally click on it. Simple has its price. The app overview consists of a grid of 4 by 5 icons. You can't set it any other way. The sorting is manual and no other choices can be made there either. The notification list can be displayed by swiping down the status bar. The style is now fully in line with Lollipop. At the top there are a number of shortcuts to quickly enable and disable things like WiFi and Bluetooth. This list can be composed by yourself. Below that is a line for screen brightness and under the buttons 'S Finder' and 'Quick Connect' again. All notifications are listed underneath again.
".
Use the left control button to open a list of last opened applications. A button to close everything at once is at the bottom. You can scroll vertically through this list and a swipe left or right will close the app. A long press on the home button conjures up Google Now. The lock screen is also undressed and next to a clock, there is a shortcut to the bell application and the camera. In theory this is handy, but those who have secured the device will have to enter their code or fingerprint first. This does not apply to opening the camera. Notifications also appear on the lock screen from where you can take immediate action. There are still some settings to show the weather and a double clock but then it stops.
".
TouchWiz still disgusts a lot of people. It's too unwieldy, there are too many possibilities and it doesn't look like it. Samsung has tried to do something about that. Numerous settings and possibilities have disappeared, making the whole thing a bit 'cleaner'. Somehow we find it a pity that those settings could not have been accessible elsewhere, in a back corner. Some settings are missing. In terms of speed we now have nothing to complain about. The interface is fast, lightning fast even. Apps start up almost immediately. This is partly due to the new memory with which the Galaxy S6 edge is equipped. Only browsing doesn't go very smoothly with us. Sometimes the scrolling slows down, it is unclear why. We seem to be able to solve this with a software update. And as far as the appearance is concerned, Samsung has now added themes. There are already three on the device itself and there is a shop to download. However, the offer is still limited. Soon there will also be the possibility to create your own themes. This will allow you to choose your own style that suits you best.
".
Phonebook
The included contacts app has also been greatly simplified, although it is still possible to call people directly or send text messages by swiping to the right or left, respectively. In the overview, space has been reserved at the top for the favourite contacts. This too cannot be changed via any settings. However, it is possible to change the sorting from "First name" to "Last name". You can indicate whether linked accounts should be visible in the list.
".
Searching for names can be done by entering the name using the keyboard, but they can also be recorded now. Samsung has given the contacts app an orange colour. Other apps also get their own color. Calling is green, the calendar is green on white and video is purple. So you have to see at a glance which app you are in.
Messaging
Of course you can use the Galaxy S6 edge to send text messages. The way you do this looks familiar and just like on other smartphones. You can give priority to a contact. They then get their own shortcut at the top of the screen. Click on the image and you go directly to the conversation. The included keyboard is largely recognizable from previous Samsung phones. It consists of 5 rows with a row for numbers at the top. This time you can set the height of the keyboard, although the margin is very limited.
In addition to the traditional input, you can also create words by dragging from letter to letter. In terms of operation this resembles Swype, although we prefer the latter. The included email application works without any problems. Adding accounts is largely automatic, so popular services like Hotmail are recognized and you only need to enter your email address and password. There are numerous options available to synchronize. However, we are not very charmed by the color scheme; red on white. But it works and that's the most important thing.
".
Connectivity
The Samsung Galaxy S6 edge knows how to use all kinds of connection methods such as WiFi, Bluetooth and NFC. Together with the device, Samsung also introduced its own payment service. Although the settings menu does contain an option "NFC and payment > Tap and pay", it is not (yet) possible to pay with the device in the shop. It is possible that this option will be added later. We did not experience any problems with WiFi connections during our test period and Bluetooth also works without any problems. There are possibilities to fall back on a 4G connection if the WiFi connection is too bad. Also, it is still possible to download large files extra quickly by downloading it over both the WiFi and 4G network. This is called 'Downloadbooster'.
".
The Galaxy S6 edge comes with its own internet browser and with Google Chrome. In terms of functionality they hardly avoid each other. Both can work with tabs, even if you need the button for recent apps for Chrome. There is also no clear winner in terms of speed.
".
Camera
Samsung also equipped the Galaxy S5 with a sensor with built-in phase detection autofocus. That should give him an extra fast autofocus. In practice, that was quite disappointing. Samsung uses a Sony sensor with a new f/1.9 extra bright lens for this S6 edge. Photos in the dark should therefore be better. Also new is the tracking autofocus that can focus on a moving subject. Samsung also managed to cut back a few milliseconds from the startup time of the camera app. The app started after 0.7 seconds, that was 1.3 seconds. The camera even starts in lock mode by pressing the home button twice quickly. Ideal to take a quick shot.
Samsung has also simplified the camera interface. The most commonly used settings are shown on the screen, such as shooting a photo and taking a video. There are various modes, including a professional mode in which you can set the white balance and ISO yourself. There is also a selective focus in which you can change the focus later after taking the photo. There is also a slow motion option. The maximum camera resolution is 16 megapixels and video can be recorded in up to 4K UHD (3,840 by 2,160 pixels). The 'autofocus tracking' does not work together with the video stabilization; it is one or the other.
".
As far as we are concerned, the interface was successful. A lot of unclear settings have disappeared so that the average user can immediately shoot beautiful photos without too much effort. That shouldn't be such a problem because the photos that roll out of the camera are very beautiful. Only from a very close range (macro) it sometimes takes before he has the image in focus. Here you notice the absence of phase detection autofocus. This lack is made good by the new bright lens. Even in the dark it shoots very acceptable photos. Even in almost complete darkness where other phone cameras would produce one black image, you still get recognizable results at the S6 edge. Now that might be a bit extreme, but in the evening you can shoot pictures on the street even without flash. Results at this point are better than from other phone cameras at the moment.


Click above for more sample pictures of the Samsung Galaxy S6 edge
.
Existing programs
This is the part of the review that we are always a bit afraid of with Samsung phones. The list of apps on a Samsung smartphone is almost endless. Until recently, the amount they provided was long, unnecessarily long. And there were always apps that no one in his life would ever use. How pleasant the list is now. The number of Samsung apps can be counted on one hand. And even those can still be turned off. By the way, all those extra apps can still be installed, you can find them in the Galaxy Apps shop. It provides more space on the device and it all looks a lot clearer. Installed by default are: Phone, Contacts, Messages, S Planner, Gallery, Camera, Clock, Calculator, Note, My Files, Voice Recorder, Peel Smart Remote, Music, Video, Internet, Email, S Health, S Voice, Galaxy Apps, Smart Manager, Play Store and Settings. There is also a folder with Microsoft apps such as OneDrive, OneNote and Skype. This has everything to do with a suitable court case between Samsung and Microsoft. Deleting is not possible, but making it invisible is.
".
With Peel Smart Remote you can simulate a remote control. Just enter the model from your TV or AV receiver and after a few tries you can control your TV. There's also a built-in TV guide, but it's far from complete. Smart Manager lets you keep your device clean. The interface consists of four blocks; battery, storage, memory and security. The battery section links through to the battery settings we discussed earlier. With storage you can automatically delete unnecessary files. It also gives you insight into what your memory is used for and what you can do about it. The 'RAM' section provides insight into working memory and you can stop active apps there after which, in theory, your device performance should improve. Under the fourth heading 'security' you can enable Samsung's own Knox solution, but it also detects malware and unauthorised system changes.
Extras
We've already mentioned but not yet discussed the fingerprint scanner. Samsung has incorporated a new type of scanner in the home button. It has become bigger and you don't have to swipe your finger over it anymore. Shut it down and your fingerprint will be read. It works much better and in many cases your finger will be recognized no matter how you put it on. Reading is also nice and fast. In terms of operation, speed and accuracy, it comes awfully close to the iPhone. You can register four different fingerprints. In addition to accessing the device, this allows you to log in to internet forms, log into your Samsung account and pay using PayPal. We are very pleased with the renewed fingerprint recognition and actually recommend everyone to use it.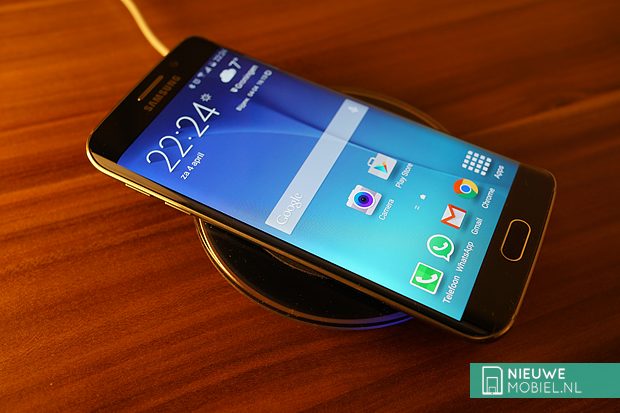 The other thing we owe you is wireless charging. We got a Wireless Charger from Samsung. It's not the same type that people with a pre-order get for free. This charging station with type number EP-PG920I is round in shape and has a rubber edge on top that sticks out a bit. So you don't run the risk of scratching it. This charging station is based on the Qi standard which means that the Galaxy S6 and S6 edge can also be charged with other Qi devices. Besides Qi, the device also supports PMA, which allows you to use almost any wireless charger on the device. The EP-P920I costs around 50 euros on its own and all you have to do is put the device on top of it to charge it. No more hassle with cables. Just make sure you put the device reasonably in the middle and don't charge it, we noticed one morning. The charger lights up blue at the front when the device is charging, and turns green when it is finished. This light is not very bright, but in a dark bedroom it is. Unfortunately this cannot be turned off.
Conclusion
How do you summarize this phone? At first glance it looks like a random Samsung. Something that becomes totally different when you get your hands on it for the first time. What a quality, it feels almost on-Samsungs. The build quality is really excellent. The amount of detail is also unprecedented, everything is neatly finished. Apple has checked it out. Put the S6 edge next to an iPhone 6 and that last one has it checked. The edge is so much nicer. And the amount of work hasn't been limited to the looks, even all the components used. Samsung has really surpassed itself. The display is incredibly sharp, clear and rich in contrast. The processor blows and the new type of memory ensures that apps start up immediately. The camera is fast and shoots great photos even in dark environments. The fingerprint scanner works just as it should and the software is simplified and clear. However, this progress has its price.
For gone are the removable battery and memory card slot. Too bad about the first one, but the fast charging function and the economy of the device more than make up for that. We do regret the disappearance of the memory card slot. Samsung solves this by already equipping the basic model with 32 GB. We loaded the world's apps and still didn't get over 50%. Nowadays you stream music and store photos in the cloud. So there is less and less need for extra memory. If you do need that you'll have to go for the 64 or even 128 GB version. But that has its price. And then there is the purchase price of the model itself. With a recommended retail price from 849 euros, the Galaxy S6 edge is certainly not a cheap phone. You'll have to pay for all that technological violence. If it gets too cheap for you, you can rely on the Galaxy S6. You'll have to do it without a curved screen and receive compliments less often from people around you. Still, it's the easiest way to save 150 euros.
In summary, we think Samsung made the right decision. There will undoubtedly be people who will very much miss the lack of a memory card slot and the watertightness. However, they will not like the people who are charmed by the new look, the choice of materials and the craftsmanship that came along to assemble the S6 edge. It is truly a unique phone, a beautiful appearance and possibly the first step towards the recovery and success of Samsung's phone branch.
---
---
Questions and answers about this Samsung S6 edge review