---
---
Pro and cons Sony Xperia 1
First phone with 4K OLED display
Triple camera with optical zoom and fast autofocus
Glass housing made of sturdy Gorilla Glass 6
Powerful processor with a lot of working memory
The 21:9 ratio makes it relatively long
---
Prices Sony Xperia 1 Unlocked
---
Reviews about the Sony Xperia 1
| | | |
| --- | --- | --- |
| 5 sterren | | 1 review |
| 4 sterren | | 2 reviews |
| 3 sterren | | 1 review |
| 2 sterren | | 0 reviews |
| 1 ster | | 0 reviews |
Want to earn $50?
Every month we select a winner among all user opinions that were submitted. That person wins a voucher of $50. The only thing you need to do to is write your very own user opinion and let us and others know what you think about this product. Click the button below to start.
---
---
---
The Sony Xperia 1 in the news
---
Sony Xperia 1 Product details
The Sony Xperia 1 is the top model announced by Sony for 2019. It is the first smartphone with a 4K OLED display and the first Xperia with a 21:9 ratio. In addition, there are again top specifications on camera, video and audio. What exactly and what benefits this can have for you we are going to explain here.
CinemaWide is first 4K OLED
First innovation is the screen. It is the first time that Sony applies a 21:9 screen ratio. That is also used in the cinema and now Sony is active there as well. Funny detail also is that you can shoot video in this aspect ratio so you can feel like a Hollywood director. Besides being remarkably elongated, this is the first OLED panel in a smartphone with an unprecedented high 4K resolution. Even on a 6.5-inch panel, you won't be able to see individual pixels with the naked eye. Non4K content is upscaled via Sony's X1 engine and additional colours are upgraded to 10-bit HDR thanks to remaster technology. If these terms don't mean anything to you, take it from us that images are razor-sharp, colorful, with lots of detail and full of contrast.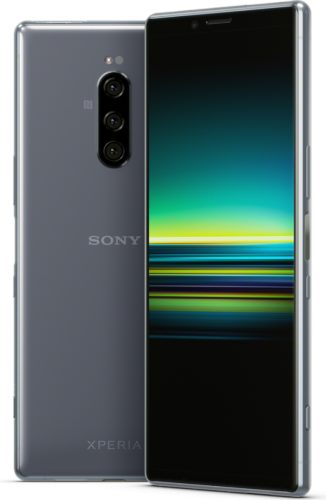 Eye AF in a phone
There are also improvements in the camera area. The back of Xperia 1 has 3 cameras, each with a 12 megapixel sensor but with different lenses. Sony is a big player in the camera field, especially the Alpha cameras with interchangeable lenses are miles ahead of the competition. It's not surprising that this team helped in the development of the Xperia 1. There is a 26 millimeter lens for everyday use, 52 millimeter lens for 2x optical zoom and a super wide angle lens of 16 millimeter. One for each situation. Special attention has been paid to autofocus. It has to be so fast that you can get a sharp picture even with fast moving subjects. Eye AF automatically and rapidly focuses on eyes for the perfect portrait photo. In burst mode you can shoot up to 10 photos per second, all sharp.
Main Sony Xperia 1 specifications
OLED 6.5-inch screen with 4K resolution and HDR colors
12 + 12 + 12 megapixel camera with super wide angle, portrait and telephoto zoom lens
Sharp 13 megapixel selfiecam with 84 degrees wide angle f/2 lens.0
Powerful Snapdragon 855 processor + 6 GB of working memory
Simultaneously insert 2 SIM cards that are both active
At the same time
Audio, build quality and speed; all in order
Other functions aren't nauseous either. There's Dolby Atmos support for sound that surrounds you, built-in stereo speakers, high-resolution DSEE HX support and wireless LDAC. The Xperia 1 is sandwiched between two sheets of Gorilla Glass 6 and is IP65/68 water and dust resistant. Like its predecessor, the Xperia XZ3, the edge is touch-sensitive. It lets you access the Side Sense menu with shortcuts to your most favorite apps or operations. Of course the '1' uses the most powerful Qualcomm processor that was available during construction; the Snapdragon 855. With 6 GB of working memory and 3330 mAh large battery, that should be enough to go fast and long. Too bad Sony left out the 3.5mm audio jack port for your own headphones.
---
Most important Sony Xperia 1 specifications
Dimensions
166.9 x 72.4 x 8.2 mm
Codename
Sony XZ4
EAN code
7311271629566, 7311271629559, 7311271629245, 7311271629191, 7311271629184, 7311271629160, 7311271629153
Fingerprint recognition
Android
9.0 (Pie)
Color display
6.5 inch, OLED
Camera
12.0 Mpixel camera, 12.0 Mpixel camera, 12.0 Mpixel camera
Dirt and waterproof housing
Processor
Qualcomm Snapdragon 855, octa core
Secondary camera
13.0 Mpixel camera
Dual SIM
LTE (4G)
Internal memory
6 GB, 128 GB
Battery
3330 mAh
Fast charging
Wireless charging
Audio jack plug
---
Alternatives of the Sony Xperia 1
Scroll the table below to see more
| | | | | | |
| --- | --- | --- | --- | --- | --- |
| | | | | | |
| Photos relative in size | | | | | |
| | Current product | | | | |
| Fingerprint recognition | | | | | |
| Android | 9.0 (Pie) | 8.1 | 9.0 (Pie) | 9.0 (Pie) | 9.0 (Pie) |
| Color display | 6.5 inch, OLED | 6.0 inch, OLED | 6.1 inch, Curved Dynamic AMOLED Quad HD+, hole-punch display | 6.4 inch, Curved Dynamic AMOLED Quad HD+, hole-punch display | 6.8 inch, Dynamic AMOLED Infinity-O Display |
| Camera | 12.0 Mpixel camera, 12.0 Mpixel camera, 12.0 Mpixel camera | 19.0 Mpixel camera | 12.0 Mpixel camera, 12.0 Mpixel camera, 16.0 Mpixel camera | 12.0 Mpixel camera, 12.0 Mpixel camera, 16.0 Mpixel camera | 12 Mpixel camera, 12 Mpixel camera, 16.0 Mpixel camera, VGA camera |
| Dirt and waterproof housing | | | | | |
| Processor | Qualcomm Snapdragon 855, octa core | Qualcomm Snapdragon 845, octa core | 1.7 GHz, 2.4 GHz, 2.8 GHz, octa core | 1.7 GHz, 2.4 GHz, 2.8 GHz, octa core | Octa core |
| Secondary camera | 13.0 Mpixel camera | 13.0 Mpixel camera | 10.0 Mpixel camera | 10.0 Mpixel camera, 8.0 Mpixel camera | 10.0 Mpixel camera |
| Dual SIM | | | | | |
| LTE (4G) | | | | | |
| Internal memory | 6 GB, 128 GB | 4 GB, 64 GB | 8 GB, 128 GB, 512 GB | 12 GB, 8 GB, 1 TB, 128 GB, 512 GB | 12 GB, 256 GB, 512 GB |
| Battery | 3330 mAh | 3330 mAh | 3400 mAh | 4100 mAh | 4300 mAh |
| Fast charging | | | | | |
| Wireless charging | | | | | |
Complete comparison between the Sony Xperia 1 and these alternatives or compare with other models
---
Questions and answers about the Sony 1