A new year, a new picture of an unannounced phone. This time of the Samsung Galaxy S22 Ultra, or will it soon be known as the S22 Note? You still owe us the answer to that one. But we do have images from all sides of this device.
Because thanks to @evleaks (restricted access), we have yet another image of the S22 Ultra. This Ultra is pictured with an S Pen and that's for a reason. Like the S21 Ultra, it offers support for the pen, but it will be the first Galaxy S phone were you can also store the pen.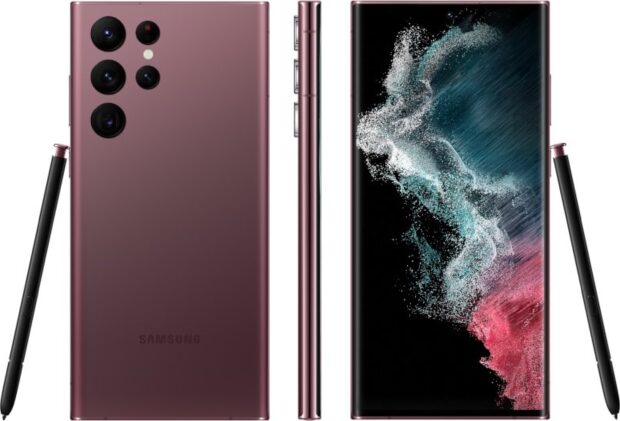 We see the S22 Ultra in a bronzed color where the pen comes in black. Only the push button will be the same color as the body. The sides of the phone are rounded just like previous Note phones. The top and bottom are flat though. Unlike other Galaxy S22 models, the S22 Ultra does not have the camera island sticking out. Instead, the individual cameras stick out from the back.
Brightest screen ever
Samsung is presumably equipping the Galaxy S22 Ultra with its very brightest display ever. If earlier rumors are true, the peak brightness will be a whopping 1750 nits. On the Galaxy S21 Ultra this was 1500 nits. Perhaps the S22+ will get the same screen as the Ultra. Both phones are expected to have a standard brightness of 1200 nits.