The successor of the Nokia 6.2 has shown itself for the very first time. It is still unclear whether it will be named Nokia 6.3 or Nokia 6.4, but it is clear what it will look like.
Renders of the Nokia 6.3 (or is it the 6.4?) come, as often is the case, from @onleaks. HMD Global is lagging behind with the release of new Nokia phones. It even skipped some models, which is the reason some type numbers jump up an extra digit. This happened earlier with the Nokia 3.3. That model was skipped as well.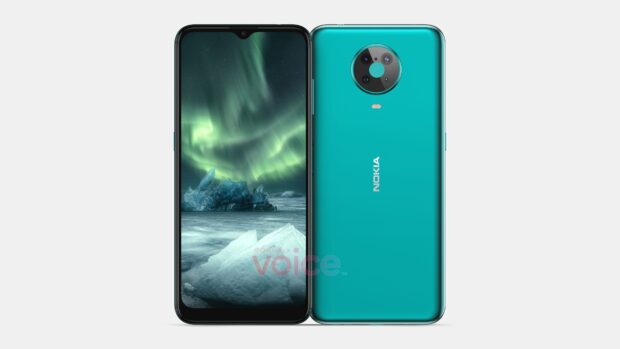 The Nokia 6.3/6.4 gets a screen with a V-shaped notch. This fact alone is quite peculiar because nowadays a notch is known as old-fashioned. Nowadays, a punch-hole is the norm. Even the cheap Nokia 3.4 has one. The screen size of the 6.3/6.4 is 6.45 inches, which is slightly larger than the 6.3 inches of the current Nokia 6.2. There seems to be an extra camera on the back. Details about that these still missing. The fingerprint scanner seems to have moved to the front. It may have be integrated into the screen.
Nokia 6.3/6.4 launch
When HMD Global, the maker of Nokia phones, announces this 6.3/6.4 exactly and for what amount is still unknown. The source expects somewhere before April.