The family of foldables has a new member; the Samsung Galaxy Z Flip. A foldable phone with a clamshell form factor that is mainly aimed at people who want to stand out. And distinction does.
The Galaxy Z Flip folds like an old-fashioned clamshell or folding phone. When unfolded, you have a 6.7-inch screen at your disposal; immense for today's standards. Yet it is folded up only half, although at 17.3 millimetres it is of course not really thin. So he'll stand out in your pocket. But with the Z Flip that might be the intention.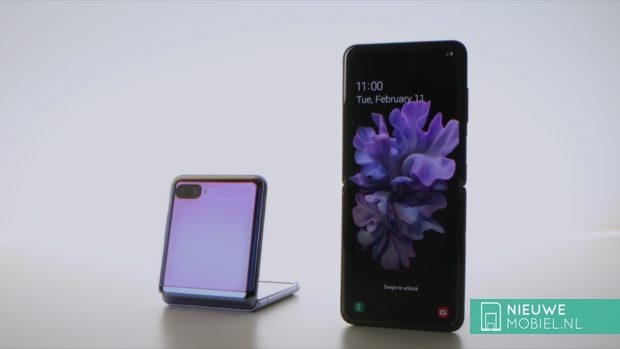 To avoid the same problems as with the Galaxy Fold extra attention has been paid to the hinge. The so-called 'Hideaway Hinge' is tucked deep inside the device and should keep dust and dirt out thanks to a nylon brush. You don't have to open or close the Galaxy Z Flip completely, the hinge allows you to open it in half, just like a laptop. The interface adapts itself to this so that the top half of the screen can be used for content and the bottom half for operation. This just goes to show how versatile foldables can be.
Samsung Galaxy Z Flip in the Netherlands
The Samsung Galaxy Z Flip is above all a fashion statement with a striking purple colour and otherwise fairly modest features. Think of a double 12 megapixel camera on the back and 10 megapixel selfie camera. The battery capacity comes out at 3300 mAh with which it doesn't really seem to be an expensive runner. The recommended retail price is firm, though. This amounts to 1380 dollars, converted into approximately 1500 euros including tax. The Z Flip should be in stores from 14 February.