A schematic sketch of the upcoming HTC Desire 20 Pro has emerged. Not only do we like to see unannounced phones, it's also good to see that HTC apparently still makes phones.
The sketch comes from @evleaks which currently publishes its leaks at Patreon. The HTC Desire 20 Pro seems to be a mid-range phone with codename 'Bayamo'. At the front we see a hole-punch display with at the back a quad camera system and a physical fingerprint scanner.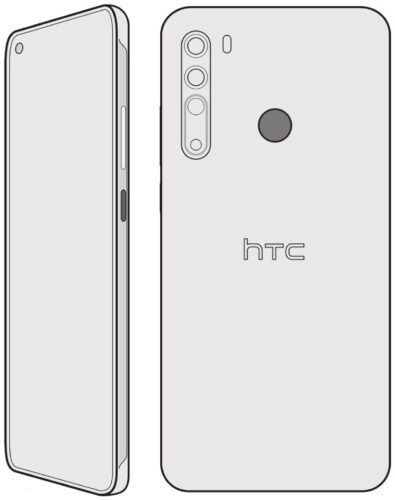 Rumors about the arrival of the Desire 20 Pro have been going on for several days. @LlabTooFeR recently tweeted that the device looks like mix between the OnePlus 8 and Xiaomi Mi 10 and has a 3.5mm headphone jack. What other features this HTC phone has remains to be seen. Not much is known about it at this moment. Also when HTC releases this phone is unknown.
HTC hasn't released many new phones since 2018. This year the HTC Wildfire R70 was announced but it wasn't released everywhere. Whether this HTC Desire 20 Pro should end up in stores world wide is unknown. HTC is not doing really well at this moment and it is very doubtful whether this 20 Pro will change anything about that.