A photo has appeared showing the future OnePlus Nord. The cheaper OnePlus 8 model was supposed to be announced at the same time as the OnePlus 8 and 8 Pro but was postponed due to outbreak of the coronavirus.
The OnePlus Nord was previously known as the OnePlus Z and OnePlus 8 Lite. In our opinion a more logical name because it describes the phone perfectly. A model with a flat screen, lower price and less powerful processor and therefore a bit simplier than the OnePlus 8.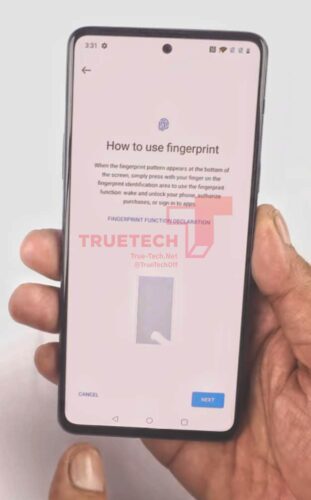 A photo of the device emerged at True-Tech.net. It shows a working device with built-in fingerprint recognition. That display is an Optic AMOLED with 6.4 inches in diameter. It has a 90 Hz refresh rate and is completely flat unlike the OnePlus 8 and 8 Pro. The punch-hole is center aligned. OnePlus placed the punch-hole selfie camera in the left corner for the OnePlus 8 and 8 Pro.
MediaTek Dimensity 1000L: striking processor selection
The camera system consist of three sensors; 48 + 16 and 12 megapixels. That's not bad for a mid-range device that this Z expected to be. The biggest surprise seems to be the CPU choice. OnePlus does not chooses a Snapdragon chip but the MediaTek Dimensity 1000L. This is a 5G chip that has 8 GB of RAM memory at its disposal. The battery has a capacity of 4000 mAh.
The OnePlus Z is due to be announced sometime in July and will then take on the Pixel 4a and iPhone SE 2020.