---
Pro and cons iPhone SE (2020)
Good starting price
Powerful thanks to A13 Bionic chip
Single camera but with portrait mode
Trusted Touch ID
---
Reviews about the Apple iPhone SE (2020)
| | | |
| --- | --- | --- |
| 5 stars | | 1 review |
| 4 stars | | 0 reviews |
| 3 stars | | 0 reviews |
| 2 stars | | 0 reviews |
| 1 star | | 0 reviews |
Give your opinion
Write your very own user opinion and let us and others know what you think about this product. Click the button to start.
---
---
Apple iPhone SE (2020) in the news
---
Apple iPhone SE (2020) product details
The Apple iPhone SE (2020) is Apple's affordable iPhone with a relatively compact and familiar design. It's the first time Apple has recycled an iPhone name and the choice for the iPhone SE is also a bit weird because the two don't have much in common. What exactly do we mean by that and if this iPhone SE 2nd generation is worthwhile buying is something we are going to find out here.
Dated appearance, modern interior
Released in 2020, this iPhone has a very compact 4.7-inch screen for today's standards. The iPhone SE 2020 itself isn't even that compact, because there's still a lot of room above and below the screen. This doesn't look very modern, but it will feel very familiar to long-lasting iPhone fans. Moreover, Apple makes good use of the space because under the screen we find an old acquaintance. The Touch ID fingerprint scanner. The new and more hip Face ID on some other iPhones where your face is recognized is missing. The front and back are made of glass with an aluminum rim. The SE 2020 is waterproof up to 1 meter for a duration of 30 minutes. The glass back also means you can charge it wirelessly.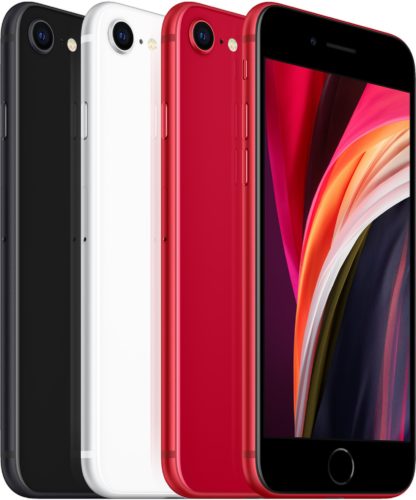 Good camera results
Despite its familiar and proven appearance, the iPhone SE (2020) does have the necessary improvements inside. For example, it uses the most recent processor: the A13 Bionic. The same processing power can be found in the much more expensive models. This cheaper SE (2020) has the same raw computing power and that is something you will notice. Gaming is effortless and apps will never feel slow. This goes for the most advanced ones like those with Augmented Reality (AR). The available processing power is also used by the camera. Despite the single sensor, it still sees depth so you can shoot portrait photos with it. This portrait mode allows you to take studio-worthy photos with out-of-focus background or studio exposure. The combination of a good camera with a competitive price makes the iPhone SE (2020) a device that is difficult to ignore.
Main Apple iPhone SE (2020) specifications
Compact 4.7-inch Retina HD screen
Single 12 megapixel camera with portrait mode and depth control
Powerful A13 Bionic processor for lightning-fast performance
Fast on-the-go mobile browsing (4G)
Dual SIM capabilities thanks to built-in eSIM (not available everywhere)
Waterproof glass design
It doesn't get more compact than this
Maybe you think after all this: this sounds a lot like the iPhone 8. That's right! As far as we're concerned, the iPhone SE (2020) is more the successor of the iPhone 8 than the iPhone SE. Wouldn't it then be better to buy the (even) cheaper iPhone 8? Apple is ahead of us because the iPhone 8 and 8 Plus were immediately retired after the introduction of this iPhone SE (2020). Finding a new one will therefore be difficult, but refurbished is of course possible. And the introduction of this iPhone is the nail in the coffin of something else: the small 4 inch iPhone. Some hoped that Apple would make 1 more and had their hopes on this iPhone SE (2020). Unfortunately, the smallest Apple has in its lineup is 4.7 inches. Get used to it is our advice.
---
Most important Apple iPhone SE (2020) specifications
Dimensions
138.4 x 67.3 x 7.8 mm
Weight
148 grams
Item ID
A2275
EAN code
9508118811262, 9507986446521, 9507978325667, 9507977751436, 9507972884122, 9507971725723, 9507966356840, 9507965829161, 9507956355570, 8720195023920, 8720195023913, 8720195023883, 8720195023876Show 58 more

, 8720195023845, 8720195023838, 8720195022879, 8720195022862, 8720195022855, 8720195022831, 8720195022824, 8720195022817, 8720195022794, 8720195022787, 8720195022770, 8720039731912, 8720039731905, 8720039731899, 8720039731882, 8720039731875, 8720039731868, 6665555555555, 5084987340873, 0194252148532, 0194252148273, 0194252148198, 0194252147856, 0194252147597, 0194252147511, 0194252147252, 0194252147177, 0194252146910, 0194252146835, 0194252146576, 0194252146491, 0194252146231, 0194252146156, 0194252145890, 0194252145814, 0194252145555, 0190199597136, 0190199596771, 0190199596412, 0190199596009, 0190199595996, 0190199595989, 0190199505995, 0190199505636, 0190199505278, 0190199504868, 0190199504851, 0190199504844, 0190199504646, 0190199504288, 0190199504042, 0190199503922, 0190199503519, 0190199503502, 0190199503496, 0190199503274, 0190199502956, 0001111111111, 0000008880000

Fingerprint recognition
iOS
13
Color display
4.7 inch, IPS
Camera
12 MP
Dust and waterproof
Processor
Apple A13 Bionic
Secondary camera
7 MP
Dual SIM
4G (LTE)
Internal memory
128 GB (Storage), 256 GB (Storage), 64 GB (Storage)
Memory card slot
Battery
1821 mAh
Fast charging
Wireless charging
Audio jack plug
---
Video about the Apple iPhone SE (2020)
The new Apple iPhone SE (2020) offers quite a bit in a small package
---
Alternatives of the Apple iPhone SE (2020)
Scroll the table below to see more
| | | | | | |
| --- | --- | --- | --- | --- | --- |
| | | | | | |
| | | | | | |
| | Current product | | | | |
| Fingerprint recognition | | | | | |
| iOS | 13 | | | | |
| Color display | 4.7 inch, IPS | 6.1 inch, Curved Dynamic AMOLED Quad HD+, hole-punch display | 6.4 inch, Curved Dynamic AMOLED Quad HD+, hole-punch display | 6.8 inch, Dynamic AMOLED Infinity-O Display | 6.2 inch, Infinity-O Display, hole-punch display |
| Camera | 12 MP | 12 MP, 12 MP, 16 MP | 12 MP, 12 MP, 16 MP | 12 MP, 12 MP, 16 MP, VGA camera | 12 MP, 12 MP, 64 MP |
| Dust and waterproof | | | | | |
| Processor | Apple A13 Bionic | 1.7 GHz, 2.4 GHz, 2.8 GHz, octa core | 1.7 GHz, 2.4 GHz, 2.8 GHz, octa core | Octa core | Octa core |
| Secondary camera | 7 MP | 10 MP | 10 MP, 8 MP | 10 MP | 10 MP |
| Dual SIM | | | | | |
| 4G (LTE) | | | | | |
| Internal memory | 128 GB (Storage), 256 GB (Storage), 64 GB (Storage) | 8 GB (Size (RAM)), 128 GB (Storage), 512 GB (Storage) | 12 GB (Size (RAM)), 8 GB (Size (RAM)), 1 TB (Storage), 128 GB (Storage), 512 GB (Storage) | 12 GB (Size (RAM)), 256 GB (Storage), 512 GB (Storage) | 12 GB (Size (RAM)), 128 GB (Storage) |
| Memory card slot | | | | | |
| Battery | 1821 mAh | 3400 mAh | 4100 mAh | 4300 mAh | 4000 mAh |
| Fast charging | | | | | |
| Wireless charging | | | | | |
| Audio jack plug | | | | | |
Complete comparison between the Apple iPhone SE 2020 and these alternatives or compare with other models
---
Questions and answers about the Apple SE 2020