Mobile TV is one of the new item for a lot of serviceproviders that you should become a killer application in the upcoming years. What does it mean and what does it contain? NewMobile explains!
In this article NewMobile will talk about the phenomenon Mobile Television. Mobile Television means watching video and television programs over the air on a mobile terminal, like a mobile phone or PDA. On the road you can either watch the news, a film, a sports event or even watch a live television broadcast.
About six years ago there where some experimental developments from the far east, the last few years mobile television made a huge leap in development and popularity. This has to due with the different techniques which have grown rapidly. Thanks to UMTS, DVB, DMB and MediaFlo it is possible to watch television anywhere from the palm of your hand. That these techniques are popular is noticeable, because the growth and the demand towards them.
Later on in this article NewMobile will explain these notions en what they could mean to make mobile television possible for the consumer. What have these techniques to offer, what is Live TV or mobile television and how will the future look like? NewMobile will explain it to you in this article!
Mobile television via UMTS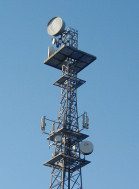 From the beginning of this century developments have been conducted on mobile phones mend for the UMTS market, the successor of the well-known GSM network. GSM is a standard that became available in the beginning of the 90ties.
UMTS stands for Universal Mobile Telecommunications System and has a big advantage that the speed of the connection is higher than with GSM/GPRS. Speeds up to 384 kilobits/s can be reached. A lot of European providers are already using UMTS as a connection based system via a special UMTS license. The license will allow providers to place UMTS antennas around the county.
Currently not every country has an optimal coverage of 100%, which means that you cannot use UMTS everywhere at any time. Especially less populated villages do not have a good coverage. The planning is to have a complete UMTS coverage around several countries between now and 2007.
Together with this new network technique, you will need a user. In this case the mobile phone. Currently the amount of UMTS devices is growing and next to this there is also the growth in services that providers are offering. Why? Because of the speed of UMTS there are services possible which were not possible on the GSM network. An example of this is television via the mobile phone using the high bandwidth of UMTS.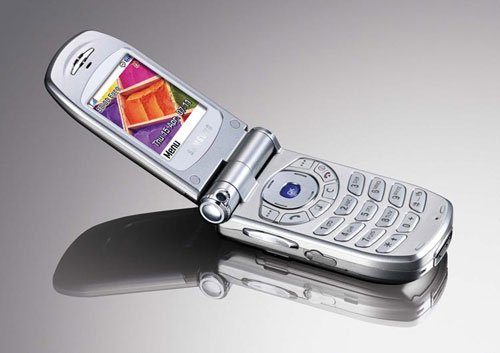 In practice
Mobile television via UMTS works differently from what we know from ordinary TV. There are no channels that are broadcasted on the same basis as you have at home on your TV set, but people will download video streams from the Internet. A video stream is a way of "live" video which is downloaded directly from a server. The quality of this video is depended on the quality and bandwidth of your connection, in this case UMTS.
How does this work in practice? For example with a Vodafone Live! device you can go to the corresponding portal and check the video stream that you choose. You activate the link to a certain stream and you get the screen containing the fee that needs to be paid. Unfortunately video streams are not free. Dependable on the content of the stream and the country you live in it can cost € 0,50 to € 2,00. It is important that you are in the UMTS coverage area. If not, than the device will switch to the GSM/GPRS network which does not have the ability to show the chosen video stream.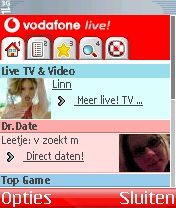 The video- and audioquality of television over UMTS is quite ok, but not really high. You will only experience a video/audio stream of about 25 KB/s with about 16 frames per second and a video resolution of 176 x 144 pixels. This resolution is supported in many of the current devices and is the maximum that UMTS sends. It is understandable that this streaming will ask a lot from the capacity of the network, especially when a lot of users are using it.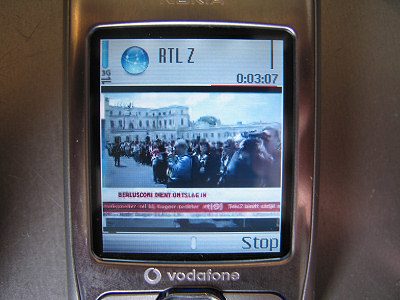 The maximum available connection speed can be judged, when high speed images are used. During slow movements in the video stream no problems will occur. Quality goes down only when the speed of the images changes or when there is low UMTS signal. You will experience that the quality of the screen is depended on the signal quality and speed of the image. These are the main drawbacks of UMTS where availability of UMTS and usability of the services is the highest.
A solution for these drawbacks is the extension to the HSDPA network, which is an upgrade of the curren UMTS network and which supports higher speeds and bandwidths. The expectation is that a complete HDSPA network will be available together with the introduction of DVB. HSDPA will ensure higher quality streaming television. The DVB subject will be discussed below.
You will find an example of streaming mobile television via the UMTS network below via the corresponding link:
- Video streaming mobile television on a Nokia N70
Mobile television via DVB and DMB
Newly developed devices are introduced rapidly. The newest devices with high resolution displays, megapixel camera's and more connectivity possibilities are shown today. Much better, much faster and more features. The development is going fast and also the demand for these new devices is high. Next to this some special interesting developments have been shown lately that will enhance the quality of mobile television in the future.
One of these techniques is DVB, which stands for Digital Video Broadcasting. This technique is comparable with digital TV through the air that is available in some countries. This service supports DVB-T. A direct related counterpart is DVB-H for mobile devices and is closely related. DVB-H works via the broadcasting principle - the same as normal TV via the cable-, analog signal or satellite connection in which people can change channels rapidly. DVB-H does not need a portal in comparison with live-streaming video via UMTS. The system will bring a lot of advantages into the future.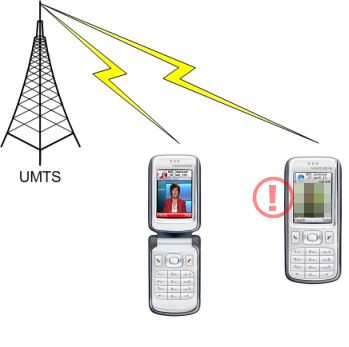 Why DVB-H? To ensure a great quality of mobile TV, UMTS is not suitable at this stage. This is because of thte low resolution, the weak sound and also the costs take a part in this. One must pay a lot more to the mobile provider and putting mobile content available costs the provider a lot of hard work. In the future Digital Video Broadcasting will ensure great video quality, comparable to a DVD. In contrary to the streaming quality of UMTS, DVB-H can be compared to real digital TV video quality. People will not experience technical problems or obstructions. Crystal-clear video on a high resolution screen is not a problem for DVB.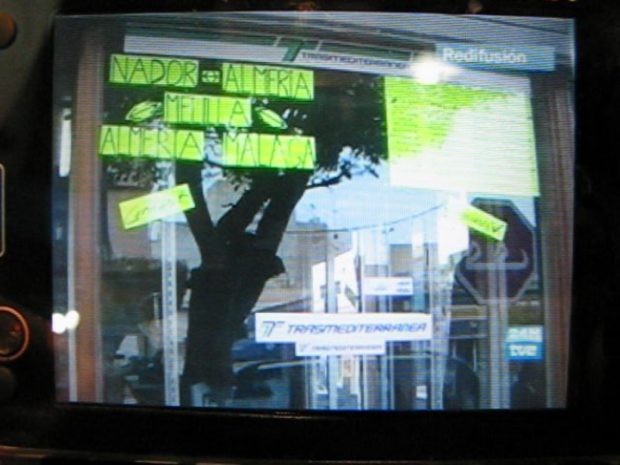 In the last few years/months the first tests have been conducted in relation to mobile television via Digital Video Broadcasting. Several partners within several European countries worked together in testing the new signal and possibilities. In 2007 we will see the first commercial launch of DVB-H. Other standards like DMB will only be available in Asia. The American region uses MediaFlo on a lower scale. DVB will be the standard for Europe.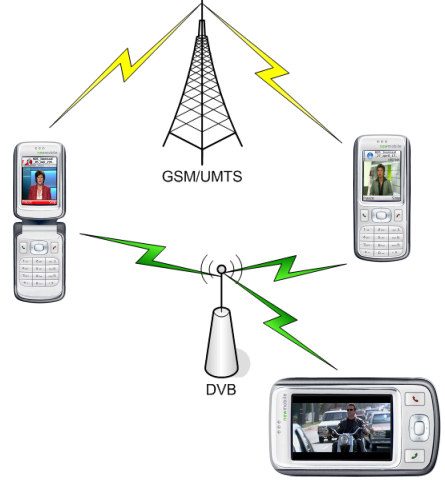 To feel and use the quality of DVB, people need a device with a DVB-H receiver. At this moment there are not many devices equipped with such a receiver. However the following devices have a build-in receiver: de Nokia 7710, N92, Samsung P900, LG U900 en V9000. The full DVB network will be placed next to the standard UMTS and GSM/GPRS network. This means that wider spread of users and possibilities and a better video quality via DVB-H and HSDPA. Lots of manufacturers will bring devices that are capable of using DVB-H; Nokia, Samsung, BenQ, Sony Ericsson and HTC.
Below you will find some examples of DVB-H mobile television on some of the mentioned devices. Check out the links:
- Video DVB-H Nokia N92
- Video DVB-H Samsung P900
Conclusie
With mobile television there is a lot possible. You can watch streaming television on your mobile phone everywhere you want. Next to the videoclips and movies on mobile devices it will possible to check out mobile television on high quality via the extension of UMTS/HSDPA networks in the upcoming time. The mobile devices will also be available in an enormous variation of formats and more will follow.
In the future the boundary will be put wider with the appearance of DVB-H which means real live TV with higher quality video and audio via a coverage area that covers the complete country. This will enhance the experience of mobile television for any user around Europe.