Once again, there are reports about the camera of Samsung's upcoming Galaxy Fold 4. Specifically about the zoom camera, something the Fold 4's predecessor did not excel in.
We previously wrote about the suspected camera of the Fold 4. It will still be 3 of which each camera appears to be floating on the black. According to a report from insider Ice Universe, Samsung is opting for a combination of 50, 12 and 12 megapixels.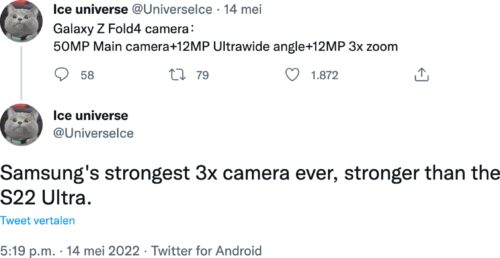 Previously, a 108MP main camera was assumed, similar to that on the S22 Ultra. The report today disproves that though it remains a rumor. Still, the Galaxy Z Fold 4 has an edge over the S22 Ultra. For example, the source claims that the 12MP telephoto camera has a better zoom than the Galaxy S22 Ultra.
"Samsung's strongest 3x camera ever"
Whether this is due to the higher resolution of the sensor or if it has better lenses, we do not know. The maximum zoom still is 3x. That's not as far as the 10x of the Ultra but more than the Fold 2. We'll have to wait and see what turns out to be true. Expect Samsung to announce their new foldable around the Fall of 2022.