---
Reviews about the Samsung Galaxy Z Fold 2
| | | |
| --- | --- | --- |
| 5 stars | | 0 reviews |
| 4 stars | | 0 reviews |
| 3 stars | | 0 reviews |
| 2 stars | | 0 reviews |
| 1 star | | 0 reviews |
Give your opinion
Write your very own user opinion and let us and others know what you think about this product. Click the button to start.
---
---
Samsung Galaxy Z Fold 2 in the news
---
Samsung Galaxy Z Fold 2 product details
The Samsung Galaxy Z Fold 2 is the successor to the original Fold from early 2019. The biggest difference is the much larger screen and a renewed self-cleaning hinge. What remains is the amazing feeling when you encounter one.
Major leap forward
The Z Fold2 is only Samsung's third foldable phone, but it immediately seems much more modern. That is mainly because of its new screen. Or better said: screens. They now stretch from edge to edge, both on the inside and outside. Outside is now a 6.2 inch with thin screen edges that contain a small hole-punch for the selfie camera. Folded open creates an immense 7.6 inch screen. This year no strange bite out of the screen for unnecessarily many cameras but also a subtle and compact punch-hole for this time a single camera. The screen inside is this time protected by a layer of ultra-thin glass instead of plastic like the original Fold. Together with a renewed hinge, more about which later, Samsung found it justified to place the Fold2 in its own series. Together with all other foldable phones you can find them nowadays in the Galaxy Z-series.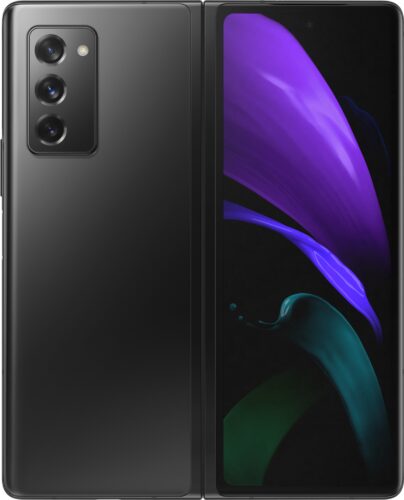 Maximum use of screen area
Officially, the device is called the 'Samsung Galaxy Z Fold 2 5G'. So it is a 5G phone. At the time of release, this might not be of much use to you yet, but as soon as 5G is available everywhere, you can start using it right away. Quickly download or upload movies, for example. In any case, you are ready for the future. Even if you have a copy in your hands right away. Because 'foldables', the so-called foldable phones, are the future. New is the improved hinge that you can of course fully open or fix in 75 or 115 degrees. With this so-called Flex mode you can put the phone half-open in front of you and some apps adapt to that as well. The top screen can then be used for content while the control buttons are at the bottom. Samsung has adapted the software in more ways to make maximum use of the large screen area. But also the outer screen communicates with the main screen. This way you can open folded apps and continue with the same app when you open the Fold 2. That's called App Continuity.
Main Samsung Galaxy Z Fold 2 specifications
Very large 7.6 inch Infinity Flex screen when fully unfolded
6.2 inch HD+ screen outside now runs from edge to edge
10MP selfie camera inside and out
12+12MP rear camera with ultra-wide-angle lens and 2x optical zoom
Powerful and energy efficient 7nm octacore processor at up to 3,09 GHz with sufficient 12GB of RAM
4500 mAh battery consisting of 2 parts with fast (wireless) charging
5G support for extra fast internet
Dual SIM thanks to the presence of digital eSIM
Stereo speakers with Dolby Atmos support
Different color options available for the hinge
One less camera is not missed
Other benefits and improvements are the Hideaway Hinge which is less obstructive and better at keeping out dust and dirt. But also the screen that can display images at 120 frames per second. This only works for the inner screen, the outer screen remains at 60 Hz. Also different is the camera. Although the resolution of the camera has gone down, it has improved on some points. Especially in the video area. There is now auto-framing. The camera follows people and keeps them neatly centered and sharp in the picture. Inside, a camera sensor has disappeared, so you now only have access to a 10MP selfie camera. In itself more than enough of course and moreover it doesn't take a big bite out of your screen anymore. Instead, it has become a subtle punch-hole (punch-hole). At the front is the same 10MP sensor with f/2.2 lens with 80° viewing angle, so there are still 5 different cameras at your disposal.
---
Most important Samsung Galaxy Z Fold 2 specifications
Dimensions
159.2 x 68 x 16.8 mm
159.2 x 128.2 x 6.9 mm
Weight
279 grams
Item ID
SM-F916
Codename
Samsung Champ
EAN code
8806090820083, 8806090820021, 8806090819995, 8806090819957, 8806090819919, 8806090819889, 8806090819834, 8806090819797, 8806090816130, 8806090816086, 8806090816031, 8806090815980, 8806090815935Show 19 more

, 8806090815881, 8806090815836, 8806090815799, 8806090761140, 8806090662942, 8806090662898, 8806090662829, 8806090662669, 8806090662614, 8806090662553, 8806090662478, 8806090662331, 8806090662256, 8806090662188, 8806090662096, 8806090661792, 5413729236615, 5413729236554, 0000000017367, 0000000010184

Fingerprint recognition
Android
10
Color display
7.6 inch, Dynamic AMOLED Infinity Flex, hole-punch display
Camera
12 MP, 12 MP, 12 MP
Processor
3.09 GHz, Qualcomm Snapdragon 865+, octa core
Secondary camera
10 MP, 10 MP
4G (LTE)
5G
Internal memory
12 GB (Size (RAM)), 256 GB (Storage)
Memory card slot
Battery
4500 mAh
Fast charging
Wireless charging
Audio jack plug
---
Video's about the Samsung Galaxy Z Fold 2
Is the Samsung Galaxy Z Fold 2 more resistant to dust? We don't want to give too much away, but in a nutshell; yes.
Samsung tells the 'untold' story Galaxy Z Fold 2
---
Alternatives of the Samsung Galaxy Z Fold 2
Scroll the table below to see more
| | | | | | |
| --- | --- | --- | --- | --- | --- |
| | | | | | |
| | | | | | |
| | Current product | | | | |
| Fingerprint recognition | | | | | |
| Android | 10 | | 8.1 | 9.0 (Pie) | 10 |
| Color display | 7.6 inch, Dynamic AMOLED Infinity Flex, hole-punch display | 6.1 inch, IPS, notch | 6.4 inch, FullVision OLED QuadHD+, notch | 5.5 inch, Full HD+ Flexible OLED | 6.3, Full HD+ Flexible OLED |
| Camera | 12 MP, 12 MP, 12 MP | 12 MP | 12 MP, 12 MP, 16 MP | 12.2 MP | 12.2 MP, 16 MP, dual camera sensor |
| Processor | 3.09 GHz, Qualcomm Snapdragon 865+, octa core | Apple A12 Bionic | Qualcomm Snapdragon 845, octa core | 1.6 GHz, 2.5 GHz, Qualcomm Snapdragon 845, octa core | 1.78 GHz, 2.84 GHz, Qualcomm Snapdragon 855, octa core |
| Secondary camera | 10 MP, 10 MP | 7 MP | 5 MP, 8 MP | 8 MP | 8 MP |
| 4G (LTE) | | | | | |
| 5G | | | | | |
| Internal memory | 12 GB (Size (RAM)), 256 GB (Storage) | 3 GB (Size (RAM)), 128 GB (Storage), 256 GB (Storage), 64 GB (Storage) | 6 GB (Size (RAM)), 128 GB (Storage) | 4 GB (Size (RAM)), 128 GB (Storage), 64 GB (Storage) | 6 GB (Size (RAM)), 128 GB (Storage), 64 GB (Storage) |
| Memory card slot | | | | | |
| Battery | 4500 mAh | 2942 mAh | 3300 mAh | 2915 mAh | 3700 mAh |
| Fast charging | | | | | |
| Wireless charging | | | | | |
| Audio jack plug | | | | | |
Complete comparison between the Samsung Galaxy Z Fold 2 and these alternatives or compare with other models
---
Questions and answers about the Samsung Fold 2