Samsung Display plans to exhibit these new screens during Display Week 2021. These are a total of four different OLED screens: S-Fold that you can fold twice, a 17-inch laptop screen that folds, a slide-out screen and a UPC (Under Panel Camera) screen. The latter is intended for laptops where the selfie camera hides under the screen to reduce the screen bezels.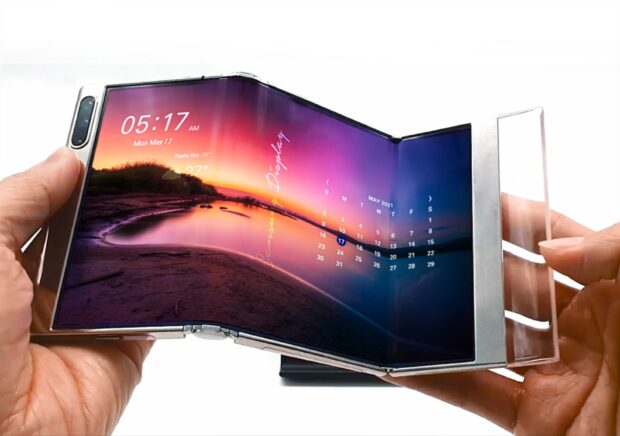 For mobile phones, the S-Fold and rollable screen are the most interesting. These allow for designs that Samsung does not currently offer. When open, the screen measures a diagonal of 7.2 inches. Large, but the screen of the Fold 2 is slightly larger at 7.6 inches. The prototype shown does look relatively thick when closed.
Extendable OLED screen
Something Samsung has not yet done is create a slide-out screen. This Slideable OLED screen will put an end to that. The prototype shown below looks a lot like the Oppo X 2021. This concept phone can also get wider thanks to a rolling screen. In Samsung's example, this extra screen space is used to show extra control buttons.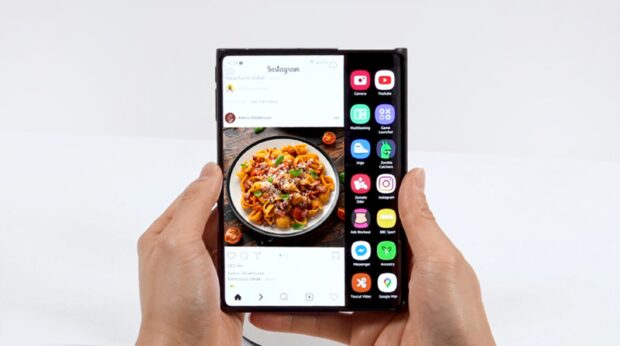 Just because something is technically possible doesn't mean it's practical. In other words, it is not certain yet that the above prototypes will end up in stores. There must be a demand for it, the final product must be able to withstand the evil outside world and there must be software to make advantage of it. So there is still plenty of work to be done. But the future looks bright and we can't wait for some new designs.