Thanks to professional leaker @evleaks we have some new high resolution images of the Galaxy Z Fold2 just before its official announcement. The foldable device makes its predecessor look outdated with a completely borderless screen, both on the inside and outside.
Besides being expensive, foldable phones are very promising. They solve problems that we had taken for granted. Now they also introduce completely new problems, but that's something that is solved each new generation. And this new generation of the Galaxy Z Fold2 looks very promising. Both of the display, inside and outside are truly beautiful.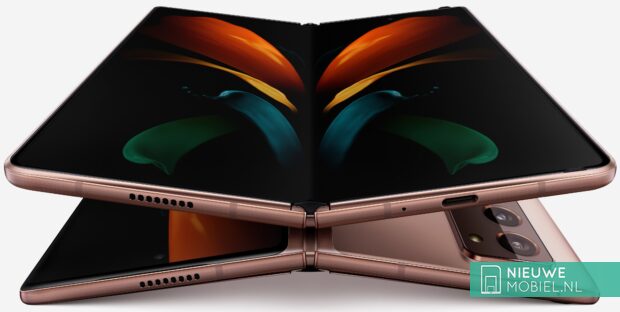 Especially when you compare the design with the first generation Fold it looks very dated. The notch, the small screen in front. All of which Samsung tackled with the Z Fold 2. Buyers of that first generation will probably scratch their head. Not a very nice feeling when you just paid more than 2000 euros for. Whether all those people will now stand in line for the Fold 2 is still to be seen.
Expensive experiment
At this moment Samsung will care one bit about sales figures. At this stage it is just a matter of figuring out what is possible, which direction is the right one, which techniques you can use best. Think of it as a huge experiment, paid by the success of the Galaxy S, A and Note.
Samsung is expected to announce the Galaxy Z Fold2 along with the Note 20 series and Galaxy Watch 3 during Unpacked on August 5th. During this event a new generation of Galaxy Buds as well as the Galaxy Tab S7 may also be announced. More images of the Fold2 can be found here.